There is nothing quite so satisfying as a good glass of Chianti, and the 1999 Colognole Chianti Rufina is more than good. Wrapped in a beautiful purple robe and endowed with the haunting scents of violet, earth tone, and subtle black fruits, the Colognole embodies all the charm and grace that makes good Chianti so satisfying. This wine, like the land itself, exudes an ethereal quality that is difficult to define. Purity and what can be best described as understated elegance radiates from each sip, conjuring the sculptured beauty of the Tuscan landscape the ultimate collaboration of nature and man. Generous and round, yet worthy of extended bottle aging, the 1999 Colognole is already quite charming and easy to drink. But as good as this wine is now; it will continue to improve in the bottle for at least several more years. We suggest serving this lovely Chianti cool, as neither chilling nor heat permits all of the subtle nuances of the Colognole to emerge.
Simple grilled meats, sausages and either bean or lentil based dishes are some of our favorite accompaniments to the 1999 Colognole Rufina Chianti. Homemade pasta with a fresh tomato sauce that hasn't simmered too long, bobolis or even brick oven pizzas are some other fine choices with the Colognole. We have especially enjoyed a three-cheese spinach pizza, with roasted garlic, as well as the classic 'Margharita' with tomato and cheese with this wine. A whole rotisserie roasted chicken is another complement to the Colognole, as is rabbit or country stew. Any meat or vegetable dish that is not overpowering will provide excellent companionship for the Colognole. Enjoy!
It would be hard to imagine a prettier, more uniquely Tuscan estate than Contessa Gabriella Spalletti's Colognole. Situated amid more than 1500 acres of forest, olive groves, peach orchards, and pasture this lovingly restored family estate, replete with a private chapel, is not only stunningly beautiful, it also produces one of Rufina's most exciting Chiantis. Rufina, not to be confused with the brand name Ruffino, is the smallest of the seven Chianti zones, but its wines are thought to be the grandest, fullest expression of Chianti. Spallettii, a noble family, began making wine at the famous neighboring estate of Poggio Reale, before turning to wine production several decades ago at Colognole, their family estate. Presently, there are over 100 acres of vines at Colognole. In addition to a growing production of excellent Chianti, Colognole also turns out small quantities of superb Chardonnay and first-rate olive oil. And if fine wine and olive oil are not enough to make any self respecting gourmand salivate and illicit the collective cry of field trip from the constituency of any bona fide food and wine society, the Spallettis also make their own Pecorino and Ricotta cheeses and produce their own cereal grains, fresh fruits, and more. Can you imagine what lunch or dinner is like here?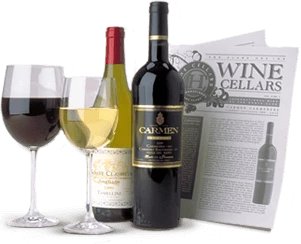 Enjoy Limited Production Estate
Bottled Wines
Discover limited production estate bottled wines such as Vergenoegd's internationally
acclaimed 2005 Cabernet Sauvignon, imported exclusively for our members.
DISCOVER OUR FOUR CLUBS