Deeply robed, powerful, and assertive, the 2000 Collosorbo Rosso di Montalcino offers more than a mere hint of the greatness of Brunello di Montalcino. In fact, this Rosso di Montalcino is better than many of the more renowned Riserva Brunellos we have tasted. The aromatic redolence of black fruits, truffles, and the terroir of Tuscany haunt the senses. Silky fruit and a deep down plummy flavor that is best described as liqouroso fill the mouth and caress the palate. So, what more could one want? How about a cellar full of this expressive, Tuscan treasure and a local chef, adept at preparing award winning meals to complement the best that Montalcino has to offer? We suggest consuming the 2000 Collosorbo Rosso di Montalcino either immediately upon opening or after an hour or more of breathing. And, as with most fine Italian reds, we suggest serving the Collorsorbo Rosso di Montalcino at cool room temperature.
Grilled beef, lamb, or veal provide wonderful traditional Tuscan partners to the 2000 Collosorbo Rosso di Montalcino, but this Ciacci wine offers more than a traditional accompaniment to local favorites. Hearty beef or lamb stews; herb infused risottos, served with fresh pork tenderloin sausage; and rotisserie chickens, prepared with butter, garlic, and just about any Mediterranean herbs you can imagine, also provide wonderful accompaniments to Collosorbo's hearty, but very sophisticated Rosso di Montalcino. Good old fashioned American fare will more than fill the bill, too, so don't be afraid to rustle up your favorite home cooked meal, served with mashed potatoes and all. Indeed, the Collosorbo is quite versatile. Enjoy!
Editor's Note: As an international wine club, we rarely feature two wines from the same country in the same month, but this month we are making an exception, simply because we believe the 2000 Collorsorbo Rosso si Montalcino offers extraordinary quality and value. Besides, Italy is the world's foremost producer of wine, in both the sheer number of varietals it grows and the distinctly different wines it produces. Consequently, this allows us to offer you two very different, but equally exciting wines. We trust you will enjoy them as much as we have. The Ciacci name is one of the most ancient and revered names in Tuscany. One 15th century scion of this noble family, Enea Silvio Piccolomini, even wore a pope's tiara, reigning as Pope Pius II. Today, this relatively young, forty acre property, located adjacent to the more famous Ciacci Piccolomini estate, prefers the production of gustatory pleasure to the pursuit of papal power. Collosorbo's vineyards lie on deep red, iron rich soils that possess perfect southern exposure. From this estate's hillside vineyards flow only two wines: an intense brooding Brunello di Montalcino that requires significant aging and a round, generous, thoroughly captivating Rosso di Montacino that is charming even in its youth. Both wines are made from 100% Sangiovese Grosso, which is known locally as Brunello. One taste of Ciacci's Rosso si Montalcino and you will know why it has been likened to a self satisfied athlete in mid season form.'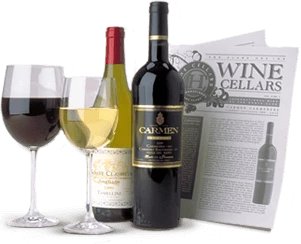 Enjoy Limited Production Estate
Bottled Wines
Discover limited production estate bottled wines such as Vergenoegd's internationally
acclaimed 2005 Cabernet Sauvignon, imported exclusively for our members.
DISCOVER OUR FOUR CLUBS