The 2006 Colli di Lapio Fiano di Avellino possesses a pale, straw colored robe that radiates the warmth of the southern Italian sun. With a slight tinge of green that dazzles the eye and a complex set of aromatics, the mere appearance of Colli di Lapio's outstanding Fiano di Avellino foreshadows its destiny and the goodness it is prepared to pour forth. A layered, multifarious nose of flowers, angostura spice, dried honey, and freshly picked summer fruit presents an exhilarating counterpart to the wine's white peach and citrus flavors, as well as to its structured mineral rich finish. Although more elegant and ultimately more sophisticated than Campania's other premium white varietal, Greco di Tufo, and most other Fiano based wines, too, the Colli di Lapio retains high natural acidity that assures age worthiness as well as a long, clean, fresh finish – even after several years in bottle. It is Fiano's ability to age and develop secondary characteristics that merit its place among the most noble of Italian white varietals. Consequently, for those tasters patient enough to allow this elegant white wine an additional six months or even a year in bottle, there will be handsome rewards. In any case we suggest serving Colli di Lapio's Fiano moderately chilled (about 40° F). Anticipated maturity: 2008-2011.
Like its Campanian compatriots in nearby Greco di Tufo, Fiano di Avellino is born upon hills in sight of the sea. From the craggy Amalfi Coast that soars high above the swirling depths and the rugged green Apennine Mountains that climb precipitously inland to the very backbone of Italy, there is no better wine to accompany the region's many specialties than Colli di Lapio's 2006 Fiano di Avellino. Made to highlight the catch of the day as well as the produce of the land, Colli di Lapio's Fiano is a brilliant partner to all kinds of fish, shellfish, veal, chicken, and legumes. Rock fish, mullet, snapper, and shrimp all provide excellent pairings. The prized Buffalo Mozzarella of nearby Sorrento, drizzled with extra virgin olive oil and served with fresh, juicy local tomatoes also provides superb companionship to Clelia Romano's prized Fiano. Veal Osso Bucco offers yet another local favorite and gustatory delight, especially when paired with a bottle of mature Fiano di Avellino. Buon Appetito!
Colli di Lapio is a small, family-owned winery that crafts what many critics have dubbed "the finest wine of Fiano di Avellino." Run with expert care and supreme dedication by the youthful Clelia Romano and her family, Colli di Lapio comprises a mere 6 hectares (or a little more than 13 acres). The winery, adjacent to the property's superbly tended vineyards, is modern and clean but no bigger than a large garage. One has to wonder how Clelia and the estate's winemaker, Angelo Pizzi, can even turn around in the place during harvest time, as there is not a single centimeter of space to spare. However, judging from the quality of this estate's flagship Fiano di Avellino, neither worries about such trivial matters, nor should we. What ends up in the bottle is ultimately what matters, and Colli di Lapio's Fiano di Avellino is certainly one of southern Italy's finest white wines. Needless to say, production at Colli di Lapio is miniscule – only 100 cases of their Fiano di Avellino even make it to the United States. In addition to fashioning Fiano di Avellino's most lauded white wine from estate vineyards, Colli di Lapio also crafts two very fine red wines from nearby appellations: Irpinia Aglianico "Donna Chiara" and Taurasi "Vigna Andrea." Both wines reflect the nobility of Aglianico, the quintessential red varietal of southern Italy. The Greeks planted Aglianico in southern Italy around 700 B.C. when much of the Italian peninsula and Sicily were part of Magna Graecia. The name Aglianico itself is an Italianate distortion of Hellenico, meaning Greek. Aglianico is a superb varietal, perfectly suited to Italy's Campania, most especially the appellation of Taurasi and the surrounding province of Irpinia, both of which lie in the mountains just west of the Amalfi Coast. In the Campania, once known as the granary of Rome, Aglianico produces a truly superb red wine, complex and deep, that is the equal of any in Italy, including the renowned Nebbiolo wines of Barolo and Barbaresco fame. . Fiano di Avellino Fiano is one of the two noblest white grapes of southern Italy. The finest examples of Fiano typically hail from the environs of the ancient Campania town of Avellino; hence, the name of the D.O.C.G. contains both the varietal name and its generic origin – Fiano di Avellino. Fiano has been grown in and around Avellino for more than two millennia. This noble grape variety is believed to have been brought to the Italian peninsula by the Greeks more than 2,500 years ago. Fiano's reputation is both long and illustrious: its forebears are reputed to have been the favorite libation of Roman elite vacationing along the Amalfi Coast. Apparently, not much has changed in two thousand years. Today, Fiano continues to woo adherents as it produces an exceptional wine of pale golden color and remarkable aroma, flavor, and texture. It is also the rare southern Italian white wine that can not only withstand several years of aging in bottle, it actually requires a few years of bottle age to be at its best. It is fermented in stainless steel or ceramic and bottled after about six months. Fiano di Avellino is rarely if ever barrel aged. Most notable Fiano wines will see an additional six months in bottle before release, which means Fiano will rarely be for sale before its first birthday.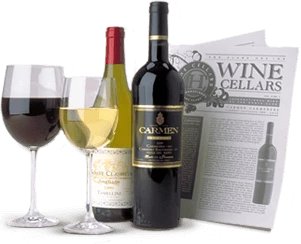 Enjoy Limited Production Estate
Bottled Wines
Discover limited production estate bottled wines such as Vergenoegd's internationally
acclaimed 2005 Cabernet Sauvignon, imported exclusively for our members.
DISCOVER OUR FOUR CLUBS