The 2013 Chevalier Crozes-Hermitage Marius is truly one of the appellation's stars and a collectable in its own right. And given the Chevaliers' tiny production, the window of opportunity on availability for Marius is very limited. The product of an outstanding, highly concentrated vintage in the Rhône Valley, the 2013 Marius offers the savory scents and flavors of black fruits, crème de cassis, fennel and toasted oak. It also possesses the vintage's formidable structure. Nicolas and Marlène Chevalier's flagship Crozes-Hermitage provides a big, heady, flavorful glass of Syrah now, though the 2013 Marius will surely improve with additional bottle age. In fact, this infant Crozes-Hermitage has a decade of evolution ahead of it. For immediate consumption, we suggest decanting the 2013 Marius for an hour before serving between cellar and cool room temperature (57°- 64° F).
Although Crozes-Hermitage can in fine vintages match its southern Rhône counterparts in strength and vigor, it also possesses an elegance and refinement beyond that of most offerings from the southern Rhône. Consequently, the 2013 Chevalier Crozes-Hermitage Marius makes an ideal companion to pastas, salads, legumes and cheeses as well as white and red meats. Herbed couscous and quinoa based dishes provide especially fine accompaniments to the 2013 Chevalier Marius. Baby back ribs slow cooked with a smoky barbecue sauce and barbecued chicken basted with olive oil, garlic and herbs offer especially tasty accompaniments to Marius, too. For those looking for something richer, why not consider marinated lamb kebobs with roasted peppers, onions, and tomatoes or a grilled ribeye steak served with haricots verts and garlic mashed potatoes. Red and yellow peppers stuffed with creamy risotto, spicy sausage, and Parmesan cheese make fine accompaniments to the 2013 Marius as well. Salut!
Marlène and Nicolas Chevalier farm a mere 3.5 acres of prime vineyards in Crozes-Hermitage from which they make several outstanding white and red Rhône offerings. Although diminutive in size, Cave Chevalier is large in stature: its wines have been garnering acclaim for more than three centuries and its red and white Crozes-Hermitage offerings remain benchmarks by which the wines of Crozes-Hermitage are measured.
The Chevaliers grow only two grape varietals at their meticulously tended estate: Marsanne for white wine and Syrah for red wine, from which they fashion two white wines and two red wines in tiny lots from individual sites. Each is a singular expression of either Marsanne or Syrah. In the case of the Chevaliers' 2013 Crozes-Hermitage Marius (this month's feature) less than a handful of 400 liter barrels were made. Our club members and a couple of renowned restaurants in the United States are the only American recipients of this rare Rhône wine.
Nicolas Chevalier has traveled far and wide in his young life to hone extraordinary winemaking skills. After completing studies in agronomy and enology in France, he headed to South Australia's Clare Valley where he mastered various techniques for fermenting Shiraz (Syrah). He then set sail for California where he worked with Kendall Jackson in perfecting his white winemaking skills. And if those two stints were not enough post-graduate work, Nicolas traveled to South Africa in 2002 to work at the legendary three hundred year old Boschendal estate in Stellenbosch, South Africa, a winery renowned for its superb Syrah based wines.
All of Cave Chevalier's fruit is hand harvested and only new Allier oak is ever employed in the upbringing of the estate's wines. Great pains are taken by the Chevaliers to protect the environment, which means sustainable agricultural practices prevail. The result is a bevy of rare and unique wines of splendid character, depth, and definition.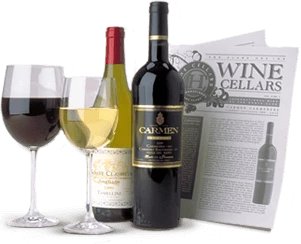 Enjoy Limited Production Estate
Bottled Wines
Discover limited production estate bottled wines such as Vergenoegd's internationally
acclaimed 2005 Cabernet Sauvignon, imported exclusively for our members.
DISCOVER OUR FOUR CLUBS