The 2005 Château Thieuley Bordeaux Rouge is one more example of how fine the much touted 2005 vintage is in Bordeaux and just how good the best petits châteaux Bordeaux have become in recent years. Deeply colored, round, and generous, the 2005 Château Thieuley Rouge drinks more like classified Bordeaux and is in fact a better wine than many more famous and expensive classified Bordeaux growths we have tasted. An artful blend of 70% Merlot and 30% Cabernet Sauvignon, this amiable 2005 claret offers up a haunting bouquet of blackberry, cassis, graphite, and clean forest woodlands. In the mouth the medium-bodied Château Thieuley unfolds gently, revealing plenty of juicy, up front flavors and lengthy soft, ripe tannins that will amply provide for future evolution. In fact, this wine will most assuredly be even better in a few years and afford the patient consumer upwards of 8-10 years of supreme drinking pleasure. As with all fine red Bordeaux wines, we suggest allowing the 2005 Château Thieuley at least a half hour of aeration prior to consumption. Salut!
Although young claret or red Bordeaux is not normally a wine that most people sit around sipping, the 2005 Château Thieuley may provide a notable exception. This wine's disarming charm, elegance, and subtle complexity make it easy to consume on its own. However, we have found that simple meals enhance the Château Thieuley Rouge, as they do nearly all fine red Bordeaux. In particular, roasted meats provide a nice venue in which to enjoy the succulent 2005 Château Thieuley. Roast veal, pork tenderloin, chicken, and duck are all good choices with this wine, especially when they are served with light, savory gravies. For the more culinary adept, we heartily recommend a traditional French dish, Chicken Barigoule, a rôtisserie fried chicken breast with braised artichokes, garlic, pearl onions, carrots, asparagus, and tomatoes – a simple but elegant meal that showcases the finesse and subtlety of this beautifully wrought red Bordeaux. Soft cheeses offer another good bet, especially when served to cap a fine meal and finish a bottle of the Château Thieuley. Bon appétit!
Château Thieuley is one of a growing number of fine petits châteaux in the vast Bordeaux appellation that is fashioning exemplary red and white Bordeaux. Located in the commune of La Sauve, amidst the picturesque hills of the historical Entre-Deux-Mers, Château Thieuley lies midway between the city of Bordeaux and the river port of Libourne. It is owned and run by Francis Courselle whose parents bought the property in 1950. Under the care of Francis the quality of the wine at Château Thieuley has skyrocketed. Upon taking over the direction of the château in the 1970's, Francis began transforming this relatively large 135-acre property into the benchmark estate it is today. A trained oenologist, Francis Courselle gave up a career teaching oenology to work the family's vineyards (75 acres of Sauvignon Blanc, Sauvignon Gris, and Semillon for white wines and 60 acres of Merlot, Cabernet Sauvignon and Cabernet Franc for red wines) and fashion what critics are now calling some of the most compelling AC Bordeaux wines. Over the years, Château Thieuley has won numerous medals for both its white and red wines; and Robert Parker Jr. has recently named the 2005 Château Thieuley Rouge one of the" Sleepers" of the outstanding 2005 vintage. Francis Courselle uses a combination of new and old oak barrels for his wines, which allows him to fashion deliciously light, but highly aromatic white Bordeaux with good concentration and length. He also crafts a small amount of Cuvée Francis Courselle, a barrel fermented white that spends an additional six months ageing in cask. Meanwhile, the estate's red Bordeaux is a suave, succulent wine that exhibits both purity and complexity. It spends a full year in barrel – a rarity in Bordeaux, except for classified growths and the very finest crus bourgeois and petits châteaux.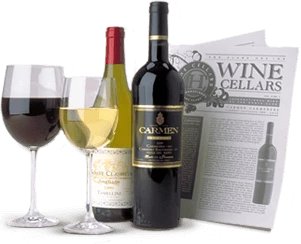 Enjoy Limited Production Estate
Bottled Wines
Discover limited production estate bottled wines such as Vergenoegd's internationally
acclaimed 2005 Cabernet Sauvignon, imported exclusively for our members.
DISCOVER OUR FOUR CLUBS