The 2006 Château Thieuley Bordeaux Blanc is an excellent example of what dedicated growers in Entre-Deux-Mers and the surrounding Bordeaux appellation can fashion from the region's three traditional grape varieties. In the case of the 2006 Château Thieuley Blanc, Francis Courselle has created a bright, cheerful white wine that slips down the gullet with ultimate ease. Concentrated, but not thick or heavy, and 2006 Château Thieuley is both scented and satisfying. It offers up a subtle, pleasing bouquet of gooseberry, grapefruit, pineapple and additional tropical fruits that hint of exotica. On the palate the wine expands into a soft, satiny glow, revealing the supple, seductive side of Semillon. And thanks to the sparing use of oak, the 2006 Château Thieuley finishes cleanly with just a twist of citrus and spice. Although neither complex nor complicated, this white wine is easy to like and fun to drink. As it matures, it will no doubt put on some weight (Don't we all?), but we doubt we can keep a bottle around long enough to find out. Initially, we suggest serving the 2006 Château Thieuley well chilled (35°-40° F) and then allowing the wine to slowly open as it reaches for ambient temperature.
White Bordeaux is one of the most versatile of white wines, so that one will have little difficulty finding worthy companions for the 2006 Château Thieuley Bordeaux Blanc. In Bordeaux, which lies so close to both the sea and the rich farmland of ancient Aquitaine, seafood and salads are ubiquitous choices with Château Thieuley and other similar minded white Bordeaux. Consequently, at the top of our list is a cold seafood salad, consisting of shrimp, scallops, and lobster. Oysters, prepared almost any way one can imagine, are a good bet, too. However, we have other perennial favorites: So why not consider serving a hearty salad of smoked turkey and goat cheese that is served on a bed of mesculin greens and topped with a creamy fresh basil and herb dressing? Furthermore, what may still be one of the wine world's best kept secrets is the affinity white Bordeaux and various Asian cuisines share. Pad Thai, sushi, sashimi, and Vietnamese noodles are just a few of the dishes we have found that pair superbly with the Château Thieuley Bordeaux Blanc, so we suggest you be daring and enjoy! Bon appétit!
Château Thieuley is one of a growing number of fine petits châteaux in the vast Bordeaux appellation that is fashioning exemplary red and white Bordeaux. Located in the commune of La Sauve, amidst the picturesque hills of the historical Entre-Deux-Mers, Château Thieuley lies midway between the city of Bordeaux and the river port of Libourne. It is owned and run by Francis Courselle whose parents bought the property in 1950. Under the care of Francis the quality of the wine at Château Thieuley has skyrocketed. Upon taking over the direction of the château in the 1970's Francis began transforming this relatively large 135-acre property into the benchmark estate it is today. A trained oenologist, Francis Courselle gave up a career teaching oenology to work the family's vineyards (75 acres of Sauvignon Blanc, Sauvignon Gris, and Semillon for white wines and 60 acres of Merlot, Cabernet Sauvignon and Cabernet Franc for red wines) and fashion what critics are now calling some of the most compelling AC Bordeaux wines. Over the years, Château Thieuley has won numerous medals for both its white and red wines and Robert Parker Jr. has recently named the 2005 Château Thieuley Rouge one of the" Sleepers" of the outstanding 2005 vintage. Francis Courselle uses a combination of new and old oak barrels for his wines, which allows him to fashion deliciously light, but highly aromatic white Bordeaux with good concentration and length. He also crafts a small amount of Cuvée Francis Courselle, a barrel fermented white that spends an additional six months ageing in cask. Meanwhile, the estate's red Bordeaux is a suave, succulent wine that exhibits both purity and complexity. It spends a full year in barrel – a rarity in Bordeaux, except for classified growths and the finest crus bourgeois and petits châteaux.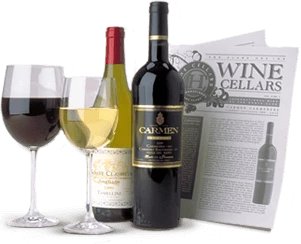 Enjoy Limited Production Estate
Bottled Wines
Discover limited production estate bottled wines such as Vergenoegd's internationally
acclaimed 2005 Cabernet Sauvignon, imported exclusively for our members.
DISCOVER OUR FOUR CLUBS