Bright, eye-catching, and thoroughly seductive, the 2020 Château Sainte Eulalie Printemps d'Eulalie (an even blend of Syrah, Cinsault, Mourvèdre, Grenache) sets the bar high for rosé. Redolent with the scents of ripe strawberries, raspberries, melons, and herbs, one is immediately enchanted. Better still, this wine offers juicy flavors and a real mouthful of wine to satisfy the palate, without sacrificing elegance or freshness. A true crowd pleaser from start to finish, it captures the savory scents and flavors of southern France. Drink this flavorful rosé early, often, and throughout the year. But have no fear; there is enough stuffing in this wine to carry it through next year and beyond. For optimal enjoyment, we suggest serving the thoroughly charming 2020 Château Sainte Eulalie Printemps d'Eulalie moderately chilled (38º-45º F). Anticipated maturity: 2021-2023. Salut!
Young, fresh, and full of flavor, the 2020 Printemps d'Eulalie drinks beautifully on its own and in the company of hors d'oeuvres, fish, fowl, pork, and grand salads. A traditional Provençal Bouillabaisse or Salade Niçoise provides an ideal companion to this juicy flavor-packed wine. Other traditional Mediterranean favorites such as ratatouille, orecchiette with broccoli rabe, vegetarian lasagna, and of course pizza also make fine accompaniments to Printemps d'Eulalie. Smoked meats such as salami, pepperoni, prosciutto and soppressata provide tasty pairings, too, especially in the company of aged, hard cheeses. The 2020 Printemps d'Eulalie also pairs nicely with Pad Thai, Vietnamese noodle dishes, and Asian stir fries. Ham and turkey with all of the trimmings make fine companions as well. Born in the spring and raised in the fall, almost everything seems to taste better with this wine. Bon Appétit!
Editor's Note: The International Wine of the Month Club is proud to offer this special rose-colored wine from Minervois, France's oldest continuously producing wine region. Produced like a white wine with minimal skin contact using the saignée method, this elegant, flavorful wine spends no time in oak barrel. The wine's rose color evolves from a brief contact with the dark skins of the region's traditional red grapes before being bled off into tanks until early spring, when the young rose-colored wine is bottled for maximum freshness.
Château Sainte Eulalie quickly became one of our favorite properties in Languedoc and a favorite among our membership for its many outstanding wines. Under the ownership of Laurent and Isabelle Coustal since 1996, Château Sainte Eulalie has joined the top echelon of Languedoc producers for rosé as well as the region's traditional Rhône-style red wines. The Coustals, who hail originally from Bordeaux, have resurrected and restored the ancient Minervois vineyards surrounding their estate, including many old vines at Château Eulalie, some of which are in excess of 100 years of age. The Coustals grow Syrah, Grenache, Cinsault, Mourvèdre and Carignan, the traditional and most important grape varietals of southern France.
Isabelle and Laurent Coustal serve as artisans in residence at Château Sainte Eulalie. They tend the vines and fashion a number of wines from old vines, including Printemps d'Eulalie, Plaisir d'Eulalie, and La Cantilène from La Livinière. The latter springs from old vines from Languedoc's most renowned terroir. In fact, La Livinière is the first and only official Cru of Languedoc. All of Château Sainte Eulalie's grapes are grown organically, picked entirely by hand, and bottled unfiltered in order to preserve their freshness and rich, seductive flavors. After more than two decades of outstanding work at Château Eulalie, the Coustals have earned a reputation as one of the Languedoc's most dynamic couples and Château Sainte Eulalie one of the finest estates in all Languedoc.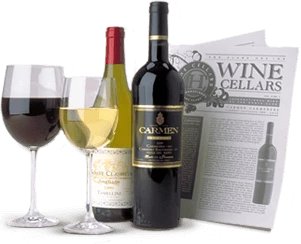 Enjoy Limited Production Estate
Bottled Wines
Discover limited production estate bottled wines such as Vergenoegd's internationally
acclaimed 2005 Cabernet Sauvignon, imported exclusively for our members.
DISCOVER OUR FOUR CLUBS