Awarded 91 points by Wine Spectator, Château Sainte Eulalie's 2014 La Livinière La Cantilène once again demonstrates why La Livinière is a special cru and the Languedoc's most prized appellation. The wine's deep, nearly impenetrable robe beckons the taster, but it is La Cantilène's seductive aromatics, profound flavors, and beautifully integrated tannins that make it hard to resist. The redolent scents and savory flavors of woodland berries, cassis, wild herbs, and ripe plum tantalize the senses. Yet, these are just the 2014 La Cantilène's opening act as this wine evolves slowly in the glass. Savory spice and hints of dark chocolate emerge with aeration and are coupled with smooth, almost velvety tannins. Bold in flavor but with nary an edge, the Coustals' 2014 La Livinière La Cantilène is seductive with layers of pure fruit garnished with deft touches of spice and herb to caress the mouth and make the thirsty tongue beg for more. For optimal enjoyment, afford Château Sainte-Eulalie's 2014 Minervois La Livinière La Cantilène thirty minutes of aeration before consuming it at cool room temperature (60º-64º F). Salut!
Like the Coustal's previous offerings of La Cantilène, the 2014 vintage was made to accompany the finest fare from France's most renowned chefs. La Cantilène is undeniably the Coustal's most prestigious wine and it is featured in a growing number of France's top restaurants. Roast quail, served with a savory wild mushroom sauce; roast leg of lamb, rubbed with garlic, olive oil, and Provençal herbs; and authentic Provençal cassoulet all get our nod to accompany Château Sainte-Eulalie's delectable Minervois. However, one need not be a Cordon Bleu chef to highlight La Cantilène's many attributes. Simply prepared dishes made with chicken, beef, lamb, or pork won't steal the thunder from this superb Minervois. Traditional Mediterranean favorites made with beans or lentils pair admirably with Château Sainte-Eulalie's flagship wine, too, as do cheese and tomato laden dishes such as Eggplant Parmigiana and lasagna. Bon appétit!
Château Sainte Eulalie quickly became one of our favorite properties in Languedoc and a favorite among our membership. Under the ownership of Laurent and Isabelle Coustal, Château Sainte Eulalie has joined the top echelon of Languedoc producers. This dynamic couple has resurrected and restored the ancient Minervois vineyards surrounding their domaine above the village of La Livinière, including the old vines at Château Eulalie. The Coustals grow Syrah, Grenache, Carignan, and Cinsault, the four traditional and most important grape varietals of Languedoc and the neighboring Rhóne Valley.
Isabelle and Laurent Coustal serve as winemakers and artisans in residence at their 34 hectare (84 acre) Château Sainte Eulalie estate. They fashion several wines from old vines, some of which are a century old, including Plaisir d'Eulalie and La Cantilène from La Livinière (this month's selection). La Livinière has long been regarded as the finest terroir in Minervois, but it has now been recognized as an official "Cru de Languedoc" and is entitled to its own appellation. La Cantilène is Château Sainte Eulalie's flagship wine and, like all of Château Sainte Eulalie's wines, it is hand-harvested from old vines and the product of organic viticulture, and is Certified Sustainable. It is bottled unfiltered in order to preserve its freshness and rich, haunting flavors. After more than a decade of outstanding work at Château Eulalie, the Coustals have earned a reputation as two of Languedoc's finest and most consistent winemakers.
Languedoc is the world's largest single viticultural area, encompassing many appellations and distinctive sub regions – all of which are capable of producing fine wine. This sprawling viticultural wonderland stretches all the way from the Spanish border in the southwest, within sight of the towering Pyrenees, to the banks of the Rhône River far to the northeast. Languedoc cuts a huge swath of dry coastal plain and sheltered mountains from which flow the guts and the glory of French viticulture.
The Languedoc, whose name is synonymous with the language of southern France, was the first part of ancient Gaul to be extensively planted to the vine and has remained extensively cultivated for millennia. For centuries the Languedoc reigned as France's most important viticultural area, but the region suffered greatly with the advent of phylloxera throughout the late 19th century and early 20th century, causing the Languedoc to languish in the doldrums of viticultural obscurity, unless of course one considers every day plonk as a beverage of choice. Once the proud bastion of French viticultural excellence, the Languedoc became the world's major source of huge quantities of insipid wines, whose main virtues were none other than high alcohol and cheap prices – all of which were subsidized by the French government. Fortunately, the paradigm has again shifted and Languedoc is quickly returning to its former glory. The worldwide demand for cheap, coarse wine no longer exists; the emphasis today is on quality rather than quantity. In addition, the only official incentive for grape growers is to plant premium varietals, move back to the ancient hillside sites, and produce less wine of greater quality. Since the 1970s, a true viticultural Renaissance has been sweeping the Languedoc and the results are nowhere more apparent than in the favored appellation of Minervois and its prized cru La Livinière.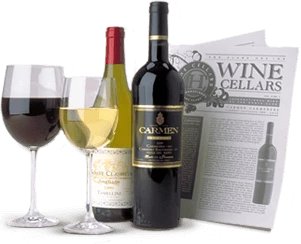 Enjoy Limited Production Estate
Bottled Wines
Discover limited production estate bottled wines such as Vergenoegd's internationally
acclaimed 2005 Cabernet Sauvignon, imported exclusively for our members.
DISCOVER OUR FOUR CLUBS