If anyone still doubts the quality of this still relatively undiscovered chateau or the greatness of the 2000 vintage in Bordeaux, the 2000 Chateau Recougne Terra Recognita Bordeaux Superieur will dispel any such further notions. This latest offering from Chateau Recougne is a blockbuster of a wine. Comely and deeply colored, profound scents of blackberry, cassis, cedar, and complex earth tones pour from the glass in a majestic olfactory display, which likens the 2000 Terra Recognita to the most illustrious Grand Cru Medoc, Pomerol or St. Emilion offerings rather than any other Bordeaux Superieur wine we have ever tasted. Long and smooth on the palate, the wine's aroma and flavor meld into one seamless stream of pleasure. All of this goodness is deftly framed by the judicious use of new oak barrels, which causes the finish on the wine to explode and linger for nearly thirty seconds after swallowing. Without a doubt, the 2000 Chateau Recougne Terra Recognita is a tour de force in winemaking for the up and coming Bordeaux Superieur appellation, but more importantly for the consumer it offers oodles of pleasure now, and will continue to do so for up to a decade. As balanced and opulently wrought as this fine claret already is, we expect it to improve further. However, this may mean that future shipments will have to contain warning labels, so that none of our faint-hearted or constitutionally challenged club members should succumb to its appeal unaware. Allow the Terra Recognita to breathe for at least thirty minutes, before serving it at cool room temperature. Salut!
The 2000 Chateau Recougne Terra Recognita is one of the rare few young Bordeaux reds that can shine on its own. Yet, fine cuts of veal, beef or lamb that have been simply prepared can add to the ultimate pleasure of bringing any fine red Bordeaux to table, and in this regard the Terra Recognita is no exception. Duck, quail, and ostrich, provide other excellent accompaniments, especially when served with fruit-based sauces or highly charged reductions. Traditional Bordelais dishes, such as lamprey or kidneys, offer more fine complements to Chateau Recougne's top cru. Sweetbreads constitute another classical pairing. Yet, a plate of well-selected cheeses and a good friend can provide all the company you need with the 2000 Chateau Recougne Terra Recognita. Why not check out our International Cheese of the Month Club at www.cheesemonthclub.com for an expert selection of cheeses? We'll let you choose your own friends. After all, you're over twenty-one. A votre sante!
Château Recougne is an outstanding 130-acre Bordeaux property that has been completely restored by the Milhade family. Perched on a well-drained hillside near the border of Lalande-de-Pomerol, the estate's siliceous clay soil is rich in iron oxides, providing the ideal situation for the cultivation of Merlot and Cabernet Franc. From this lovely chateau flows the finest red Bordeaux Superieur we have ever encountered. Chateau Recougne is an illustrious old estate with more than 400 years of recorded history. Laying claim to the reception of 'Who's Who' among 16th and 17th century French nobility, Chateau Recougne is said to have received the name 'Recougne', meaning recognition, from France's most popular sovereign, King Henri IV. This honor was bestowed upon the estate in recognition of the property's outstanding red claret. Given the unchanging terroir as well as the Milhade family's expertise, it should come as no surprise that Chateau Recougne still produces highly acclaimed red Bordeaux that is deserving of even further recognition. The Milhade family is well known in Bordeaux for their loving restoration of historic Bordeaux wine properties and an uncompromising devotion to the production of high quality, opulent, full-flavored Bordeaux wines. At Chateau Recougne, the Milhades have invested heavily in modern equipment and new oak barrels. In addition, they have adopted quality practices and techniques that are normally found only at the highest echelon of Classified Bordeaux Chateaux. Moreover, the Milhades are not afraid to exclude or declassify half of their crop in order to make top-notch wine at Chateau Recougne. The greatest expression of this estate's acumen is its reserve bottling, known as Terra Recognita. Terra Recognita is produced only in the finest vintages from the choicest old vines. It is aged completely in small oak barrels, a high percentage of which are new. In other words, there is no compromise made in quality; Terra Recognita is the ultimate expression of Chateau Recougne's terroir and the very best wine of the Bordeaux Superieur Appellation.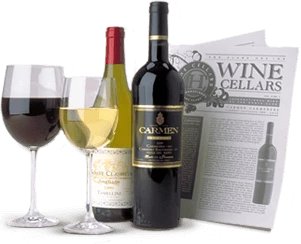 Enjoy Limited Production Estate
Bottled Wines
Discover limited production estate bottled wines such as Vergenoegd's internationally
acclaimed 2005 Cabernet Sauvignon, imported exclusively for our members.
DISCOVER OUR FOUR CLUBS