Forget any preconceived notions or less than stellar experiences you may have had with other Bordeaux Superieur, the 1998 Chateau Recougne exceeds all expectations. This recently revitalized Appellation is on a roll, and Chateau Recougne is in the forefront of the Renassance sweeping the Bordeaux Superieur Appellation. From its deep garnet robe to its long, lingering finish, the 1998 Chateau Recougne redefines the quality quotient in this part of Bordeaux and acts like a first class Medoc, shaming even many more famous offerings from that illustrious Appellation. Scents of blackberry, wood smoke cedar and clean earth fold into a single, tantalizing olfactory statement. In what seems like one seamless garment, the aroma and flavor meld, caressing the palate with the unmistakable flavor of Cabernet Sauvignon and the textured feel of Merlot. In the finish, Chateau Recougne makes you take notice: the wine finishes with the strength of ripe, textured tannins and a long flavor profile, lingering for a full twenty seconds after swallowing. Chateau Recougne is fully enjoyable with 30 minutes breathing, but the wine's superb balance fruit and tannin bodes well for its future development; we bet this lovely claret will continue to inspire for at least another 4-5 years. Enjoy!
Fine cuts of veal, beef or lamb and more refined fare are the traditional, tried and true accompaniments to good Bordeaux. With its full flavor and moderate tannins, Chateau Recougne provides an excellent choice for a dinner party and affords the host a great deal of versatility. So, if beef or lamb are not to your liking, we have satisfied a discerning group of "gourmands" with chicken breasts in a highly charged Dijon mustard sauce. We even propose some off-beat dishes like lamprey, kidney, or even sweetbreads with the Chateau Recougne. Providing these dishes are properly prepared, this excellent Bordeaux will more than hold its own. And with another year or two in the bottle, we believe it will surpass most Chateau bottled Bordeaux at twice the price. A votre sante!
Chateau Recougne is a historical Bordeaux estate with more than 400 years of experience. Laying claim to having hosted France's "good king", Henri IV, in the early 17th century, this exemplary chateau is said to have received its name "Recougne", meaning recognition, from the King himself – no doubt in recognition of the estate's fine red claret, which this beautifully restored chateau still produces today. In order to maintain the chateau's outstanding reputation and to further improve the wine's quality, the present owners, the Milhade family have invested in modern equipment and adopted quality practices and techniques that are normally found only at the highest level of Classified Bordeaux Chateaux. The Milhade's are not afraid to exclude or declassify half of their crop in order to make top notch Bordeaux at Chateau Recougne. Making first rate Bordeaux that reflects the terroir and tradition of each of their estates is what this great family does best. Chateaux Recougne is without a doubt, the finest Bordeaux Superieur we have encountered.
Bordeaux: A Land Time Has Definitely Not Forgotten Bordeaux is the world's largest fine wine producing region, encompassing some 600,000 acres spread over dozens and dozens of communes, many of which produce the world's most collectible and expensive wines. This renowned viticultural area is also the traditional home of Cabernet Sauvignon, Merlot and Cabernet Franc, "the three musketeers" of vines responsible for nearly all the red wine of Bordeaux (the illusive Malbec and Petit Verdot still play very minor roles in the cepage at some top estates.) Bordeaux, meaning beside the waters, refers to the region's proximity to the Atlantic Ocean and its estuary, the Gironde, for which this viticultural department (the American equivalent of county or state) is named. Bordeaux, is also at the center of the confluence of the Dordogne and Garonne Rivers which flow into the Gironde, redoubling this ancient land's effort to live up to its name. Furthermore, it is Bordeaux's proximity to the sea which provides a stable, moderate climate so favorable to the production of great wine. Since the first century BC, when the Romans referred to this viticultural paradise as "Biturigiaca", Bordeaux has been a source of fine wine. Known to Roman Emperors, poets and Popes, Bordeaux has enjoyed the envy of the wine producing world longer than any other wine region on earth. From Pliny to modern critics, Bordeaux wines, particularly the reds, have never gone out of favor. Although seemingly bucolic, the ancient towns and communes that comprise Bordeaux have known more than their share of turmoil. Indeed, it was Bordeaux that was at the center of the conflict between England and France during the Hundred Years War. And, throughout history, the nearly incessant hostilities and economic sanctions imposed by feuding European monarchs, has caused Bordeaux fortunes to rise and fall, though its wines have remained highly sought after commodities and prized collectibles notwithstanding. Presently, Bordeaux wines are enjoying perhaps their greatest popularity ever, sparked by peacetime stability, the world-wide demand for fine red wine and a young coterie of dedicated growers who are bent on pushing the envelope on quality. No greater evidence exists of this renaissance than the great work being done at the lesser know appellations most notably by the Milhade family at Chateau Recougne and Chateau Des Annereaux, which are located in the Bordeaux Superieur and Lalande de Pomerol appellations, respectively. Fortunately, Bordeaux is not a land that time forgot. It is alive and well in its third millennia, supplying the world with millions of bottles of top-notch red wine. Long may this "red tide" rise.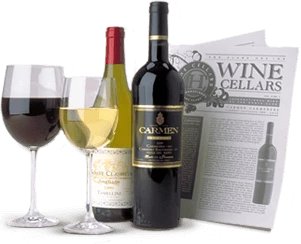 Enjoy Limited Production Estate
Bottled Wines
Discover limited production estate bottled wines such as Vergenoegd's internationally
acclaimed 2005 Cabernet Sauvignon, imported exclusively for our members.
DISCOVER OUR FOUR CLUBS