A lusty, nearly staggering statement of Zinfandel, the 1997 Chateau Potelle Old Vines Amador County Zinfandel reminds us as much of fine Chateauneuf-du-Pape as it does California Zinfandel. Rose petal scents, rich berry fruit and spicy woodlands permeate both the nose and the long, solid flavors of this impressive wine. Herb and liquor, with a pleasant tone of Angostura bitter, run through the fruit to frame the wine, while over a year in small oak barrel lends itself to the wine's seamless finish. Round and ample, yet soft enough to be enjoyed on its own, it's hard to believe that this Chateau Potelle sports a whopping 14.3% alcohol. Fortunately, the alcohol lends body and structure to this easy drinking Zin, without the high heat of some of the less balanced California Zinfandels. Drink this beauty over the next year or two while its luscious fruit tames the fire.
Lusty fare: grilled meats, hearty marinades, herb-encrusted dishes and game, all make prime accompaniments to the 1997 Chateau Potelle Amador Zinfandel. Provencal cuisine and tomato-rich Mediterranean dishes also gain high marks with this Zinfandel as it does not clash with the acid in tomato sauce like so many old world wines do. Cassoulets and stews are other winning combinations. Some of our panel prefer this lusty, flavorful Zin with highly flavored risotto's and even more complex Northern Italian fare, in place of the more traditional and expensive Barolo's and Barbaresco's from the Piedmont. Certainly one of the strongest attributes of this rich, personality driven Zin is its ability to marry successfully with a myriad of foods, whether they be simple, stick-to-your-ribs staples or more elegant, dinner party fare. Consider the Chateau Potelle a Zin for all occasions and enjoy!
Chateau Potelle: Where the Old World Meets the New World Chateau Potelle is located in a beautiful setting at the end of a twisting road high on Mt. Veeder, overlooking the Napa Valley. Here the Old World meets the New World as French transplants, Marketta and Jean-Noel Fourmeaux, transform the luscious fruits of Napa, Amador and the Central Coast into award winning wines that possess the best of both worlds. Originally sent to California by the French government some twenty years ago to "investigate" the American wine revolution, the Fourmeaux were smitten by the beauty and oenological freedom that California offered them. Officially, the couple came to the United States as "official tasters" for the French government. "We came to spy", jokes Marketta. In reality, they were here on government business to taste California wines and learn about all aspects of winemaking and vineyard management. After six months and tasting over 2000 wines, they sent a telegram back to France saying, "looks good, we stay". They then returned to France, packed up their two small children and moved to California. Marketta and Jean-Noel, both trained oenologists, made their first wines in 1982, buying grapes from good sources in the Napa Valley and in the Alexander Valley in Sonoma. They used the winery of a friend, Donald Hess, for their initial 1000 cases of Sauvignon Blanc, Chardonnay and Cabernet Sauvignon. Since then they haven't looked back. In 1988, Marketta and Jean-Noel purchased a 273 acre property home and winery on Mt. Veeder where they produce roughly 22,000 cases of wine every year. This winery is one of the most beautiful natural settings in the Napa Valley. It is located in dramatically rolling hills and forests 1800 feet above the floor of Napa Valley. Fortunately, the wines produced from these hillside vineyards are equally distinctive and dramatic and have brought Chateau Potelle to the top of the wine world. According to the winemaking couple, hillside vineyards have it over flat-land vineyards in every way, especially in the intensity and character of the wine. We heartily agree. Nearly all the great wines of California, and France as well, come from hillside vineyards, which allow for superior drainage and optimum sun and wind exposure. Even though the Fourmeaux began their California winemaking debut with the three most popular French varietals: Chardonnay, Sauvignon Blanc and Cabernet Sauvignon, it is ironic in a way that the first world-class success for Chateau Potelle came not with French varietals, but with the all American varietal, Zinfandel. In the vintage of 1990, Chateau Potelle crafted a Zinfandel that was unlike any other. It was an exuberant, intense wine, but not heavy. It was an elegant wine that, quite frankly took the wine world by surprise and storm and truly put Chateau Potelle on the map. This was the first of many excellent estate-grown Zinfandels to be labeled VGS. As success grew so did the expansion of the winery. "After the extraordinary success and demand of the estate's Zinfandel VGS, we found that we really needed to expand our Zinfandel program", says Jean-Noel. Fortunately, Chateau Potelle located another prime hillside Zinfandel sight, this time in the Shenandoah Valley of Amador County. Situated 1400 feet above the valley floor, this beautiful 27 year old vineyard produces lush, flavorful Zinfandel from dry farmed head pruned vines. This is a 100% Zinfandel vineyard that is family-owned. Famous for producing superb quality Zinfandel, Amador County was established well over a century ago by adventures lusting for gold and fortune during the California Gold Rush. Although many of the 49ers never found as much as a nugget of the precious metal, many of them were astute enough to plant Zinfandel vines. Little did they know that they were beginning a tradition and sowing the seeds for a different kind of gold - liquid gold, in the form of California's own grape varietal. Once again, Amador County has become the hottest new "rediscovery" for Zinfandel in California, and deservedly so. Chateau Potelle's 1997 Amador offering is one of the best we've tasted.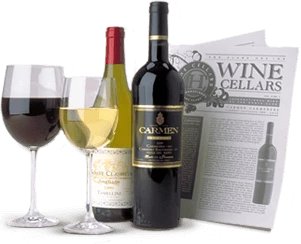 Enjoy Limited Production Estate
Bottled Wines
Discover limited production estate bottled wines such as Vergenoegd's internationally
acclaimed 2005 Cabernet Sauvignon, imported exclusively for our members.
DISCOVER OUR FOUR CLUBS