The 2015 Château Paveil de Luze Margaux reflects the renovation and attention afforded this historic property by renowned wine consultant Stéphane Derenoncourt and the late Fréderic de Luze: the 2015 Château Paveil de Luze is not only a sleeper of the great 2015 Bordeaux vintage, it is potentially the finest wine produced at this property in more than a half a century. The 2015 Château Paveil de Luze is a deeply colored wine with impressive fruit, texture, and body. Ripe and generous, it displays plenty of blackberry and plum flavors infused with tobacco and Margaux's pleasant distinctive earthiness. Backed by ripe substantial tannins, the 2015 Château Paveil de Luze is a wine to lay down in classic Margaux fashion as such patience yields big dividends. The 2015 Paveil de Luze should be at its best from 2022-2027. For optimal enjoyment now, we suggest 1-2 hours in a decanter before serving at 60° F. Salut!
Classic Margaux wines such as the 2015 Château Paveil de Luze have a well-deserved reputation at table. Sophisticated, yet imbued with a wealth of flavors and considerable backbone, this exuberant Margaux provides the perfect accompaniment to fine cuts of meat, poultry, and small game. Like most fine red Bordeaux, the 2015 Château Paveil de Luze prefers simple preparations of the highest quality. Roast duck, chicken, pheasant, filet mignon, rabbit, and veal dishes with light sauces are some of our preferred pairings with this Margaux wine. Eschew spicy sauces in favor of natural juices or light sautés and Château Paveil de Luze's 2015 Margaux will truly shine. Finishing a meal with some delicious Edam, Port Salut, or similar styled soft cheese provides another superb way to enjoy this engaging red Bordeaux. Bon Appétit!
Château Paveil de Luze enjoyed a long illustrious history in Bordeaux even before its 1862 purchase by Baron Alfred de Luze, who imparted his name to the historic property. Once one of the largest wine estates in Margaux at nearly 300 acres, Paveil de Luze, like many a top Bordeaux château, fell upon hard times in the 20th century. Some of its vineyards were sold off and the property languished.
At the end of the 20th century, the de Luze family set about slowly replanting and restoring their property to its former glory. However, it was not until 2004 when Fréderic de Luze took over the vineyard and began renovating the cellars, winemaking facilities, and the estate's charming château that Paveil de Luze began to fashion Margaux Bordeaux fitting of the estate's reputation and terroir. Engaging world-renowned wine consultant Stéphane Derenoncourt has also pushed the envelope on quality and style at Paveil de Luze. Since 2010, Paveil de Luze has gone from one strength to the next, with the 2015 Paveil de Luze the finest Margaux to emerge from this producer to date.
The name Margaux conjures more images of greatness than any other appellation in Bordeaux, and none of those images are associated with the economical or ordinary. Indeed there is nothing commonplace about the wines of the Margaux appellation nor would anyone, short of a billionaire, ever accuse the wines of Margaux of being inexpensive.
Margaux is the largest and most sprawling of the great communes of the Médoc, encompassing a little over 2,800 acres. It is situated in the southern Médoc just down river from the city of Bordeaux, which makes Margaux the nearest of the Médoc appellations to Bordeaux itself. In reality, the Margaux appellation includes five separate communes, each of which is entitled to bottle its wine as Margaux: Arsac, Cantenac, Labarde, Margaux and Soussans all qualify to bear the illustrious Margaux name.
A classic, fragrant perfume and an elegant, supple style are what distinguish the wines of Margaux from those of other Bordeaux communes. In addition, Cabernet Sauvignon rules the roost in Margaux, constituting up to 90% of the cépage in some Grand Vin like Château Margaux. Yet, in spite of the high percentage of Cabernet Sauvignon employed in the commune, the wines of Margaux nearly always retain an elegant suppleness that can be found nowhere else. At the same time, Margaux wines possess a true propensity for aging, which allows the finest wines of the appellation to develop tremendous complexity and texture – second to none – for decades. Exemplary bottles of Château Margaux from such illustrious vintages as 1900 and 1921 still exist, and there is currently no shortage of lesser known growths whose wines are worth seeking out after a decade or more in bottle.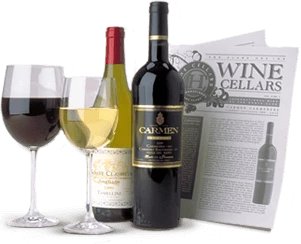 Enjoy Limited Production Estate
Bottled Wines
Discover limited production estate bottled wines such as Vergenoegd's internationally
acclaimed 2005 Cabernet Sauvignon, imported exclusively for our members.
DISCOVER OUR FOUR CLUBS