Château Margüi's 2012 L'Or des Pierres Blanc reflects the pristine environment of Philippe and Marie Guillanton's beautifully restored estate. The estate's exceptional white wine also underscores the merits of bio-dynamic viticulture and the importance of limiting yields in order to produce world class wine. In the 2012 L'Or des Pierres Blanc, a fine complex aroma awaits the eager taster, offering scents of pear, almond, and dried honey with a citrus twist. In the mouth the 2012 L'Or des Pierres dazzles with a rare combination of pinpoint precision, opulence and vivacity. And in this exceptional, perfectly balanced Provencal white wine, one encounters a delightful mélange of flavors that flow from the wine's enticing bouquet: white peach and ripe summer fruits, citrus and dried honey, all of which come wrapped in a harmonious, perfectly balanced format. No wonder Château Margüi's Blanc continues to win awards and appears on many Michelin-starred restaurant wine lists. Enjoy this elegant white wine moderately chilled (no less than 40° F) now and over the next year or two.
Rare is the Provencal white wine that performs equally well as an aperitif as it does at table in the company of seafood and assorted Provencal fare. The 2012 Château Margüi L'Or des Pierres is just such a wine. Yet, it complements all kinds of foods, from Mediterranean rock fish to Asian stir fries. Scallops and Chicken Provencal offer two tasty, easy to make accompaniments to the Château Margüi Blanc. More eclectic fare such as Coconut Shrimp, Fish Tacos with avocado and tomato, and Chicken and Muenster Cheese Flatbreads pair equally well with this wine. Vietnamese Spring Rolls with thin slices of shrimp, pork, and fennel provide good complements, too. A hearty salad of mixed organic greens, grilled chicken, cashews, and Mandarin orange slices offers more good company. Bon appétit.
Provence has the ability to capture the heart as well as the palate. It is for me and many others, including the proprietors of Château Margüi, the most beautiful and glorious wine country of France. As Renoir and the Impressionists found a way to capture the brilliant light of Provence and paint it on canvas, Philippe Guillanton has discovered how to pour the beauty and luminosity of Provence into a glass of Château Margüi wine.
Philippe Guillanton worked as integral agent for Yahoo, where he essentially opened Europe to Yahoo. In the process, he made quite a bit of money. As Philippe tells it, his wife wanted a home where she could create a beautiful formal garden. While searching, Philippe and Marie came upon Château Margüi, an old manor house on a picturesque wooded hilltop near the village of Châteauvert in the Côteaux Varois of north-central Provence. The region is famous for its spectacular hills, cliffs and grottos. It also serves as a renowned paradise for hikers and climbers, and of course great wine. Long a haven for artists and artisans, Châteauvert is an idyllic little village that prides itself on being a completely "green" village: everything in the village is organic, including Château Margüi.
The purchase of Château Margüi is the classic little old lady story: the manor was inhabited by an elderly lady who could no longer care for the property and realized she must sell it. The estate was completely run down, the vineyards and olive groves had been abandoned, and the house was falling apart. Perfect!
Philippe and his wife Marie bought the property and immediately began restoration. Marie hired a coterie of artisans to do hand-crafted labor. She consulted with scholars in Paris on medieval building and garden design. At the same time, local oenologists came to inspect the property and informed Philippe that he had an excellent terroir for wine grapes. All that the vineyard needed was tender loving care. Although he had never intended a second career as a vigneron, Philippe quickly began restoring and replanting Château Margüi's vineyards and olive groves.
Philippe's first success was with white wine, which is something of an anomaly in Provence. Very little white wine is made there, with white wines comprising less than 10% of the region's total production. However, Philippe's white wine was well a cut above and an instant success. It quickly became sought after by the top restaurants and wine shops on the French Riviera. He soon found himself making deliveries to the restaurants of Alain Ducasse and others in Nice and St. Tropez. His next successes came in the form of an ethereal Rosé and full-bodied, yet elegant Rouge. The production is all certified organic at Château Margüi, but Philippe has now moved beyond organic to even stricter biodynamic methods of viticulture, which means the estate's total 5,000 case production is not likely to grow. Only 1,000 cases of the Château Margüi Côteaux Varois L'Or des Pierres Blanc are produced in any given vintage and the estate's white wine appears in only a few fine establishments in the U.S. In addition to fashioning fine wines, Château Margüi produces a first class Extra Virgin olive oil from their own olives.
The restoration of the large manor house at Château Margüi has steadily progressed. Although it is a very lived-in home and looks like any home inhabited by 5 energetic children, it remains unique. Marie has developed a gorgeous biodynamic flower garden that descends from the manor house. She also has created a medieval "clos" that is a biodynamic herb garden and fruit orchard, designed just as medieval French monks would have laid out 1,000 years ago. In addition, Château Margüi serves as a favorite site for a popular cooking show that is filmed for German television. While Margüi sits in isolation atop a hillside surrounded by a state forest, the property next door to Margüi's entrance driveway is Château Miraval, the renowned Provencal property of Brad Pitt and Angelina Jolie. Château Margüi is indeed a magical place, and its wines reflect the beauty and magic of this special place.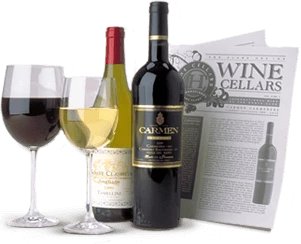 Enjoy Limited Production Estate
Bottled Wines
Discover limited production estate bottled wines such as Vergenoegd's internationally
acclaimed 2005 Cabernet Sauvignon, imported exclusively for our members.
DISCOVER OUR FOUR CLUBS