Elegance, purity, and complex flavors, which one rarely experiences in other rosé wines, set Château Margüi's 2021 Côteaux Varois Rosé above the rest. The 2021 Château Margüi Côteaux Varois Rosé (45% Grenache, 35% Cinsault, 15% Syrah, 5% Cabernet Sauvignon) offers a pale pink salmon color, which captivates the eye, while a pretty set of aromatics entices the nose with citrus, fresh strawberries, pear, and deft touches of the scintillating Provençal landscape. In the mouth, the wine's clean crisp fruit, juicy acidity, and pinpoint minerality provide balance and verve to complement the wine's spritely floral and wild berry tones. The 2021 Château Margüi offers great near-term drinking pleasure; however, we have found the best in this wine has yet to come. Unlike most rosé wines whose lifespan ends with the fading warmth of summer, Château Margüi's Côteaux Varois Rosé is a wine for all seasons, flavorful and complex enough to flesh out in bottle and drink beautifully for several years. For optimum enjoyment we suggest affording this prestigious Provençal rosé a moderate chill (40°-45° F) and a couple of minutes in the glass to collect itself before imbibing. Anticipated maturity: 2022-2024. Enjoy!
Château Margüi's 2021 Côteaux Varois en Provence Rosé is fit for any occasion, and it just as easily rises to the delights of the gourmet kitchen. It makes a great aperitif, but so do many lesser rosé wines, so why not consider pairing Château Margüi's 2021 Côteaux Varois en Provence Rosé with some exquisite morsels where it will enhance the food and the experience? In an ideal world, the first glass of the 2021 Château Margüi Côteaux Varois Rosé makes an ideal companion to smoked salmon with capers, the finest sushi, sashimi, and steamed prawns with pear and fennel, as well as a classic Provençal tomato tart. With the second glass, consider serving a traditional Provençal bouillabaisse, spit-roasted chicken with rosemary and wild herbs, vegetable lasagna, lobster ravioli, or gnocchi stuffed with braised veal, porcini mushrooms, and a hint of Pecorino cheese. In a lighter vein, ratatouille or a lightly dressed mixed green salad with apple, pear, walnuts and goat cheese provides a healthy and refreshing partner to the delightful 2021 Château Margüi Côteaux Varois en Provence Rosé. Bon Appétit!
There is rosé, and then there is ROSÉ. Château Margüi's rosé is the Provençal rosé, and the same can be said for this fabulous estate's wonderful red and white wines, too, all of which are now in the hands of George Lucas's Skywalker Vineyards. But Château Margüi is not just some celebrity's name on a brand, it is the product of many years of hard work on the part of winemaker and former owner Philippe Guillanton, who brought this ancient estate to the very top of its game. Moreover, Château Margüi is located deep in the heart of Provence, the most beautiful and glorious wine country of France. As Renoir and the Impressionists found a way to capture the brilliant light of Provence and paint it on canvas, Philippe Guillanton discovered how to pour the beauty and luminosity of Provence into each glass of Château Margüi wine.
Philippe Guillanton worked as an agent for Yahoo, where he essentially opened Europe to the company. In the process, he made a small fortune. As Philippe tells it, he wanted a home where his then wife Maria could create a beautiful formal garden. While searching, the couple came upon Château Margüi, an old manor house on a picturesque wooded hilltop near the village of Châteauvert in the Côteaux Varois, deep in the heart of Provence. The region is famous for its spectacular hills, cliffs and grottos as well as the scintillating wind known as the mistral that illuminates the land and scours the countryside clean. Côteaux Varois also serves as a renowned paradise for hikers and climbers, and of course a source of great wine. Long a haven for artists and artisans, Châteauvert is an idyllic little village that prides itself on being a completely "green" village: everything in the village is organic, including Château Margüi.
The purchase of Château Margüi is the classic little old lady story: the manor was inhabited by an elderly lady who could no longer care for the property and realized she must sell it. The estate was completely run down, the vineyards and olive groves had been abandoned, and the house was grand but falling apart. Perfect!
The Guillantons bought the property and immediately began restoration. Philippe's first success was with white wine, which is something of an anomaly in Provence. Very little white wine is made in Provence, with white wines comprising less than 10% of the region's total production. However, Philippe's white wine was more than a cut above, and an instant success. It quickly became sought after by the top restaurants and wine shops on the French Riviera. He soon found himself making deliveries to the restaurants of Alain Ducasse and others in Nice and St. Tropez. His next successes came in the form of an ethereal, seductive Rosé, followed by a full-bodied, complex Rouge. The production is all certified organic at Château Margüi. Philippe moved beyond organic to even stricter biodynamic methods of viticulture, which means the already small 5,000 case production at this great estate is not likely to grow. In addition to fashioning fine red, white, and rosé wines, Château Margüi produces a first class Extra Virgin olive oil from his own olives.
In 2017 Star Wars director George Lucas and Skywalker Vineyards purchased Château Margüi, which is close to Angelina Jolie and Brad Pitt's Miraval estate. Skywalker Vineyards has further renovated the château and planned to turn this ancient estate that dates from Roman times into a secluded hideaway. Happily, they retained Phillippe Guillanton during a transition period and they remain committed to organic viticulture and the production of award winning ECOCERT certified estate wines.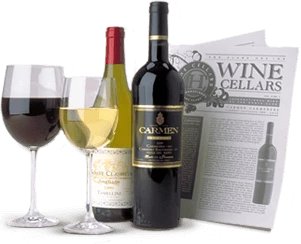 Enjoy Limited Production Estate
Bottled Wines
Discover limited production estate bottled wines such as Vergenoegd's internationally
acclaimed 2005 Cabernet Sauvignon, imported exclusively for our members.
DISCOVER OUR FOUR CLUBS