The 2005 Château Lescalle Bordeaux Supérieur is resplendent claret that is ripe, round, and utterly satisfying. Its regal purple robe underscores the splendor of the 2005 vintage and the particular success of Château Lescalle in what may be the finest, most consistent vintage ever in Bordeaux. Moreover, the comely Château Lescalle offers up a decadent nose of ripe berry fruit, smoke, and earth. Its supple fruit flavors and well-integrated tannins provide flesh and bone to the wine's youthful exuberance, and at the same time they endow this handsomely wrought Bordeaux with the promise of a long, happy, life of fun-filled pleasure. For optimum enjoyment, we suggest allowing the 2005 Château Lescalle twenty to thirty minutes of aeration because like all fine Bordeaux, Château Lescalle's fruit comes to fore and its youthful tannins recede with moderate aeration. Enjoy!
Although young red Bordeaux is rarely the best wine to sit around and sip, the exuberant 2005 Château Lescalle is one exception to the rule. Simply said, this rich, smooth claret pairs as easily with a clean glass as it does with the delights of the cupboard. Perhaps more important is the recognition that the true glory of red Bordeaux in a vintage as splendid as 2005 lies in its ability to complement the culinary delights of a simple kitchen as easily as haute cuisine. One need not be elaborate when serving red Bordeaux, but Bordeaux does have an affinity for simple, well prepared foods. Whole roasted chickens, stuffed with a savory sage farce; loin lamb chops, served with garlic mashed potatoes; prime rib of beef, encrusted with mushrooms; and tender veal chops, grilled slowly to perfection and topped with morels and a blackberry reduction sauce are just a few of our favorite dishes with the 2005 Château Lescalle. Meatloaf and other mid week staples pair nicely with this wine, too, as Château Lescalle is no snob: it is equally comfortable at an elegant dinner party as it is with a simple mid-week meatloaf.
The outstanding 2005 vintage in Bordeaux continues to astound critics and consumers alike. From top to bottom, the 2005 vintage in Bordeaux offers an embarrassment of riches. Furthermore, no where does one get more bang for the buck and more pleasure on the palate than from the finest Petit Châteaux of Bordeaux in the 2005 vintage. Moreover, Château Lescalle is one of the finest 2005 Petits Châteaux from the Bordeaux Supérieur appellation. Château Lescalle is counted among the top echelon of Petits Châteaux because it consistently fashions wines of charm, grace, and remarkable drinkability. This over-achieving château is owned by Jean-Louis and Isabelle Chollet, the proprietors of several outstanding Bordeaux properties, including nearby Château Plaisance. Château Lescalle was built in 1875 and is located on the edge of the famous Margaux appellation. The estate actually consists of two pieces of land, one in Les Paruades near Château Maucamps, the other in the village of Lescalles itself. Château Lescalle lies adjacent to the Margaux commune, but because Lescalle's well-tended vines are planted on alluvial soils near the Gironde, rather than on higher ground further inland, it is only entitled to bear the title of Bordeaux Supérieur. However, Château Lescalle is Margaux in everything but name, and a very fine wine indeed. The only down side to this charming property is its diminutive size and limited availability. The cépage or blend at Château Lescalle consists primarily of Cabernet Sauvignon and Merlot, with a smattering of Cabernet Franc and Petit Verdot.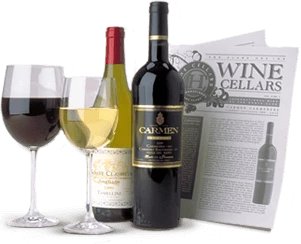 Enjoy Limited Production Estate
Bottled Wines
Discover limited production estate bottled wines such as Vergenoegd's internationally
acclaimed 2005 Cabernet Sauvignon, imported exclusively for our members.
DISCOVER OUR FOUR CLUBS