The stylish, superbly crafted 2019 Château La Révérence Saint-Émilion Grand Cru (94 points – James Suckling; 93 points – Wine Enthusiast) hails from a tiny 7-acre vineyard just north of the village of Saint-Émilion. This is a young, full-bodied Saint Émilion Grand Cru from 50% Cabernet Franc and 50% Merlot that already shows its class and promises even more over the long haul. It offers layers of dark berries and black fruits, hints of fennel, and plenty of firm ripe tannins, which will serve it well for a decade or more. Elegant and complex, too, the 2019 Château La Révérence Saint-Émilion Grand Cru graces the palate with fresh blackberry, blueberry, currant, and plum flavors infused with deft touches of cinnamon and exotic spices for added complexity. Beautifully textured and bursting with energy on the finish with fresh black pepper and heady tannins, the 2019 Château La Révérence Saint-Émilion Grand Cru makes quite a statement. For optimal enjoyment now, we strongly suggest decanting this superb Bordeaux an hour ahead of serving at cool room temperature (58°-62° F). Anticipated maturity: 2023-2033. Enjoy!
Simple, well-prepared dishes provide the most rewarding accompaniments to the 2019 Château La Révérence Saint-Émilion Grand Cru, which is also true of many of the best red Bordeaux wines. Beef, lamb, pork and poultry all provide excellent accompaniments. Braised Short Ribs constitute one of our favorite pairings with this wine, especially when served with mashed potatoes, haricots verts or root vegetables. Grilled Lamb Chops provide a simpler and easier to prepare accompaniment, yet it is an equally tasty companion to the superbly textured 2019 Château La Révérence Saint-Émilion Grand Cru. Sous Vide Duck Breast served with wild rice earns two thumbs up as well. Pork tenderloin and rotisserie roasted chicken offer additional alternatives. Chicken or veal in a light mushroom sauce provides another fine complement. Save hot, heady sauces and garlic-rich sides for other wines to allow this Saint-Émilion Grand Cru to shine. Red Bordeaux wines and especially Saint-Émilion shine brightest in the company of fresh, simply prepared meats and vegetables as fine red Bordeaux has the propensity to perform best when it leads its partner in the dance. Bon Appétit!
Château La Révérence is a tiny micro estate of a mere 3 hectares. It is located next to two larger, more renowned Saint-Émilion châteaux, Château Chauvin and Château Corbin, in close proximity to the beautiful medieval village of Saint-Émilion. It was originally called Château Clos Jean Voisin until it was purchased in 2003 by the dynamic winemaker Emeric Petit, who re-christened this boutique property Château La Révérence. La Révérence means curtsey, and the wine from this Saint-Émilion Grand Cru from Emeric Petit deserves multiple curtain calls.
Monsieur Petit is a rising star in Saint-Émilion and the nearby appellations of Pomerol and Lalande-de-Pomerol, where he is the winemaker and proprietor of Château Tournefeuille in Lalande de Pomerol and Château L'Écuyer in Pomerol. Monsieur Petit learned to make wine from two of Bordeaux's most illustrious oenologists, Jean-Claude Bérrouet of Petrus, and Catherine Cohen. Château La Révérence produces a mere 600 cases of wine on average each year. Many of this superlative property's vines average 40 years of age. Moreover, all of the grapes are hand-harvested and vinification takes place equally in 400 liter barrels and temperature controlled stainless steel tanks before all of the wine is aged for 12 months in French oak barrels, of which two thirds are new. No expense is spared in fashioning the age-worthy Château La Révérence, and the results speak for themselves in both palate-pleasing pleasure and high critical acclaim.
Saint-Émilion is Bordeaux's most important wine town and the region's hottest attraction. This walled, medieval village, perched atop a series of hills and surrounded by vines, is unquestionably the most beautiful wine village in all Bordeaux. Indeed, it is arguably the most beautiful wine village in all France. Nearly everything about Saint-Émilion is centered on wine, even the church in Saint-Émilion is a cellar. And, lest you think that Saint-Émilion has just recently succumbed to contemporary commercialism or sold itself to the modern mania for all that is Bacchanalian, rest assured that very little has changed in principle in this village since antiquity: Saint-Émilion was founded by the Romans, who used it as a viticultural bastion in the burgeoning area they named Burdigala.
Interestingly, there are two distinct districts of Saint-Émilion, each possessing a special terroir. Both districts produce compelling red wines, but of a different sort. Typically, the côtes or hills upon the escarpment yield the fullest, slowest to mature wines of Saint-Émilion. Here the soil is nearly all limestone and the resulting wine is more apt to act like a great Cabernet-based wine of the Médoc. The other distinct district of Saint-Émilion lies on the plateau adjoining Pomerol, where the soil is comprised of sand and gravel. Here the wines tend to be fleshier and quicker to mature. Each style is authentic Saint-Émilion, which allows the savvy consumer double the pleasure. Merlot and Cabernet Franc are the predominant grapes of Saint-Émilion, and Cabernet Sauvignon plays a very minor supporting role. Nonetheless, Saint-Émilion can be produced from Merlot alone or from any combination or percentage of the six traditional red Bordeaux grape varieties (Cabernet Franc, Cabernet Sauvignon, Merlot, Malbec, Petit Verdot, and Carmenère). No commercial white wine is made in Saint-Émilion nor is white wine permitted to be sold as Saint-Émilion. Many of Bordeaux's most illustrious wines hail from this appellation, including the legendary Château Cheval Blanc.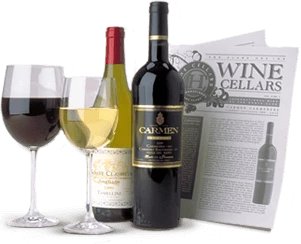 Enjoy Limited Production Estate
Bottled Wines
Discover limited production estate bottled wines such as Vergenoegd's internationally
acclaimed 2005 Cabernet Sauvignon, imported exclusively for our members.
DISCOVER OUR FOUR CLUBS