"A meditative wine" is how one sagacious member of the tasting panel described the 1994 Château Haut-Corbin St. Emilion Grand Cru to the nodding heads of the rest of the group. Indeed, there is nothing quite like a fine, aged red Bordeaux, and the 1994 Haut-Corbin fills that bill. It retains a deep ruby center and shows only the faintest lightening on the edges to mark its age. Its aromatic profile is deep and profound, displaying a good deal of cassis, cedar, and lead pencil to complement the hints of chocolate and truffle that lurk beyond the fruit. Smooth, suave, and sophisticated on the palate, the 1994 Haut-Corbin glides easily down the throat as it caresses all the senses. Decanting and allowing at least 20-30 minutes of aeration before serving are highly recommended. Salut!
The 1994 Haut-Corbin St. Emilion Grand Cru provides the quintessential dinner party wine. Charming, sophisticated, and still full of flavor, it will complement a variety of meats and artfully prepared dishes. Typically, mature Bordeaux fares best with simple cuts of meat and dishes that display only a judicious amount of fire or spice, and so it is with the 1994 Haut Corbin. Although still young and powerful enough to accompany a rare filet or tenderloin of beef, our preference would be to go even lighter with the accompaniments to one of the Bordelais's favorite dishes with mature Bordeaux: roast chicken or quail. Roast quail served with new potatoes and haricots verts makes for a splendid accompaniment. Chicken or duck prepared with a light blackberry or orange glaze works well, too. And for serious Bordeaux lovers, just pour the 1994 into a clean Riedel crystal wine glass and enjoy one of life's great experiences – fine, aged claret.
Editor's Note: Properly aged, mature Bordeaux is an increasingly rare and expensive experience. Few serious wine drinkers or collectors have the money, patience, or storage to drink fine red Bordeaux in its prime on a regular basis. In a good vintage, Grand Cru and Classified Growths from respectable Bordeaux châteaux rarely hit their stride until at least ten or fifteen years of age. And there is, of course, the question of storage. Proper storage is paramount to the condition and ultimate drinking pleasure of any wine; but cool, dark storage is particularly essential to the proper maturation of classified Bordeaux. Consequently, we are delighted to offer the 1994 Château Haut-Corbin St. Emilion Grand Cru to a limited number of our Collector Series members. The Château Haut-Corbin you are receiving is mature wine from a fine, slow-maturing vintage in St. Emilion. Unlike the Médoc which enjoyed only an average vintage in 1994, St. Emilion was favorably blessed in 1994. Furthermore, each bottle of the 1994 Haut Corbin St. Emilion Grand Cru has been stored under constant temperature control. As with many mature Bordeaux of this pedigree, the 1994 Haut Corbin was bottled unfiltered, so you will undoubtedly notice precipitate on the side of the bottle and/or sediment in the wine. These are harmless by-products of natural fermentation and the normal maturation process and further indication of Haut-Corbin's commitment to fashioning natural wines that have not be stripped of flavor by filtration. Hence, this wine is still alive and well, and it continues to age in the bottle. We suggest you decant this excellent St. Emilion to remove any excess sediment and then allow the wine at least 20-30 minutes of aeration in a decanter before serving. Château Haut-Corbin is a tiny property of less than 15 acres. It is located in the northern section of St. Emilion very close to Pomerol. It shares the same ownership as the great classified Haut-Médoc property of Château Cantemerle. Haut-Corbin is a serious, age-worthy St. Emilion that receives "the proper élevage," or upbringing. In other words, it is built in the traditional style from a blend of Merlot (65%), Cabernet Sauvignon (25%), and Cabernet Franc (10%) that spends a year in barrel, of which approximately a third of the barrels are new. It is a favorite of critics and connoisseurs alike, and it has often been designated as one of the "sleepers of the vintage," meaning it is high-quality wine that remains somewhat under the radar, no doubt due to its diminutive size and limited production. We trust you will enjoy this wine as much as we do.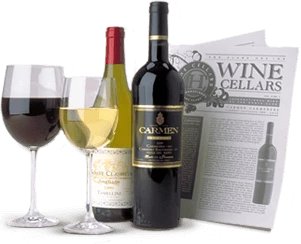 Enjoy Limited Production Estate
Bottled Wines
Discover limited production estate bottled wines such as Vergenoegd's internationally
acclaimed 2005 Cabernet Sauvignon, imported exclusively for our members.
DISCOVER OUR FOUR CLUBS