The 2016 Château Ducasse Graves Blanc underscores the success of white Graves in the superb 2016 vintage throughout Bordeaux. This youthful white Graves displays a brilliant crystalline color with a flash of green along with a delightful array of floral and fruit aromas to entice the nose. Dry, yet rich in flavor and texture thanks to the preponderance of Semillon in the blend, the 2016 Château Ducasse Graves Blanc underscores the charm of traditional white Graves. With Semillon the leading player and Sauvignon Blanc playing a strong supporting role, the 2016 Château Ducasse Graves Blanc captures the inherent beauty of white Graves: delicacy, minerality, and light refreshing fruit flavors reminiscent of honeydew melon and pomelo. However, it may be this wine's ability to evolve in the glass and accompany a wide variety of foods that place it a cut above. And in true Graves fashion, the 2016 Château Ducasse Graves Blanc will continue to improve in bottle for several more years. We suggest serving this classic white Graves moderately chilled (38°-40° F). Enjoy!
In Bordeaux, white Graves is the order of the day with the region's legendary seafood. With that said, the 2016 Château Ducasse Graves Blanc truly shines at table in the company of all that once swam in the sea. Wild Canadian Salmon served with a light lemon beurre blanc, saffron risotto and poached asparagus or Pecan Encrusted Sea Bass with grilled vegetables provide mouthwatering accompaniments to Château Ducasse's white Graves. A simple plate of prawns, dipped in drawn butter, steamed mussels in a savory broth, or just about any other fruits de mer will accentuate the flavors in both the wine and the food. More eclectic seafood offerings such Prosciutto Wrapped Shrimp and Pineapple served with a butternut squash crispy spring roll or Baked Grouper Filets, prepared with a pumpkin seed pesto make fine accompaniments to the 2016 Château Ducasse Graves Blanc, too. White Graves is also one of the easiest wines to pair with cheeses, especially French cheeses. A cheese platter that includes Brie or Camembert will provide a simple, satisfying complement to Château Ducasse's soulful white Graves. Bon appétit!
Château Ducasse Graves Blanc is estate-bottled white Graves from Château Beauregard Ducasse. Marie-Laure and Jacques Perromat are the sixth generation to make wine at Château Beauregard Ducasse, as the family has been in possession of this venerable château since 1850. Located in the village of Mazères in the southernmost rural section of the Graves region on a bed of gravel (from which the name Graves is derived), this 27 acre estate produces exceptional red and white Graves.
The majority of the estate's production is white Graves from Semillon and Sauvignon Blanc, while the two red Graves of Château Beauregard Ducasse consist of Merlot, Cabernet Sauvignon, Cabernet Franc, and in some vintages a small quantity of Petit Verdot. In order to provide the highest quality wine, Château Beauregard Ducasse produces two exceptional red Graves at the château: Château Ducasse and Château Beauregard Ducasse. The Perromats also fashion two special white Graves, Château Ducasse Graves Blanc (this month's feature), a traditional white Graves meant to be consumed in the first five years of life, and the more age worthy Cuvée Albertine Peyri, a barrel fermented white Graves.
Graves is the oldest and most historic of all the Bordeaux communes. Before Latour, Lafite, Margaux, and the rest of the well-known names of the Médoc even existed or had even seen a cultivated vine, there was Graves. In fact, Graves has been the home of cultivated vines since as early as the 1st century AD, due at least in part to the Romans' inability to grow other crops in the graveled soil. The stone and gravel deposits are vestiges of the last Ice Age, a bane to most farmers but a boon to grape growers, whose vines struggle deep into the thin, porous soil to draw life and subtle complex flavors from the nutrients below. Graves is also a rarity: its exceptional red and white wines enjoy equal renown.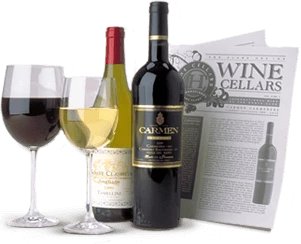 Enjoy Limited Production Estate
Bottled Wines
Discover limited production estate bottled wines such as Vergenoegd's internationally
acclaimed 2005 Cabernet Sauvignon, imported exclusively for our members.
DISCOVER OUR FOUR CLUBS