Viognier is a difficult grape to grow, and a tricky wine to make, but in the hands of an expert winemaker, there is no better white wine. Fortunately, Jerome Quiot and the folks at Château du Trignon know how to treat Viognier and have turned in a superlative performance in their 2013 Château du Trignon Viognier Côtes-du-Rhône Blanc. Our tasting panels were taken by this wine's lovely floral aromas, pear and peach flavors, and supreme purity, elegance, and balance. "A floral delight," proclaimed one taster. "Stunning," blurted another to the affirming nods of the rest of the tasting panel. And in a resounding vote of confidence, we all agreed that we could happily drink the 2013 Château du Trignon Viognier all night long, with or without food. The wine beguiles the nose as well as the palate, before gleefully slipping down the throat. This may not be the wine for Chardonnay drinkers who think alcohol and wood determine a wine's quality, but all others will beg for more. We did. Instead, Château du Trignon's 2013 Viognier Côtes-du-Rhône Blanc is a wine for those who appreciate delicacy, finesse and the natural flavor of an extraordinary grape. In short, Château du Trignon's 2013 Viognier Côtes-du-Rhône Blanc is the real deal, a wine without guile, made without smoke or mirrors. Enjoy this superlative white Rhône offering moderately chilled or simply cool. Most of us preferred it lightly chilled (about 45° F), but as you like it.
Château du Trignon's 2013 Viognier Côtes-du-Rhône Blanc provides a wonderful accompaniment to seafood, salads, and white meats. This elegant Viognier possesses charm and elegance in addition to plenty of smooth floral flavors to complement Coconut Shrimp, Sautéed Sea Scallops, and Chicken and Muenster Cheese Flatbreads. Vietnamese Spring Rolls with thin slices of shrimp, pork, and fennel pair nicely, too. A hearty salad of mixed organic greens, grilled chicken, cashews, and Mandarin orange slices offers a fine complement as well. And for most of us, a clean glass from which to sip this delicious Viognier is all that is needed in the way of accompaniments, as the 2013 Château du Trignon Viognier Côtes-du-Rhône Blanc provides enormous palate appeal, all its own. Bon appétit.
Château du Trignon has for over a century been one of the Southern Rhône Valley's most respected wine estates. With considerable holdings in Gigondas, Rasteau, Sablet and other premier Côtes-du-Rhône locales, five successive generations of the Roux family firmly established Château du Trignon as a first-rate purveyor of powerful, structured red wines. And, since its purchase in 2007 by the Quiot family of Domaine du Vieux Lazaret of Châteauneuf-du-Pape fame, Château du Trignon has become equally adept at producing compelling white wines, most notably the estate's three very limited bottlings of white Côtes-du-Rhône. Each is made from a single white varietal as 100% Marsanne, Roussanne or Viognier. In our tasting experience, the estate's Viognier Côtes-du-Rhône Blanc is one of the finest Viogniers produced in the Southern Rhône. The rare 100% Marsanne also dazzles the senses. Too bad both wines are produced in such limited quantities that we can only purvey them to our white wine only members.
The Quiots have also expanded the estate's red wine portfolio, adding a delicious Vacqueyras to the mix. Jerome Quiot has pushed the envelope in regard to the property's other red wines as well. Thanks to his acumen, Château du Trignon's red wines display considerable charm as well as power and depth, and the white Côtes-du-Rhônes set the standard for the entire region.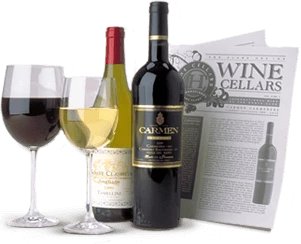 Enjoy Limited Production Estate
Bottled Wines
Discover limited production estate bottled wines such as Vergenoegd's internationally
acclaimed 2005 Cabernet Sauvignon, imported exclusively for our members.
DISCOVER OUR FOUR CLUBS