The 2000 Château du Gaby Canon-Fronsac provides more than ample testimony to the commitment to excellence brought by the new ownership at this estate and to the splendor of the outstanding 2000 vintage. This Grand Cru style claret sports a deep, nearly impenetrable robe that makes it almost as beautiful to look out as to drink. Better still is the wine's amplifying nose that contains all the juicy black fruit flavors like blackberry, cassis, and current, which make fine claret so compelling. Mingled within the wine's lush interior and texture are hints of spice, earth, tobacco, and new oak. Beneath all this goodness lies a core of sweet, ripe tannin that will allow this glorious Canon-Fronsac to develop further and mature for at least another ten years. Given Château du Gaby's classic structure and relative youth, we suggest that it be opened at least one hour before serving. In addition, we recommend that the 2000 Château du Gaby be served relatively cool (at no more than 66° F). Santé!
While it is true that most hosts plan food for a dinner party first and foremost, with nary a thought to the wine, such is not the case among true wine aficionados. Instead, most wine lovers and quite a few renowned chefs, too, plan their meals around their wines – a philosophy we heartily endorse. In the case of the 2000 Château du Gaby Canon-Fronsac, we highly recommend that whatever you choose as an accompaniment be of comparable quality. Classic claret of Grand Cru stature deserves food of equal standing. Therefore, we believe classic French cooking provides a myriad of outstanding accompaniments to Antoine Kahayat's stunning Canon-Fronsac. Duck à l'Orange, Escalopes de Veau à la Crème (Medallions of Veal in a Mushroom Cream Sauce), Gigot d'Agneau (Roast Leg of Lamb), and Tournedos Rossini (Filet Mignon with Artichoke Hearts, Foie Gras, Truffles, and Madeira Sauce) all provide wonderful accompaniments to highlight this wine. Simple foods will delight in its company as well. Homemade bread and French cheeses such as Cantal and Pont L'Eveque offer excellent alternatives to haute cuisine and terrific pairings with the delightful 2000 Château du Gaby. Salut!
Château du Gaby is an historic property that dates from the early 18th century. For over 250 years this property remained in the same family and rode the familiar Bordeaux cycles of boom and bust, based upon the vagaries of economics and politics, as well as the individual acumen of the hand on the barrel. However, since 1999 Château du Gaby has produced wines of superlative quality. Under the current ownership and the watchful eyes of Gilles Pauquet, the estate's winemaker, Château du Gaby now rivals and often surpasses the Grand Cru offerings of nearby St. Emilion and Pomerol. And unlike the majority of Bordeaux "châteaux," whose manor houses are garages or sheds and their vineyards far a field, Château du Gaby contains an authentic château that sits upon a hill, surrounded by 28 acres of vines that occupy the perfect limestone terroir. Moreover, from Château du Gaby's magnificent slopes one has a commanding view above the Dordogne River and some of the prettiest countryside in all Bordeaux. The mission at Château du Gaby is quite clear. Their aim is to fashion the finest wine of Canon-Fronsac, the historic "Right Bank" appellation that sits on the Dordogne River upriver from Bordeaux itself. Canon-Fronsac lies adjacent to Pomerol and St. Emilion with which it shares a similar cepage (a blend of Merlot, Cabernet Sauvignon, and Cabernet Franc) and terroir (soil, climate, and upbringing). Within the Fronsac appellation, there are really two separate appellations: Fronsac and Canon-Fronsac. Canon-Fronsac is the older, smaller, and more prized of the two appellations because of the uniform high quality of wine produced within its diminutive confines. Under new ownership and management since 1999, Château du Gaby has benefited from the substantial investment and development by the new owners and management. The estate's wines are now made using only sustainable agricultural methods, which means no herbicides are used and only organic fertilizers are permitted in the vineyard. The château also practices minimal, controlled treatment spraying with organic products. The results are clear. Château du Gaby is now fashioning wine as captivating as the château's commanding view. Vive la différence!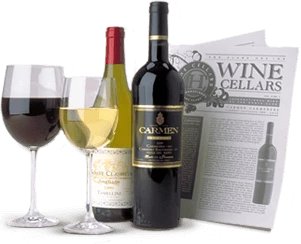 Enjoy Limited Production Estate
Bottled Wines
Discover limited production estate bottled wines such as Vergenoegd's internationally
acclaimed 2005 Cabernet Sauvignon, imported exclusively for our members.
DISCOVER OUR FOUR CLUBS