The style of Muscadet made at Château du Coing de St. Fiacre is fuller, rounder and more generous than one finds from most other Muscadet producers. In addition, the 2009 vintage was extremely ripe, giving Château du Coing's wine an extra dimension of richness. Yet, the 2009 Château du Coing de St. Fiacre remains refreshingly dry and clean, revealing just the right balance of fruit, mineral and sea spray flavors to delight the nose as well as the tongue. And having been vinified in stainless steel, stored underground in tanks, never racked, and kept on the lees for 6 months (Sur Lie) to give the wine an extra degree of freshness and a slight amount of CO2, it also exhibits the classic perle or tingle that characterizes the finest Muscadets from Sèvre and Maine. Although this classic Muscadet should age well for another year or two, we suggest consuming it moderately chilled (40º-45º F) while it still exhibits youthful verve.
Muscadet is a wine made to accompany the fruits of the sea and Sèvre and Maine is an appellation whose climate, history, and sustenance are inexorably married to the sea. Consequently, it should come as no surprise that the wines of Muscadet, including Château du Coing are fashioned with all the edible creatures of the briny deep in mind. In France, oysters are the traditional, tried and true accompaniment to Muscadet. In nearby Nantes as well as in Paris, the bistros and fish restaurants all attest to Muscadet's preeminence. And oysters in the company of a bottle of the 2009 Château du Coing de St. Fiacre are a perfect match, but for those wary of consuming raw molluscs (and one is justified in being so leery), we suggest sautéed oysters, Oysters Florentine, or Oyster Stew as alternatives. Crabs, mussels, prawns, scallops, and shrimp offer equally compelling accompaniments to this wine. Specifically, Shrimp Cocktail, Shrimp Scampi, and Scallops en Brochette make for tasty accompaniments. Sole, flounder, and most light, white fish will pay homage to this fine Muscadet well. Bon Appétit!
Château du Coing de St. Fiacre hails from the village of St. Fiacre, at the very heart of the Muscadet Sèvre et Maine appellation. The word "Coing" is a version of "Coin" or "Corner," referring to the corner or angle where the Sèvre and Maine rivers meet and flow into the Loire. Château du Coing de St. Fiacre comprises 40 hectares that lie right in that corner between the tributaries which lend their name to the appellation. The soil is an advantageous mix of granite, schist and clay. The vines average 30 years of age, with some vine parcels in excess of 65 years of age planted on a gentle south-facing slope. The property is owned and run by Madame Véronique Gunther-Chéreau. The Chéreau family is legendary in Muscadet, having been old-time negociants and owners of several of the appellation's most prominent châteaux for more than 200 years. Château du Coing de St. Fiacre is regularly cited in France's top reviews, including "Best Wines of France" by La Revue des Vins de France, Gault-Millaut, Bettane et Desseauve, the Guide Hachette and Gilbert et Gaillard. This month's feature (the 2009 Château du Coing de St. Fiacre) was awarded a Gold Medal at the 2010 Nantes Fair, Gold at the 2010 International Wine Challenge and the Vinalies Prize at the 2010 Vinalies Fair. Moreover, our tasting panels voted it the best quality and value Muscadet wine we tasted this year, and we tried quite a few.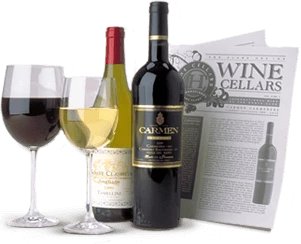 Enjoy Limited Production Estate
Bottled Wines
Discover limited production estate bottled wines such as Vergenoegd's internationally
acclaimed 2005 Cabernet Sauvignon, imported exclusively for our members.
DISCOVER OUR FOUR CLUBS