A Gold Medal recipient at the 2018 Brussels Concours Mondiale, the 2017 Château de Segure Vieilles Vignes Fitou is a tour de force for the Caves de Tauch. This firmly structured wine contains great color and an intense bouquet of red and black fruits, and garrigue from the heavenly scented Mediterranean herbs such thyme, juniper, rosemary, and lavender that cover the hillsides and forests of southern France. Add a deft touch of vanilla from barrel ageing and hints of pepper and spice and it is obvious there is a lot going on in Château de Segure's flagship Fitou. Rich and expansive on the palate, the 2017 Château de Segure offers more than a glimpse of the ruggedly beautiful landscape surrounding Fitou: it embodies the finest attributes of Fitou in the form of rich fruit, robust flavors, and plenty of ripe tannins to make you know that this classic flavorful red means business. Enjoy the 2017 Château de Segure Fitou at cool room temperature (58°-62° F) after 15-20 minutes of aeration.
The 2017 Château de Segure Vieilles Vignes Fitou is the ideal wine for a cold winter's night and the perfect companion to cassoulet, southern France's signature dish. Cassoulets are the comfort food of Languedoc/ Roussillon. Each region of southern France has its special rendition of cassoulets, but all are made of white beans and contain a variety of sausages in the form of pork, lamb and other meats, typically duck or partridge. January is Cassoulet Month with January 9th designated as National Cassoulet Day in the United States. Duck Confit, Gnocchi Aurora, potato and cheese gnocchi in creamy tomato sauce, and Pasticiatte, a delicious pasta dish with a rich, creamy Bolognese sauce also make tasty complements to Château de Segure's 2018 Vieilles Vignes Fitou. Grilled Chicken Paillard, chicken breast topped with tomatoes, cucumbers, onions, olives, and feta or other sheep's cheese, provides another lip smacking accompaniment to this superb Fitou. Bon Appéttit!
Château de Segure is produced by the excellent Caves de Tauch, which possesses 50 acres of vines and has been making wines in the rugged interior of the Fitou appellation since 1913. Château de Segure lays claim to being part of one of the oldest vineyards in France. Wine was first made in Fitou by colonists from ancient Greece and later by the Romans who occupied Gaul in the 1st century B.C. In this century, where chariots once rumbled past the tiny village of Fitou on the Via Domitia, the Roman road that passed through this region connecting Spain to Rome, tractors and truckloads of wine now traverse this rugged section of Languedoc/Roussillon.
Built on a rocky escarpment high above the village of Tuchan, the formidable Château de Segure dates from the 11th century. For much of its history it was controlled by the renowned Cistercian Abbey de Fontefroide in nearby Corbières. Today, as in years past, wine reigns supreme at Château de Segure and in Fitou as it has for millennia. Most importantly, Caves de Tauch serves as a guardian of Fitou's traditional robust red wine in Château de Segure, unequivocally Caves de Tauch's most prestigious offering. The 2017 Château de Segure Vieilles Vignes Fitou, this month's feature, is the recipient of the Medaille d'Or at the Concours Mondiale de Bruxelles, Europe's most prestigious wine fair. It is comprised of Fitou's classic blend of old vines Carignan, Grenache and Syrah, which were farmed by sustainable methods.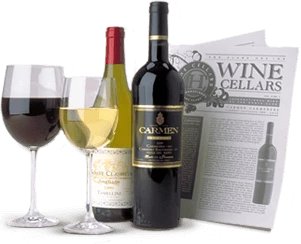 Enjoy Limited Production Estate
Bottled Wines
Discover limited production estate bottled wines such as Vergenoegd's internationally
acclaimed 2005 Cabernet Sauvignon, imported exclusively for our members.
DISCOVER OUR FOUR CLUBS