In the 2012 Château de Saint-Lager Brouilly, Pascal Dufaitre has once again fashioned the quintessential Brouilly as well as one of the most compelling and eminently enjoyable of all Cru Beaujolais wines. Château de Saint-Lager's Brouilly sports a rich purple robe and exudes pure perfume in the form of a tantalizing aroma of fresh ripe raspberries, strawberries and spring flowers. On the palate the wine explodes in a riot of ripe vivacious fruit, all underpinned by a pure, racy minerality that affords balance and makes this wine nearly irresistible. Sumptuous and hedonistic, the 2012 Château de Saint-Lager Brouilly offers testimony to the heights to which the Gamay varietal can ascend in Brouilly and the other 9 Cru Villages of Beaujolais. Moreover, it offers pure pleasure from start to finish with its generous vivacity and impeccable balance, a far cry from the oceans of Beaujolais Nouveau that wash upon our shores each year. Château de Saint-Lager's Brouilly is authentic Cru Beaujolais, a wine for all seasons that indulges the senses and soothes the soul from first sip to lingering finish. Serve this exuberant Brouilly cool or even slightly chilled (55°-64° F) after just a few minutes of aeration; it will quickly reveal its many charms. Salut!
Like its predecessors, the 2012 Château de Saint-Lager Brouilly barely requires a glass to woo its suitors, as the wine's floral bouquet can fill a room with its breath. Nevertheless, it would be a shame to forfeit the comforts and pleasures of the table for which Cru Brouilly is renowned. So our preference is to drink a glass of this sumptuous Cru Beaujolais before dinner and then sit down to some good country cooking. Traditional Burgundian specialties always provide superb accompaniments, yet almost any savory dish will double the gustatory pleasure of this superb wine. Lightly flavored meats such as chicken, veal, ham, and pork make excellent accompaniments to Brouilly. Poultry and game birds such as Cornish hens, quail, and squab offer superb pairings with this wine, too. Coq au Vin, a classic Burgundian stew, is certainly one of the region's signature dishes and, perhaps, the most traditional companion to Cru Beaujolais. Grilled or poached salmon and seared scallops with angel hair pasta will pair nicely with the 2012 Château de Saint-Lager Brouilly as well. For those not so adept in the kitchen, soft, creamy cheeses such as Port Salut, Bel Paese, Double Gloucester, Gouda, and Edam provide easy to prepare accompaniments that are equally gratifying in the company of Château de Saint-Lager's 2012 Brouilly. Bon Appétit!
Château de Saint-Lager is a venerable wine property that dates to 1432 when the Lhaye family acquired the barony from the Lords of Beaujeu. The actual château of Saint Lager has an even longer history as older medieval records make direct reference to the castle. The old fortress was transformed into a manor house in the 16th century when the domain covered at least a third of the land in the entire village, including a large portion of the famous hill of Brouilly where an iconic chapel now crowns the summit of the hill of Brouilly and smiles benevolently upon the sea of vineyards as they crawl up the sides of the hill. The wines of Château de Saint-Lager are produced at the foot of the hill where the vineyards' soft, sandy soils impart intense floral tones, fleshy fruit flavors, and supple elegance to the resulting wines.
Château de Pizay has controlled the production of Château de Saint-Lager's renowned Brouilly for nearly two decades, having acquired the last remaining parcels of this once enormous estate in 1998. Under the dedicated tutelage of Pascal Dufaitre, Château de Pizay's current director, the wines of Château de Saint-Lager combine tradition with the use of stainless steel, modern techniques, and temperature control to ensure preservation of the fruit and freshness in the estate's wines. The result is pure, natural tasting wine that exudes both supreme elegance and great flavor. This highly sought after Cru Brouilly remains highly allocated.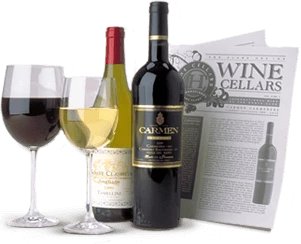 Enjoy Limited Production Estate
Bottled Wines
Discover limited production estate bottled wines such as Vergenoegd's internationally
acclaimed 2005 Cabernet Sauvignon, imported exclusively for our members.
DISCOVER OUR FOUR CLUBS