The wines of Minervois, and most especially those from La Livinière and its environs, enjoy a certain cachet and depth of flavor – all of which come through in Château de Gourgazaud's 2012 Minervois. Born during another splendid vintage in southern France, the 2012 Château de Gourgazaud Minervois is a provocative, deeply colored wine that beautifully conveys the charm and flavor for which the ancient appellation of Minervois is justly renowned. This superbly crafted Minervois tantalizes the senses with the aromas of black fruits and garrigue, pepper and spice. Medium to full-bodied, this wine not only evokes the potpourri of Provence, it offers a real mouthful of wine. There's nothing wimpy about this Minervois thanks to a high proportion of Mourvèdre in the blend. Initially, the might of Mourvèdre can cause the wine's fruit and complexity to hide temporarily behind ripe, dusty tannins, but given a bit of aeration (20-30 minutes in a glass or decanter) the 2012 Château de Gourgazaud blossoms and is ready to explode on the palate. The wine takes on weight and polish as it breathes, invoking the more famous wines of Provence, most notably Gigondas, Vacqueyras, and even Châteauneuf-du-Pape. We suggest serving this tasty red at cool room temperature of 60º-65º F after a bit of aeration. Salut!
For aficionados of Syrah, Mourvèdre and the full-bodied wines of the Rhône Valley, the 2012 Château de Gourgazaud Minervois will need only a clean, good size glass to please, but given the affinity this wine has for food and the rich culinary traditions of southern France, why not go for the gusto? Château de Gourgazaud's Minervois is made to accompany the traditional dishes of Languedoc, Provence and beyond. Minervois truly showcases grilled meats, including beef, lamb, and pork, but it will do equal justice to traditional Mediterranean favorites, including most cheese and tomato based Italian favorites such as lasagna and manicotti. Pasta Bolognese and Three Cheese Agnolotti Stuffed with Braised Short Ribs and King Trumpet Mushrooms pair beautifully with Château de Gourgazaud's mouth-filling Minervois, though almost any hearty pasta dish made with fresh tomatoes, herbs, and wild mushrooms provides a tasty companion. Smoked meats like salami, pepperoni and soppressata offer other tasty pairings, too, especially in the company of aged hard cheeses. Enjoy!
When the Phoenicians and ancient Greeks sailed the Mediterranean, they brought not only goods to trade, they colonized special locales and cultivated vines on the most advantageous sites. One such site is Minervois, named for the Greek goddess Minerva, in what is now France's Languedoc. With more than 2,500 years of experience, Minervois remains not only one of the oldest wine producing appellations in France but a continuing source of excellent wine. Ernest Piquet, great-grandfather of the present owners of Château de Gourgazaud knew where to find such superior quality red wines for his clients as far back in 1870 when he caught a train from Bonnières, a small town in Normandy, and headed for La Livinière in the heart of Minervois.
Encouraged by wine producers in the region, Roger Piquet, Ernest's grandson, moved to Minervois in 1973 and acquired 67 hectares of Château de Gourgazaud and its vineyards, which encircle a vast amphitheater at the foot of the Montagne Noire and the towering Pyrenees. His goal was to create an experimental estate that embodied the viticultural renaissance that was beginning to sweep the Languedoc. Within a decade Roger Piquet had replaced all the vines on his estate and increased its vineyards to 100 hectares. Roger was the first to plant Syrah and Mourvèdre grapes in the region, varieties which now provide the foundation for the wines of Château de Gourgazaud and all the finest wines of Minervois. He was also instrumental in establishing Minervois's sole appellation status for La Livinière, Minervois's sole cru and most prestigious site.
Today Roger Piquet's grand experiment is being run with expert care by his daughters Chantale Piquet and Annick Tiburce who continue to fashion outstanding wine at Château de Gourgazaud in the finest Minervois tradition. They make a bevy of red cuvées, including the estate's classic Château de Gourgazaud Tradition Minervois (this month's feature) and Quintus, a super premium La Livinière offering. Cabernet Sauvignon, Chardonnay and Viognier also make their appearance at Château de Gourgazaud, though classic Minervois from Syrah, Mourvèdre and Carignan remain the estate's most renowned offerings.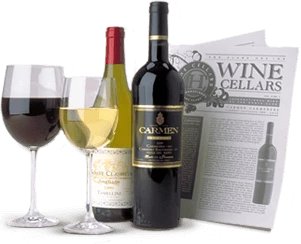 Enjoy Limited Production Estate
Bottled Wines
Discover limited production estate bottled wines such as Vergenoegd's internationally
acclaimed 2005 Cabernet Sauvignon, imported exclusively for our members.
DISCOVER OUR FOUR CLUBS