A bright, energetic wine, not unlike the man who makes it, the 2001 Chateau Bonnet Entre-Deux-Mers exhibits a staggering array of sensual pleasure in its aromatic profile. Herb, gooseberry, lime and a vibrant minerality caress the nose. An artful blend of Sauvignon Blanc, Semillon, and Muscadelle (an other indigenous Bordeaux grape that should not be confused with Muscat or Moscatel), the Chateau Bonnet possesses the finest attributes of each varietal and offers long, lush flavors in the mouth, as well as a dramatic well balanced finish. The 2001 Chateau Bonnet Entre-Deux-Mers is an extroverted, multi-dimensional white that has not surprisingly become the reference point for its appellation and the yardstick by which all others are measured. You can enjoy this delightful white Bordeaux either well chilled or slightly cool as you like it.
The 2001 Chateau Bonnet pairs well with so many different types of foods that it is difficult to recommend only a few of our favorite accompaniments. At the top of our list is a salad consisting of smoked turkey and goat cheese, served on a bed of mesculin greens, with a creamy fresh basil and herb dressing. Roast turkey, with onion and sage stuffing and all of the trimmings, is another perennial favorite among the panel. And of course, there is seafood. It is hard to resist the 2001 Chateau Bonnet Entre-Deux-Mers with oysters, raw, roasted or sauteed. Shrimp, served cold in a cocktail or steaming from the scampi pot, are other delicious ways to enjoy Andre Lurton's marvelous Entre-Deux-Mers. However, whatever you choose, you're not likely to be disappointed. Enjoy!
Château Bonnet is the boyhood home of the legendary, masterful Bordeaux vintner Andre Lurton. Situated on clay-chalk slopes in the north of the Entre-Deux-Mers, just outside the old village of Grezillac, Chateau Bonnet overlooks Saint-Emilion and the vast valley of the Dordogne. This is a part of ancient Gascony a land steeped in history. Chateau Bonnet has produced wine during five centuries and played host to many historical events and notable personages. In the 17th century, the Chateau belonged to Pierre de Reynier, a knight and the Seigneur de Barre et de Bonnet. Subsequently, one of the king's ministers acquired the property. In a later epic, just before the fall of the Ancien Regime, the estate was destroyed and rebuilt. Chateau Bonnet had a part in the French Revolution, too, when the then current owner, Jacques de Chillaud, was forced to hide in a well on the property to escape execution during the Reign of Terror. Corsairs and other colorful figures had their day at Chateau Bonnet, as well, before Leonce Recapet purchased it in 1889 and the estate passed into the hands of the Lurton family. Andre Lurton inherited Chateau Bonnet in 1956 from his grandfather with approximately 65 acres of dilapidated vines. Since then Lurton has dedicated himself to replanting and restoring the vineyards that were planted by his forbearers. Today, Chateau Bonnet comprises nearly 500 acres of well-tended vines. Moreover, Lurton has constructed a vast wine empire, consisting of more than a dozen historical properties in Entre-Deux-Mers, Graves and St. Emilion. Among these renowned properties are the great Chateau La Louviere in Graves and until recently Clos Fourtet in Saint-Emilion, both historical properties that are now at the top of the Bordeaux hierarchy. And in order to continue his great success at Les Vignobles Andre Lurton, Andre has created a special vine-nursery, which produces over 200,000 vine plants each year to replenish his vineyards.
Andre Lurton Very few people in modern memory have had more of an impact on Bordeaux and the quality of its wines than Andre Lurton. An energetic and passionate individual, no one could ever accuse Lurton of self-effacement, viticultural indifference or lackluster performance. Here is what Lurton and others say about the man and his legendary wines: He is not an easy man, on first impression even quite austere, but once past his forbidding exterior, he is one of the world's warmest and most charming individuals. Jean-Paul Kauffmann Like a bird building its nest, twig by twig, I have built up my business step by step. Unlike some I was not fortunate enough to inherit enormous capital. Andre Lurton This delicious, fresh, vibrant, dry white from Bordeaux is made at the home property of Andre Lurton. This wine is impeccably made. Robert Parker The Wine Advocate. (Chateau Bonnet) Les Vignobles Andre Lurton, more than an appellationa hallmark whereby earth and man meld together for true sensual delight. Jacques Lamalle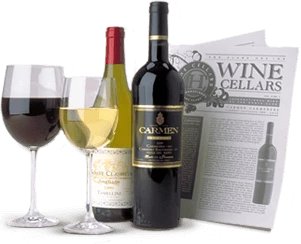 Enjoy Limited Production Estate
Bottled Wines
Discover limited production estate bottled wines such as Vergenoegd's internationally
acclaimed 2005 Cabernet Sauvignon, imported exclusively for our members.
DISCOVER OUR FOUR CLUBS