Displaying a brilliant crystalline color and a delightful array of floral and fruit tones to tantalize the nose, the 2012 Château Beauregard Ducasse Cuvée Albertine Peyri immediately ingratiates itself to the thirsty palate. Dry, yet rich in flavor from the preponderance of Semillon, along with a strong supporting role from ripe Sauvignon Blanc, this Cuvée Albertine Peyri captures the inherent beauty of white Graves: delicacy and minerality wedded to waxy fruit flavors with hints of ripe honeydew melon, citrus and guava. Although the wine's eight month hiatus in barrel is in evidence, the oak tones imparted by the wood never overpower the wines' essential fruit, herb, and mineral components, which seem to grow more pronounced with each sip. It is this wine's ability to evolve continuously in the glass and impress with equal attention to finesse and flavor that we found so attractive. We suggest serving the 2012 Château Beauregard Ducasse Cuvée Albertine Peyri moderately chilled (38°-40°F).
In Bordeaux, white Graves is the order of the day with the region's legendary seafood. With that said, the 2012 Château Beauregard Ducasse Cuvée Albertine Peyri truly shines at table with Pecan Encrusted Sea Bass, a simple plate of prawns, dipped in drawn butter, or just about any other fruits de mer. But why not consider more eclectic seafood offerings and other elaborate fare, too? To that vein, consider Prosciutto Wrapped Shrimp and Pineapple served with a butternut squash crispy spring roll or Baked Grouper Filets, prepared with a pumpkin seed pesto, or Almond Encrusted Pork Tenderloin, served with a dried cranberry and apple conserve. Each of these dishes offers a myriad of flavors to complement the sophisticated, flavorful 2012 Cuvée Albertine Peyri. A cheese platter with a variety of French cheeses, including authentic Roquefort, provides a simple, satisfying complement to this soulful Graves, too. Bon appétit!
Marie-Laure and Jacques Perromat are the sixth generation to make wine at Château Beauregard Ducasse, as the family has been in possession of this venerable château since 1850. Located in the village of Mazères in the southernmost rural section of the Graves region on a bed of gravel (from which the name Graves is derived), this 27 acre estate produces exceptional white and red Graves. The majority of the estate's production is white Graves from Semillon and Sauvignon Blanc, while the red Graves of Château Beauregard Ducasse consists of Merlot, Cabernet Sauvignon, Cabernet France and Petit Verdot. In order to provide the highest quality wine, Château Beauregard-Ducasse produces two white Graves, an easy drinking wine meant for early consumption and this month's feature, the château's flagship offering, Cuvée Albertine Peyri, a barrel fermented white Graves from the finest barrels.
Graves is the oldest and most historic of all the Bordeaux communes. Before Latour, Lafite, Margaux, and the rest of the well-known names of the Médoc even existed or had even seen a cultivated vine, there was Graves. In fact, Graves has been the home of cultivated vines since as early as the 1st century AD, due at least in part to the Romans inability to grow other crops in the graveled soil from which the name Graves is derived. The stone and gravel deposits are vestiges of the last Ice Age, a bane to most farmers but a boon to grape growers, whose vines struggle deep into the thin porous soil to draw life and subtle complex flavors from the nutrients below.
The wines of Graves appear to be the first Bordeaux wines to be exported, with archeological evidence that Roman garrisons in Britain were the happy recipients of Bordeaux's quintessential wines. And by the early 12th century, Graves was the most sought after wine in England and beyond for its quality as well as its proximity to the city and port of Bordeaux itself, which lay just a few kilometers from Graves.
Today, the northern section of Graves called Pessac Léognon must battle the urban sprawl that has broken out of the confines of the city of Bordeaux and spread to the nearby suburbs of Talence and Pessac. A little south of these towns lays the pastoral heart of Graves, a pretty, rural country that includes La Brède, where vineyards mingle with pastures and pine forests. Here, life remains wedded to the land and the joys of the vine.
Graves is rightly famous for both its red and white wines. At their best, the red wines of Graves are unsurpassed for their aromatic beauty as well as their smooth, rich flavors. Earthy fragrant aromas that resemble cedar, a classic cigar box scent, black currant, and tobacco emanate from red Graves and form a bouquet that is frequently described as enchanting and profound. Moreover, fine red Graves is often the supplest of Bordeaux on the palate. It is also the most flavorful and easily appreciated of all Bordeaux reds.
White Graves is a dry, very aromatic wine that emits great freshness, along with substantial flavor. Perhaps, the greatest event in Graves in the last twenty years has been the revolution that has taken hold among the producers of white Graves. Once, an obscure and expensive proposition that did not always travel well, contemporary white Graves has taken on vigor, personality and even an exotic edge that underscores the physiological ripeness that was often absent in white Graves in years past. At their best, the finest white Graves can rival the best white wines made anywhere in the world.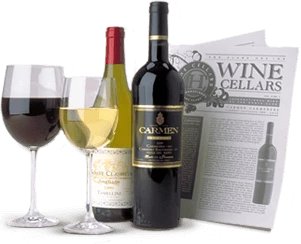 Enjoy Limited Production Estate
Bottled Wines
Discover limited production estate bottled wines such as Vergenoegd's internationally
acclaimed 2005 Cabernet Sauvignon, imported exclusively for our members.
DISCOVER OUR FOUR CLUBS