Bordeaux was blessed with outstanding weather in 2015. With ideal growing conditions throughout the 2015 vintage and traditionally very low vineyard yields, Château Barreyre has produced the château's most prestigious wine to date. The 2015 Château Barreyre weighs in at a whopping 15% alcohol and is packed with color and mouth-filling flavors. We have been great admirers of the wines of Château Barreyre for more than a decade and thought nothing could top the château's exceptional 2010, but we were wrong. The 2015 Château Barreyre is unequivocally the finest wine from this property to date. The 2015 Château Barreyre wears a deep purple robe and offers a seductive set of aromatics. The savory scents of blackberry, cassis, dark chocolate, and hints of cedar and fresh forest floor come to fore. In the mouth, the wine's haunting aromatics reappear to grace the palate. Carried on a bed of smooth-textured tannins one hardly notices the power this wine packs until it has slipped ever so easily down the throat. Bold and beautiful but never brash, the 2015 Château Barreyre is a joy to drink now, though it will undoubtedly continue to improve in bottle for at least several more years. For optimal enjoyment, we suggest affording the 2015 Château Barreyre at least 20-30 minutes of aeration before consuming at cool room temperature (60° F). Enjoy!
Fine Bordeaux wine such as the 2015 Château Barreyre provides the ideal companion to the gastronomic pleasures of the table. However, one doesn't have to be Cordon Bleu trained or spend hours in the kitchen preparing an elaborate meal to enjoy this wine. The ultimate glory of fine red Bordeaux is how it graces the table and elevates both simple and sophisticated meals to another level. Loin lamb chops, prime rib of beef, a marbled ribeye steak, whole roasted chickens with a savory sage stuffing, and tender veal chops grilled slowly to perfection and topped with a mushroom or fruit reduction sauce are some of our favorite pairings with Château Barreyre. Midweek meatloaf, simple stews, and almost any meat and potato meal will provide good companionship to this wine. Creamy, flavorful cow's milk cheeses pair beautifully with this wine, too. Most importantly, the 2015 Château Barreyre will be equally comfortable at an elegant dinner party as it will on the kitchen table with the simplest of fare. So, bring on the glasses and enjoy!
Château Barreyre is evidence of just how fine many of Bordeaux's smaller, lesser known estates called petits châteaux can be. It is, also, ample testimony to the greatness in Bordeaux of the 2015 vintage and the consummate skill of winemaker Claude Gaudin. A twenty-two acre property with a view of the Gironde and the nearby port of Macau, Château Barreyre actually lies within the Médoc. It is in fact quite close to Margaux. Yet, on account of its proximity to the river, Château Barreyre is only entitled to the appellation Bordeaux Supérieur – a boon to savvy consumers looking for bona fide Bordeaux at an affordable price.
Château Barreyre is an historic property with an authentic 18th century château. The château was constructed in 1774 by Nicolas Barreyre, but the cultivation of the vine on the property dates back even further. The Barreyre family is a prominent Bordelais family of bourgeois origin, which may explain why the estate weathered the French Revolution and the château remained within the family.
The viticultural excellence at Château Barreyre continues to be guided by winemaker Claude Gaudin. Under Gaudin's watchful eye, Château Barreyre has enjoyed tremendous success, with the 2009, 2010, and 2015 vintages yielding exceptional wine. The vineyard practices a very close plantation of its vines and extracts extremely low yields. In fact, its yield per hectare is considerably less than that of many of Bordeaux's classified growths, which cost three times the price. These factors contribute greatly to the quality of wine produced at the château. On average, the cépage or blend is typically 50% Merlot, 40% Cabernet Sauvignon, and 10% Petit Verdot, which is similar to that of several nearby Margaux properties, and it's a cépage that allows the wine to age beautifully for up to a decade.
Sadly, Bordeaux was hit by a devastating late frost in 2017, which cost Château Barreyre and many other Bordeaux properties their entire crop. From Saint Émilion to the Médoc, right and left bank Bordeaux growers suffered the worst frost damage in decades. To make matters worse, a ferocious hailstorm struck Bordeaux in May of 2018, once again destroying the entire crop at Château Barreyre and countless other Bordeaux châteaux. Consequently, one should not miss the opportunity to enjoy the exceptional 2015 Château Barreyre and subsequent 2016 Château Barreyre, which looks to be equally appealing. The 2015 and 2016 vintages are two of the finest back to back vintages in Bordeaux. Unfortunately, they were followed by two of the region's most devastating vintages to date.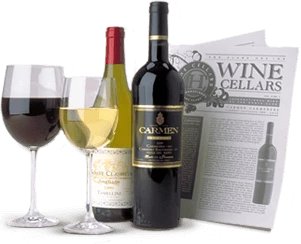 Enjoy Limited Production Estate
Bottled Wines
Discover limited production estate bottled wines such as Vergenoegd's internationally
acclaimed 2005 Cabernet Sauvignon, imported exclusively for our members.
DISCOVER OUR FOUR CLUBS