We first encountered Château Andréa's Graves Blanc in the 2013 vintage. It wowed us with its seductive aroma and purity of flavor. The 2014 Château Andréa Graves Blanc (this month's feature) is even more compelling. It offers an entrancing aroma imbued with subtle floral, citrus and ripe melon scents. In the mouth, it offers elegant, polished fruit and mineral driven flavors that delight the tongue and slip easily down the thirsty throat. There's nothing weighty or unbalanced about Château Andréa's 2014 Graves Blanc: it is a truly sophisticated white Graves that offers beautiful precision and a long, truly dry finish. We enjoyed this thirst quenching white Graves moderately chilled (40° F), but others may opt for serving it ice cold.
The 2014 Château Andréa Graves Blanc pairs well with so many different types of foods. Yet, for lovers of dry white wine, this classic white Graves needs only a clean glass to shine as it provides an extraordinary aperitif. Winter, spring, summer or fall, a glass of the 2014 Château Andréa Graves Blanc cleanses the palate and enlivens the nose and palate all by itself. It slips down easily, offering subtle charms to refresh the mind as well as the body. But why not double the pleasure? The 2014 Château Andréa Graves Blanc makes a superb companion to all kinds of seafood. Smoked salmon, sautéed oysters, grilled shrimp, crab, scallops and lobster prepared any way imaginable all pair handsomely with this wine. Poultry, smoked meats, Asian stir fries, and flavorful cheeses make good companions to this Graves, too. Ripe Brie, Camembert and Comté cheese with slices of apple and pear offer a simple, easy to prepare combination with the 2014 Château Andréa Graves Blanc – a wine for all seasons and every occasion. Enjoy!
Château Andréa is a superlative, well-situated property of less than 5 acres in the Graves appellation of Bordeaux. It is owned by the Belloc family who fashion classic white and red Bordeaux wines from a number of small prestigious properties in Graves and nearby Sauternes. Château Andréa cultivates the four most important grapes in Graves: Semillon and Sauvignon Blanc for the château's delicious white Graves (this month's feature) and Merlot and Cabernet Sauvignon for the estate's elegant red Graves.
Graves is the oldest and most historic of all Bordeaux communes. Before Latour, Lafite, Margaux, and the rest of the well-known names of the Médoc even existed or had ever cultivated a vine, there was Graves. In fact, Graves has been the home of cultivated vines since as early as the 1st century AD, due at least in part to the Roman's inability to grow other crops in the graveled soil from which the name Graves is derived. The stone and gravel deposits are vestiges of the last Ice Age, a bane to most farmers but a boon to grape growers, whose vines struggle deep into the thin porous soil to draw life and subtle complex flavors from the nutrients below.
Graves is rightly famous for both its red and white wines. Elegance comes as the calling card of white Graves, a dry, very aromatic wine that emits great freshness, purity and pinpoint minerality. Once an obscure and expensive proposition that did not always travel well, contemporary white Graves has taken on vigor and personality with modern wine making techniques, so that today fine white Graves rival the best white wines made anywhere in the world.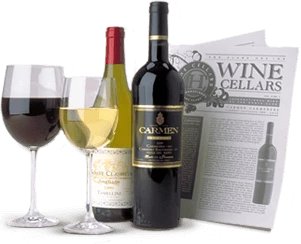 Enjoy Limited Production Estate
Bottled Wines
Discover limited production estate bottled wines such as Vergenoegd's internationally
acclaimed 2005 Cabernet Sauvignon, imported exclusively for our members.
DISCOVER OUR FOUR CLUBS