"So easy to drink," and "Oh, I like this wine, a lot" are the two phrases I heard panel members use to describe the 2013 Château Andréa Graves Blanc, just before the scuffle that ensued for what remained in the bottle. Needless to say, the rest of us came up empty, didn't get seconds and weren't pleased. The winners just smiled. So much for sharing! Let's see who doesn't get invited back. Yes, the 2013 Château Andréa is deceptively easy to drink, and satisfying, too. As classic white Graves it offers subtle scents of citrus, melon, fig and dried honey to enliven the nose. And to the mouth, it provides elegance and freshness to satisfy the palate. Clean fruit and mineral driven flavors delight the tongue and slip easily down the thirsty throat. There's nothing weighty or complex about the 2013 Château Andréa, but the ideal play in this wine between Sauvignon Blanc and Semillon, which complement each other quite well, provides balance and what can best be described as elegance. We enjoyed this thirst quenching white Graves moderately chilled (40°-45° F), but others may opt for serving it ice cold and still others will prefer it at a more ambient temperature, so as you like it.
The 2013 Château Andréa Graves Blanc pairs well with so many different types of foods that it is difficult to recommend only a few of our favorite accompaniments. Yet for many this classic white Graves needs only a clean glass to shine as it performs beautifully as an aperitif. Regardless of the season, a glass of Château Andréa Graves Blanc cleanses the palate and enlivens the senses. It goes down easily, almost too easily, offering subtle charms that serve to refresh the mind as well as the body. But why not double the pleasure? The 2013 Château Andréa Graves Blanc provides the ideal companion to all kinds of seafood. Smoked salmon, sautéed oysters, grilled shrimp and scallops and almost anything that once swam in the sea pairs handsomely with this wine. Poultry and flavorful cheeses won't cause this wine to fade either. So, bring on the fried chicken, or better yet a plump breast of chicken stuffed with a breadcrumbs, herbs, and Parmesan cheese. Add ripe Brie, Camembert, and Comté cheese to a platter of sliced apples and pears, and another winning combination of accompaniments to this wine is born; but why stop there? The 2013 Château Andréa Graves Blanc is a wine for all seasons and any occasion. Enjoy!
Château Andréa is a diminutive but well-situated property of less than 5 acres in the exceptional Graves appellation of Bordeaux. It is owned by the Belloc family who fashion classic white and red Bordeaux wines from a number of small prestigious properties in Graves and nearby Sauternes. Château Andréa cultivates the four most important grapes in Graves: Semillon and Sauvignon Blanc for the château's delicious white Graves (this month's feature) and Merlot and Cabernet Sauvignon for the estate's elegant red Graves. We are pleased to offer our members the 2013 Château Andréa Graves Blanc as an International Wine of the Month Club exclusive.
Graves is the oldest and most historic of all the Bordeaux communes. Before Latour, Lafite, Margaux, and the rest of the well-known names of the Médoc even existed or had even seen a cultivated vine, there was Graves. In fact, Graves has been the home of cultivated vines since as early as the 1st century AD, due at least in part to the Romans inability to grow other crops in the graveled soil from which the name Graves is derived. The stone and gravel deposits are vestiges of the last Ice Age, a bane to most farmers but a boon to grape growers, whose vines struggle deep into the thin porous soil to draw life and subtle complex flavors from the nutrients below.
The wines of Graves appear to be the first Bordeaux wines to be exported, with archeological evidence that Roman garrisons in Britain were the happy recipients of Bordeaux's quintessential wines. And by the early 12th century, Graves was the most sought-after wine in England and beyond for its quality as well as its proximity to the city and port of Bordeaux itself, which lies just a few kilometers from Graves.
Graves is rightly famous for both its red and white wines. At their best, the red wines of Graves remain unsurpassed for their aromatic beauty, elegance, and smooth rich flavors. Elegance, too, comes as the calling card of white Graves, a dry, very aromatic wine that emits great freshness, along with substantial flavor thanks to the artful blending of Semillon and Sauvignon Blanc. Perhaps the greatest event in Graves in the last twenty years has been the revolution that has taken hold among the producers of white Graves. Once an obscure and expensive proposition that did not always travel well, contemporary white Graves has taken on vigor, personality and at times even an exotic edge that underscores the physiological ripeness that was often absent in white Graves in years past. At their best, the finest white Graves can rival the best white wines made anywhere in the world.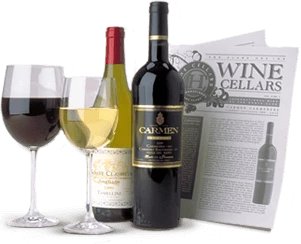 Enjoy Limited Production Estate
Bottled Wines
Discover limited production estate bottled wines such as Vergenoegd's internationally
acclaimed 2005 Cabernet Sauvignon, imported exclusively for our members.
DISCOVER OUR FOUR CLUBS