Lively, fresh, and sporting Chablis' luminous glint, the 2022 Chartron et Trébuchet Chablis presents itself as the quintessential Chablis. Sensuous and intriguing scents of citrus, pear, white flowers, oyster shell, lemon zest, and a faint but beckoning scent of the sea greet the nose. Balanced and precise, Chartron et Trébuchet's 2022 Chablis fills the mouth with a myriad of flavors drawn from the soil as well as the sea: one can taste the limestone rich terroir of Chablis poke through the wine's lively Chardonnay fruit and citrus twists to enliven the mouth. Note the absence of oak! This is authentic Chardonnay, unadorned and reflective of its place of origin, devoid of the preponderance of butter and oak. Moreover, it finishes with a satisfying flourish. Although still in its infancy, the 2022 Chartron et Trébuchet Chablis offers exciting drinking pleasure now. We suggest affording this stringent, precise Chablis a moderate chill (40º-45º F) before pouring and then allowing it to unfold slowly in your glass. Anticipated maturity: 2023-2027. Enjoy!
As a refined, truly dry white wine, Chartron et Trébuchet's 2022 Chablis makes an outstanding aperitif and a wonderful new take on Chardonnay for many Americans, with or without a morsel. Among world renowned chefs and serious food aficionados, Chablis and seafood are virtually synonymous, and we second that motion. The 2022 Chartron et Trébuchet truly shines in the company of the fruits of the sea. Seafood and especially shellfish provide a vast array of gastronomic delights to accompany this wine. For starters, there's no finer companion to oysters, mussels, or clams than Chablis. White fish, baked or grilled and served with a light sauce, offers another classic accompaniment. Steamed lobster and King Crab legs, served with drawn butter, constitute truly memorable pairings, too. Traditional Japanese dishes, including shrimp, fish, and vegetable tempuras also provide highly recommended choices. As not everyone gravitates to the denizens of the deep for sustenance, white meats, cheese risottos, and homemade pastas in cream-based sauces offer equally fine companionship. In the company of the 2022 Chartron et Trébuchet Chablis, chicken, Cornish hens, and game birds served in light creamy sauces provide additional tasty pairings, while many cow's milk cheeses offer splendid accompaniments to Chartron et Trébuchet's 2022 Chablis, including Brie, Camembert, and other crusted cheeses, and they require very little preparation. Bon Appétit!
Founded in 1984 by Jean-René Chartron and Louis Trébuchet in the renowned Burgundy village of Puligny-Montrachet, Chartron et Trébuchet quickly established a reputation for excellence. Chartron, proprietor of a wine estate, and Trébuchet, a well-known wine merchant, combined their resources and invested their talents in developing an enviable portfolio of Burgundy wines. Beginning in Puligny-Montrachet and the finest terroirs of Burgundy's fabled Côte d'Or, the two friends began producing and purveying outstanding white burgundies. They would soon branch out to Meursault, Chassagne-Montrachet, Chablis, and throughout Burgundy to fashion world class red wines as well as many of the region's greatest white wines.
Stringency and precision have been the pillars upon which Chartron et Trébuchet has built a formidable reputation. Chartron et Trébuchet's oenologist, Serge De Bucy, sums up the domain's success when he says "We are trying to develop a modern take on our work as winegrowers and winemakers whilst respecting the heritage represented by Chartron et Trébuchet, a great name in Bourgogne. In the cellar, we work with beautiful grapes from plots that we know intimately. We vinify and mature our wines in a patient quest to find perfect ripeness and balance, for the work of vinification of great wines is always a matter of precision. Our aim is not to revolutionise Bourgogne, but to extract the stuff of myth from it."
Serge Du Bucy's precision and success at Chartron et Trébuchet is truly evident in this month's feature, the classic 2022 Chartron et Trébuchet Chablis. The scion of a vintage that yielded both excellent quality and quantity, a rarity in Chablis, the 2022 Chartron et Trébuchet Chablis mirrors the stringency and precision for which this domain is renowned.
Chablis is a distinct part of Burgundy as well as one of the world's finest white wines. Since the 12th century when Cistercian monks introduced Chardonnay into the region, the name Chablis has been synonymous with outstanding white wine. No wonder, then, so many generations of California producers tacked the name Chablis onto their inferior generic wares, hoping to elevate their wines in the eyes of consumers.
Today, all authentic Chablis is derived exclusively from Chardonnay grapes that are grown in Chablis' chalky, limestone-rich soil known as Kimmeridgian. The name Kimmeridgian is in reference to an identical landmass that scientists identified in England's Kimmeridge Bay. Chablis possesses one of the world's greatest terroirs for the cultivation of white grapes; the appellation (A.O.C.) sits upon what was once the floor of an ancient seabed dating from the Second Jurassic Period (also known as Kimmeridgian) that now feeds the region's Chardonnay vines. Because of this special terroir, Chablis yields unique, dry, mineral-rich wines of considerable finesse and flavor.
The French National Institute of Appellation d'Origine Controlée (A.O.C.) recognizes four distinct areas of Chablis: Petit Chablis, Chablis, Chablis Premier Cru, and Chablis Grand Cru. All offer the taster a special experience. However, in recent years it is the Chablis appellation itself that has come to fore, producing some of the region's finest quality and value. In total, all four districts of Chablis cover just 7,000 hectares (17,300 acres). The best parcels typically occupy the region's hillsides, making such choice parcels in Chablis and the surrounding Premier Cru and Grand Cru vineyards the most apt to produce the region's fullest, most complex wines.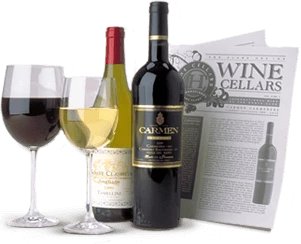 Enjoy Limited Production Estate
Bottled Wines
Discover limited production estate bottled wines such as Vergenoegd's internationally
acclaimed 2005 Cabernet Sauvignon, imported exclusively for our members.
DISCOVER OUR FOUR CLUBS