The 1999 Charlotte Street Margaret River Chardonnay Semillon wears a rich, straw-colored robe with a hint of green, not unlike many of the fine, old-style California Chardonnays of yesteryear-wines that exhibit more natural color and flavor than most of their contemporary counterparts. Ripe, succulent fruit emanates from the glass: peach, honeydew, grapefruit and guava all purvey their olfactory wares to an eager nose. On the palate, soft, silky, textured flavors full of stone fruits and melons meld with the mouth-filling nuttiness of Margaret River Chardonnay. Each sip reveals an increasingly more interesting array of flavors, aptly borrowed from Chardonnay and Semillon alike. Given its lively cut of Semillon, this Charlotte Street offering finishes dry and tangy, exhibiting excellent acidity and a long, crisp finish that reminds us of lemon zest. Although designed for early consumption, we suspect this wine will continue to evolve in bottle for another year or two, garnering length and intensity as is matures. It's hard to imagine this Chardonnay Semillon becoming even more intriguing, but it displays all the requisite body, balance, fruit and acidity for longevity. Serve moderately chilled, but allow this wine to open a few minutes in your glass like a red wine. Enjoy!
The 1999 Charlotte Street Chardonnay Semillon is a perfect accompaniment to contemporary cuisine. Dishes such as Mahi Mahi over Jasmine Rice with sesame seeds or Grilled Tilefish served in a lime butter infused with a cachet of exotic spices, are wonderful examples of modern day cooking that complement this pure, flavorful Chardonnay Semillon. Given the wine's noble progeny (Chardonnay and Semillon), this flavorful offering is more interesting and versatile, than most white wines. So whether you fancy the spicy and exotic or simple more traditional fare, you'll find the overt fruit and copious flavor of this Charlotte Street offering easy to like with most white meats, seafood and legumes. And, don't be afraid to try such hard to pair American classics like Shrimp Etouffe or Chicken Gumbo with this wine.
Charlotte Street is a brand new venture in the Margaret River of Western Australia. Created by the Appellation's leading winemaker, Eddie Price, Charlotte Street's "raison d'etre" is the production of two top quality wines from this outstanding wine region. Using Margaret River's four best varietals, Charlotte Street has fashioned two new and exciting wines: a delicious white which marries some of Australia's best Chardonnay with Semillon, creating a hedonistic feast for the senses, and a unique red that blends three seemingly incompatible varietals: Shiraz, Cabernet and Chardonnay into a seamless garment of a wine. This intriguing red resembles many of the fine Rhone offerings like Cote Rotie and Chateauneuf-du-Pape that routinely practice varietal miscegenation. The philosophy behind Charlotte Street is integral to the production of fine wine. Plainly, Price believes that the making of good wine is a process that involves many different factors, "But the greatest factor," he confesses, "is certainly the fruit". Growing good fruit is an arduous time consuming task and the flavor profile of fruit varies from region to region. Consequently, Prices uses only the rich loam and gravel soils of the Margaret River Appellation to shape the character of his fruit and bring it to full maturity. Aided by a breezy, mild Mediterranean climate that minimizes or even negates spraying and heavy pesticide control, Eddie and his cohorts are able to employ both traditional and modern winemaking techniques, including natural or wild yeast fermentations. In addition, many believe the ultimate quality of the fruit as well as the flavor found in Charlotte Street wines are due at least in part to the quality of the local waters and the abundance of wildflowers that abound in surrounding pastures. Undoubtedly, each adds to the quality and flavor of the fruit that Eddie Price so aptly fashions into what are sure to be award-winning wines.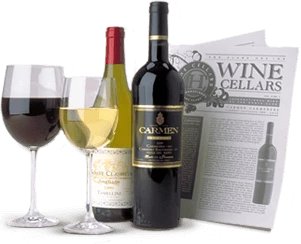 Enjoy Limited Production Estate
Bottled Wines
Discover limited production estate bottled wines such as Vergenoegd's internationally
acclaimed 2005 Cabernet Sauvignon, imported exclusively for our members.
DISCOVER OUR FOUR CLUBS