Made in the traditional Napa style of Chardonnay, the 2004 Charles Krug Carneros Chardonnay sports a pretty golden hued robe, the color of the California sun, and it exhibits a wonderful bouquet of ripe fruit that is etched with butter, spice, and plenty of toasty vanilla oak. The 2004 Carneros Chardonnay, like all Krug wines, is not for the faint hearted. There is both flesh and bone in this powerful Carneros Chardonnay, and plenty of alcohol, too; a wimpy fruit bomb the 2004 Krug Carneros Chardonnay is not. Instead, this is classic, dry Carneros Chardonnay, which hides its power behind subtle complexities. In the finest Carneros tradition, Krug's Carneros offering possesses breed and finesse in a firm dry structure, and like its red counterparts will benefit from at least ten or fifteen minutes of aeration. With a little time to open, forsythia, honeysuckle and buttered apple scents and savors emerge, and as this wine opens, it reveals power as well as pride. Moreover, its lovely finish will linger on the tongue long after the wine has been swallowed. We suggest serving the comely 2004 Krug Carneros Chardonnay at approximately 45°-50° F for maximum enjoyment.
One won't easily run out of foods to serve with the 2004 Krug Carneros Chardonnay because this Krug offering can stand and deliver well beyond the usual Chardonnay fare. Therefore, put aside the dainty delicacies. Instead, we suggest heartier fare the likes of Stuffed Chicken Tortillas or Grilled Halibut, served with a pungent fresh pineapple and tropical fruit chutney, or a rare Ahi tuna steak, prepared with a teriyaki sauce and served with shitake mushrooms. Pasta Primavera or Shrimp and Grits provide other tasty accompaniments. Most white meats, pastas, and cream based sauces pair quite nicely as well with the Krug Carneros, and fresh tomatoes pose no difficulties either. In fact, the 2004 Krug Carneros Chardonnay should be able to hold up to most anything you serve with it short of red meat. Enjoy!
Charles Krug is the oldest winery in Napa Valley. It is also the Peter Mondavi Family winery, the original Mondavi Napa Valley winery that was established by Caesar Mondavi, Robert and Peter's father. Krug has also been referred to as "the other Mondavi winery" and "the road less traveled" because, unlike brother Robert's winery, Krug has eschewed the limelight and kept a relatively low profile, except among critics and connoisseurs. Originally founded in 1861 by Charles Krug, this historic property, like most others in Napa Valley, languished during Prohibition. Purchased by Caesar Mondavi, Krug first began producing wine under the Mondavi name in 1943. Today, the Krug Winery comprises more than 800 acres of prime Napa Valley vineyards. All of this estate's vineyards are located in the most acclaimed regions of Napa Valley (Carneros is a distinct appellation within Napa) and are farmed exclusively under the direction of Peter Mondavi and his family. The Charles Krug Family of wines includes a fine Carneros Pinot Noir, an outstanding full-throttle, oak aged Carneros Chardonnay, and several excellent full-bodied Cabernet Sauvignon and Merlot wines. Krug also offers a Reserve Sangiovese and a few other special bottlings of Napa Valley wines. However, the two characteristics we like best about Krug wines is the consistent high quality of fruit that is found in each of the winery's offerings and the estate's no smoke and mirrors approach to producing traditional, full-flavored Napa Valley wines. At Krug, no fainthearted or overly sculptured wines need apply; this is good old-fashioned Napa Valley wine, the way it ought to be.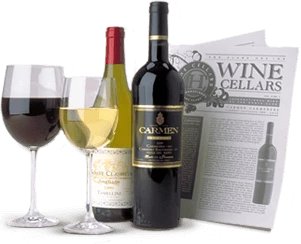 Enjoy Limited Production Estate
Bottled Wines
Discover limited production estate bottled wines such as Vergenoegd's internationally
acclaimed 2005 Cabernet Sauvignon, imported exclusively for our members.
DISCOVER OUR FOUR CLUBS