Chappellet's 2016 Mountain Cuvée is truly a red wine lover's wine. This is especially true for those seeking an accessible, high-quality Cabernet or meritage offering. A blend of 51% Cabernet Sauvignon, 24% Merlot, 13% Malbec, 9% Petit Verdot, and 3% Cabernet Franc, the 2016 Chappellet Mountain Cuvée is dark purple in color, packed with rich fruit, and endowed with ripe tannins that beautifully frame the wine's cornucopia of complex flavors. Its enticing bouquet reminiscent of classified Bordeaux gives way to a wealth of black currant fruit, cedar, dark chocolate and a pleasant touch of earthiness that many other California Cabernet based wines seem to lack. Bold but not brash, the wine unfolds in the glass as it breathes, revealing plenty of appealing fruit and finesse along with ample structure to allow it to evolve further for several more years. More than just a good, solid Cabernet, the 2016 Chappellet Mountain Cuvée is truly an outstanding effort from Phillip Corallo-Titus and the folks at Chappellet. It is also one of finest meritage offerings available. Afford it 15-20 minutes of aeration and drink it now through 2023 at cool room temperature (60°-62° F). Enjoy!
It doesn't take much in the way of food to accompany the 2016 Chappellet Mountain Cuvée as Phillip Coralo-Titus' renowned Bordeaux blend offers plenty of flavor and balance to be sipped and savored on its own. However, few other young Cabernet or meritage wines offer more pleasure at table than Chappellet's 2016 Mountain Cuvée, which admirably complements beef, duck, lamb, pork, soft ripe cheeses and more. Steaks and stews are tried and true complements to Chappellet's Cabernet-based Mountain Cuvée. Duck sliders and slow cooked pulled pork barbecue with homemade slaw make equally enticing accompaniments. Shepherd's Pie and grilled lamb chops served with haricots verts and garlic mashed potatoes offer more delicious companions. And for those who spend little time in the kitchen, a plate of Camembert, Fontina, and Saint Aubray cheese in the company of a loaf of crusty artisan bread won't disappoint either. Bon appétit!
"Chappellet is wine-lover's wine: eloquent to the sentient." -Hugh Johnson
Hugh Johnson's quote says it all about Chappellet and the winery's award-winning Mountain Cuvée as well as just about every wine this iconic winery produces, which is one reason Chappellet has enjoyed a cult following for its rich, complex, mountain grown wines for nearly fifty years. Long time Chappellet winemaker Phillip Corallo-Titus deserves much of the credit for Chappellet's recent success, especially for the preeminence of this month's feature, the winery's exceptional, highly touted meritage offering labeled Mountain Cuvée.
Phillip Corallo-Titus is a passionate winemaker who has guided Chappellet's storied winemaking program for more than two decades. Building on Chappellet's legacy as one of California's preeminent producers of Cabernet Sauvignon, he has created one of California's most compelling proprietary blends in the estate's Mountain Cuvée in addition to legendary Napa Chardonnays to match the estate's renowned Pritchard Hill Cabernet Sauvignon. A gifted winemaker with a passion for experimentation, Phillip has not only embraced the diversity of Pritchard Hill and other select Napa and Sonoma AVAs to craft benchmark wines that authentically express the terroir-inspired complexity and character of their mountain origins, he has created additional wines from several of Sonoma's most heralded vineyards. Finely crafted Chenin Blanc, Pinot Noir, and Zinfandel also merit serious attention from this winery, as one can always count on receiving vibrant, flavorful, and impeccably balanced wines from Phillip Corallo-Titus.
Meritage (rhymes with "heritage") is California's answer to Bordeaux. It is also a term that has come in vogue to describe New World blends that are made from traditional red Bordeaux varietals. Therefore, a meritage wine is essentially a blend of three or more traditional red Bordeaux grapes with Cabernet Sauvignon, Merlot, and Cabernet Franc the most notable participants. Malbec and Petit Verdot are the other likely players. However, there are no legal or proscribed percentages for each grape variety in a meritage wine, so producers are permitted to vary how much of each varietal finds its way into the final offering, much as the great Bordeaux Châteaux vary their cépages or blends depending upon the estate's desired style of wine and the vagaries of each individual vintage.
Nearly all meritage wines eschew the name of a single varietal on the label because varietal bottling requires that at least 75% of a single variety (in California and in most other states) be present in a blend to be labeled as a single varietal. The minimum requirement for varietal labeling in Europe and in most other New World producing wine countries is 80%. Because three or more grape varieties are included in the blend, meritage offerings are often more complex and nuanced than their single varietal counterparts. Similarly, it is often the addition of small percentages of other Bordeaux varietals in California's greatest Cabernet Sauvignons that make producers' varietal bottlings standout.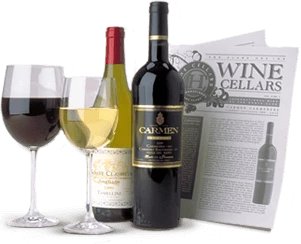 Enjoy Limited Production Estate
Bottled Wines
Discover limited production estate bottled wines such as Vergenoegd's internationally
acclaimed 2005 Cabernet Sauvignon, imported exclusively for our members.
DISCOVER OUR FOUR CLUBS