Chappellet's 2012 Cervantes Sonoma Coast Chardonnay is indeed "a wine lover's wine." This maiden release of Cervantes Chardonnay exhibits all the pinpoint flavors and subtle complexity that has made Chardonnay grapes from Sonoma's Sangiacomo Vineyard the most sought after in California. Add ideal weather throughout the 2012 growing season and the winemaking acumen of Phillip Corallo-Titus and a supremely elegant Chardonnay of tremendous balance and flavor is born. The wine opens with a seductive nose of fresh fruit aromas, most notably nectarine, pear, and pineapple, gently infused with subtle hints of clove and other spices. In the mouth, the wine caresses the palate with a graceful mélange of fruit, spice, crème fraîche and deft hints of sweet oak. Although completely barrel fermented, the 2012 Cervantes Chardonnay never succumbs to the oak; it retains its varietal character and terroir driven flavors to finish with a freshness and grace rarely seen in other California Chardonnays. For our tastes, this constitutes masterful wine making. Kudos to Phillip Corallo-Titus on his first release of Chappellet's Cervantes Chardonnay! Enjoy this friendly Chardonnay with a moderate to light chill (40°-50° F).
What is most impressive about the 2012 Chappellet Cervantes Sonoma Coast Chardonnay is how satisfying it is to sip and savor as an aperitif, yet it is equally gratifying at table with seafood, poultry and pasta. Although less prevalent than a decade ago, many premium California Chardonnays still seem built to shock and awe rather than ingratiate, but not the 2012 Cervantes. It offers the ultimate in grace and charm as well as the perfect companion to Grilled Sea Bass, prepared with a red pepper beurre blanc and served with a creamy tarragon infused polenta, as well as Grilled Shrimp, served in a roasted red pepper and thyme sauce over risotto. Mushroom Caps, stuffed with crabmeat and topped with an herb and prosciutto cream sauce, get two thumbs up as well. Veal Portofino, tender veal scaloppini sautéed in butter, mushrooms, sage, shallots, artichokes and cream, and Pasta Primavera, a creamy vegetable laden pasta, won't disappoint either with the sure to please 2012 Cervantes Chardonnay.
"Chappellet is wine-lover's wine: eloquent to the sentient." -Hugh Johnson
Hugh Johnson's quote says it all about Chappellet and the winery's newest line of wine: Cervantes. The name Cervantes holds a special place in the history of Chappellet. Cervantes is the name of the man who surveyed the land that Chappellet sits upon and we now know as Pritchard Hill and the lands adjoining Pritchard Hill. This same gentleman also surveyed many other vineyard areas of Napa Valley. And after more than a century and a quarter, Cervantes' surveyor mark can still be found carved into the rocks of some of Napa Valley's great vineyards.
Chappellet enjoys a cult following for its rich, complex mountain grown wines. Long time Chappellet winemaker Phillip Corallo-Titus launched Cervantes in 2010 with the first release of Cervantes Mountain Cuvee, a Bordeaux blend, which was formerly Chappellet's Mountain Cuvee. In Phillip's own words, "We changed the name of our acclaimed Chappellet Mountain Cuvee to Cervantes. As a wine with an almost cult-like following, we wanted to give this Bordeaux-varietal blend its own distinct identity. The name Cervantes speaks to our ongoing quest for the finest vineyards and the wines that come from their grapes." The Cervantes brand continues Chappellet's tradition of offering wines of extraordinary quality and unparalleled value.
Phillip Corallo-Titus is a passionate winemaker who has guided Chappellet's storied winemaking program for two decades, building on Chappellet's legacy as one of California's preeminent producers of Cabernet Sauvignon. A gifted winemaker with a passion for experimentation, Phillip has not only embraced the diversity of Pritchard Hill to craft benchmark wines that authentically express the terroir-inspired complexity and character of their mountain origins, he has created a second incredible Cervantes offering from one of Sonoma's most heralded vineyards in the first release of Cervantes Sonoma Coast Chardonnay. The 2012 Cervantes Sonoma Coast Chardonnay hails largely from the legendary Sangiacomo Vineyard, a cool windswept vineyard situated near San Pablo Bay that is renowned for producing vibrant, intense flavored Chardonnays of impeccable balance.
In addition to Chappellet's highly acclaimed Cervantes Mountain Cuvee and 2012 Sonoma Coast Chardonnay, Phillip Corallo-Titus will soon release two additional Cervantes offerings, a 2012 Pinot Noir and a 2012 Sauvignon Blanc. All Cervantes wines are limited offerings.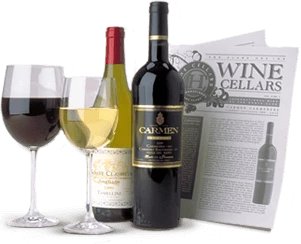 Enjoy Limited Production Estate
Bottled Wines
Discover limited production estate bottled wines such as Vergenoegd's internationally
acclaimed 2005 Cabernet Sauvignon, imported exclusively for our members.
DISCOVER OUR FOUR CLUBS