Chappellet's 2011 Cervantes Mountain Cuvee is indeed "a wine lover's wine." This will especially be true for those seeking an accessible high quality Cabernet or Meritage offering. The 2011 Cervantes Mountain Cuvee is dark purple in color, and with just a bit of aeration this young Bordeaux blend gushes black currant fruit, chocolate, and just the right touch of earthiness that many other California Cabernet based wines seem to lack. Amazingly, this Mountain Cuvee is already enjoyable now as the wine's tannins are ripe and well-integrated. Bold but not brash, the wine continues to unfold in the glass with aeration, revealing plenty of appealing fruit and finesse along with ample structure to allow it to evolve further for at least several more years. This is a very good effort from Phillip Corallo-Titus and the folks at Chappellet. Drink it now through 2018 at cool room temperature (60°-65° F) after an hour of aeration. Enjoy!
It doesn't take much in the way of food to accompany the 2011 Cervantes Mountain Cuvee, as Phillip Coralo-Titus' renowned Bordeaux blend offers plenty of flavor and balance to be sipped and savored on its own, but what other young Cabernet or Meritage wine offers more pleasure at table than the 2011 Cervantes Mountain Cuvee? This bold wine admirably complements beef, duck, lamb, pork, soft-ripened cheeses and more. Steaks and stews are tried and true complements to any of Chappellet's Cabernet based wines, yet duck sliders and slow cooked pulled pork barbecue with homemade slaw make equally enticing accompaniments. Shepherd's Pie and grilled lamb chops served with haricots verts and garlic mashed potatoes offer more delicious companions. And for those who have no time to cook, a plate of Camembert, Fontina, and Saint Aubray cheese in the company of a loaf of crusty artisan bread won't disappoint either.
"Chappellet is wine-lover's wine: eloquent to the sentient." -Hugh Johnson
Hugh Johnson's quote says it all about Chappellet and the winery's newest line of wine: Cervantes. The name Cervantes holds a special place in the history of Chappellet. Cervantes is the name of the man who surveyed the land that Chappellet sits upon and that we now know as Pritchard Hill and the lands adjoining Pritchard Hill. This same gentleman also surveyed many other vineyard areas of Napa Valley, and after more than a century and a quarter, Cervantes' surveyor mark can still be found carved into the rocks of some of Napa Valley's great vineyards.
Chappellet enjoys a cult following for its rich, complex mountain grown wines. Long time Chappellet winemaker Phillip Corallo-Titus launched Cervantes in 2010 with the first release of Cervantes Mountain Cuvee, a Bordeaux blend, which was formerly Chappellet's Mountain Cuvee. In Phillip's own words, "We changed the name of our acclaimed Chappellet Mountain Cuvee to Cervantes. As a wine with an almost cult-like following, we wanted to give this Bordeaux-varietal blend its own distinct identity. The name Cervantes speaks to our ongoing quest for the finest vineyards and the wines that come from their grapes." The Cervantes brand continues Chappellet's tradition of offering wines of extraordinary quality and unparalleled value. Phillip Corallo-Titus is a passionate winemaker who has guided Chappellet's storied winemaking program for two decades, building on Chappellet's legacy as one of California's preeminent producers of Cabernet Sauvignon.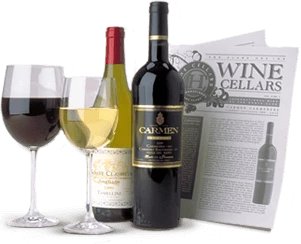 Enjoy Limited Production Estate
Bottled Wines
Discover limited production estate bottled wines such as Vergenoegd's internationally
acclaimed 2005 Cabernet Sauvignon, imported exclusively for our members.
DISCOVER OUR FOUR CLUBS