One of the most consistently endowed wines from vintage to vintage, the 1999 Chapel Hill McLaren Vale Shiraz is a deep purple potion with the scent of blackberry, kirsch, and plum. Rich and long in the mouth, this Shiraz offers up copious quantities of blackberry, cassis, and spice, along with soft, ripe tannins. Emanating from a twenty-month stay in French and American oak barrels, a cachet of vanilla spice permeates the wine's long, rich, immensely pleasing finish. Although generous and structured, and built to last, the Chapel Hill is immediately rewarding upon opening, making it the quintessential dinner party wine. However, a little aeration, even decanting, will further release the subtle nuances of flavor, which lay coiled in the wine's lush hedonistic fruit, and provide additional gustatory pleasure. If by some gift of providence you are able to forego the immediate allure of this handsome Shiraz, additional bottle age will only increase the wine's intensity and complexity, but that may afford more pleasure than any of us can bear.
Rich holiday fare provides an expert showcase for the 1999 Chapel Hill McLaren Vale Shiraz. Filet mignon or beef tenderloin, served medium rare with grilled or sautéed portabella mushrooms, would be our premier suggestion: In this case, the wine and the meat complement each other, allowing for the full flavor of each to be released. Lamb, rabbit, venison, and rich stews provide other excellent choices with this Chapel Hill Shiraz. Homemade lasagna and either eggplant or zucchini Parmigiana also make rewarding partners to Pam Dunsford's handsome Shiraz. We suggest serving these dishes with a rich homemade tomato sauce, containing plenty of fresh herbs. Lastly, a selection of creamy, un-crusted cheeses and several appreciative guests is a great accompaniment to the decadent 1999 McLaren Vale Shiraz. However, whatever you decide to serve with this wine, the wine is not likely to get lost in the shuffle: now isn't the Chapel Hill Shiraz the perfect guest. Enjoy!
Chapel Hill is a beautiful small winery in McLaren Vale, South Australia. We have featured some of the highly allocated wines of this great estate in the past, and we are pleased to announce that we are once again the happy recipients of a Chapel Hill dandy. Due to the many favorable comments from club members and the enthusiastic reception shown by our loyal membership, we were able to beg, borrow and cajole enough of this winery's famous McLaren Vale Shiraz to send to our club members. Hopefully, the future will hold additional opportunities to feature more fine fare from Chapel Hill. Needless to say, Chapel Hill remains one of Australia's hottest wineries, turning out small quantities of several premium varietals, beginning with the estate's outstanding McLaren Vale Shiraz a rich expressive wine that is perennially in short supply. In addition, limited quantities of a brilliant, barrel-fermented Reserve Chardonnay are produced, along with a rare un-wooded Chardonnay and an interesting Verdelo. A beautiful, highly extracted Cabernet Sauvignon and a tiny quantity of a proprietary blend, the Vicar, round out the estate's portfolio. Unlike many New World wineries, which become obsessed with expanding production regardless of the impact on quality, Chapel Hill prefers to limit both its production and number of offerings in order to continue to guarantee the ultimate quality to its customers. Chapel Hill's dedication to limited, high quality wines is what makes it a true boutique winery; this same dedication is also the reason why it takes years to procure enough of any Chapel Hill wine to offer our members. The driving force behind the success of Chapel Hill is undoubtedly the highly talented, individualist, Pam Dunsford. Ms. Dunsford is widely considered to be one of Australia's most gifted winemakers. She is also a much sought after consultant, export inspector and wine judge. Always a pioneer, several decades ago Pam was the first female graduate of Roseworthy, Australia's most prestigious school of Oenology, and that was just the first of many accomplishments for Pam. Since she took over the winemaking helm at Chapel Hill in 1989, the winery has been honored repeatedly in national and international shows and competitions. Aside from being a regular gold medal winner at Australian shows, Pam's wines have garnered gold at the prestigious London International Wine and Spirit Competition and the 1998 International Wine Challenge in London where thousands of wines from dozens of countries were tasted. Thoroughly dedicated to producing great wines and tenacious in her approach to excellence, Pam Dunsford has made Chapel Hill a force to be reckoned with. Chapel Hill sources fruit from its own vineyards in some of the most prized appellations in South Australia: McLaren Vale, Coonawarra, Padthaway, and nearby Eden Valley. In addition, the winery draws selected fruit from the greatest vineyards in those appellations. Individual wines of style and flavor which reflect their vineyard of origin is the result. How we wish more wineries would adhere to Chapel Hill's philosophy of producing small quantities of balanced, full flavored wines, which truly reflect their appellations of origin.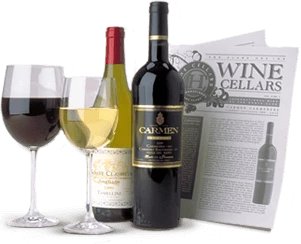 Enjoy Limited Production Estate
Bottled Wines
Discover limited production estate bottled wines such as Vergenoegd's internationally
acclaimed 2005 Cabernet Sauvignon, imported exclusively for our members.
DISCOVER OUR FOUR CLUBS