Round, charming, and so easy to drink, the 2000 Champagnon Fleurie Les Roches is a real crowd pleaser. It is packed with all the vinous fruit and sound underpinning that make the best Fleurie the most sought after of all Grand Cru Beaujolais. Strawberry, current and violet scents permeate the aroma and linger in the mouth, providing a subtle haunting of sensual delight. The 2000Champagnon Les Roches is one of the more powerful renditions we have tasted from this appellation, due in no small part to the excellent weather conditions which prevailed throughout the remarkable 2000 vintage in Beaujolais. This bodes well for the wine's longevity, providing you can keep your hands off of this charming Beaujolais. It is too bad so little of the Champagnon Fleurie is produced. Serve this delightful Grand Cru cool, but not too cold, about 60° Fahrenheit.
Pasta, grilled salmon, and lightly flavored meats such as veal, ham, and pork make fine accompaniments to the 2000 Champagnon Fleurie Les Roches, especially when the wine is young and in the full bloom of its youth. If you can forego the youthful pleasure inherent now in this wine, it will develop secondary characteristics and provide memorable meals with light game, quail, Cornish hens and squab. Traditional, savory Burgundian dishes, such as Coq au Vin, are other fine choices with this round Fleurie. And if these classic dishes do not provide enough tasty choices, there is no better red wine pairing with cheese than Grand Cru Beaujolais. Many a memorable evening we have spent with friends in the company of a plate of excellent cheeses and several bottles of Champagnon's Fleurie. Soft, creamy cheeses such as Port Salut, Bel Paese, Double Gloucester, Gouda, and Edam are just a few of the wonderful cheeses we have enjoyed with this wine. Bleu Cheeses and mature crusted cheeses can often overpower most red wines, Grand Cru Beaujolais included, but as always we hope you won't be afraid to experiment, and enjoy! Why not check out our cheese club for additional accompaniments.
For many years, the exceptional Grand Cru Beaujolais of Jean-Paul Champagnon was one of Beaujolais' best-kept secrets. Unfortunately, the secret is out, but we have managed to garner just enough of this great producers delicious 2000 Fleurie Les Roches to offer to a limited number of our members. Champagnon is a meticulous grower/producer who arduously works rugged hillside vineyards full of granite to produce one of the very finest of Grand Cru Beaujolais. In a traditional system of land sharing or sharecropping called métier, Champagnon cares for the vineyard as his own, but does not own it. In turn he retains a sizeable portion of the harvest. He sells off the bulk of his harvest to some of the biggest names in Beaujolais; the top 5% of his grapes he keeps for himself, transforming the crème de la crème into classic Grand Cru Fleurie. Vive la difference!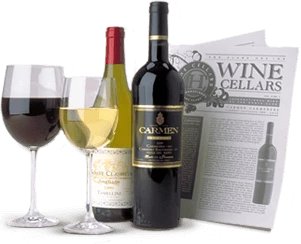 Enjoy Limited Production Estate
Bottled Wines
Discover limited production estate bottled wines such as Vergenoegd's internationally
acclaimed 2005 Cabernet Sauvignon, imported exclusively for our members.
DISCOVER OUR FOUR CLUBS