The deeply colored 2014 Centonze Nero d'Avola provides more than a glimpse of Sicily's viticultural renaissance. More importantly, Centonze's Nero d'Avola offers a clean, fleshy, full-bodied red wine with a hedonistic bent. Upon first opening, however, one could easily be fooled by this sleeping beauty, as the wine appears light and sleek and not quite as powerful as one would have expected. Give the 2014 Centonze Nero d'Avola a little time to awaken from its slumber. Dark cherry and currant flavors emerge in the nose and blossom in the fleshy, powerful mid-palate. With a few additional minutes, this robust red will begin to gain weight and reveal its powerful tannic side. It will also provide appealing spice and fruit flavors from a deep well seemingly made of both flesh and bone. Enjoy the 2014 Centonze Nero d'Avola at cool room temperature (59°-64° F) after anywhere from 20 minutes to several hours of aeration. Centonze's wines also possess the propensity to age gracefully in bottle for 5-10 years. Enjoy!
For those in search of a polished, robust red wine to accompany many of Italy's beloved culinary classics, the 2014 Centonze Nero d'Avola will provide the ideal companion now and for years to come. As a natural accompaniment to Sicilian and Southern Italian specialties as well as fine cuts of meat and complex sauces, we suggest pairing Centonze's exemplary Nero d'Avola with thick slices of Sicilian pizza, topped with black olives, fresh tomatoes, and thin slices of pepperoni, or a heady pasta dish with eggplant and Ricotta Salata. Eggplant Parmigiana, lasagna, manicotti, and homemade pastas, served with crusty bread and a heady tomato sauce, provide other simple but delectable choices with Centonze's emblematic red. Veal Marsala; roast pork tenderloin, rubbed with an olive and artichoke tapenade; and grilled rib eye, topped with martini olive butter, also make tasty complements to this wine. For more elaborate fare, beef or lamb Osso Bucco gets our nod, but don't overlook some of Italy's finest Pecorino cheeses as accompaniments. Buon Appetito!
Centonze is a relative newcomer to the American market and a winery we have had our eye on for some time. With each vintage, Centonze seems to find a way to ratchet up the quality of its wines, to the point of offering an enviable portfolio of Sicilian wines from both indigenous and international grape varietals, all of which display more than a good bit of hedonistic pleasure.
Established in 1998 by the Centonzes, a family of oenologists, the talented father, son, and daughter team of Giovanni, Nicola and Carla fashion some of Sicily's most exciting wines. The family's nearly 50 acres of prime vineyards hail primarily from western Sicily in the area of Trapani and are certified organic. The family manages the vineyards and makes the wines themselves. Traditional Sicilian varietals predominate, including Sicily's prized Nero d'Avola. Centonze also fashions fine Cerasuolo di Vittoria, Frappato, Grillo, and Syrah. The Centonze family has been at the forefront of Sicily's resurgence as a producer of high quality wines, and together they have provided important contributions to modern winemaking in Sicily. The name Centonze on a bottle of wine has become a guarantee of both authenticity and high quality.
In terms of wine, Sicily is more a continent than an island. Its sheer variety of grapes, autochthonous and otherwise, set it apart from the rest of Europe. In addition, Sicily's grape harvest is the longest in Europe. Harvest begins the first days of August in the island's western provinces and doesn't end until the vine-covered slopes of Mt. Etna have been picked in November. Due to the proliferation of mountains, the surrounding sea, Sirocco winds, and extreme temperatures, more climates and zones exist in Sicily than in any other single wine producing region on earth, and this doesn't even take into account what are popularly referred to as microclimates. And then there are the island's soils, a countless array of colors and textures that are capable of imparting infinite variations to the wines they render.
Given the wide array of soils and climates that exist in Sicily, both red and white grape varieties thrive in this ancient land. Indigenous red varietals such as Nero d'Avola and Malvasia Nera produce most of the island's finest and full-bodied red wines, which are the match for exceptional Syrah. Syrah, too, is well-suited to Sicily's hot, dry summers and is gaining in popularity. However, the most pleasant surprise in modern Sicilian winemaking may be just how good the still, dry white wines of the island have become, especially those made from the native Insolia (also called Inzolia or Anzolia). Marsala, the island's most famous wine is making a comeback as well. Produced in both dry and sweet styles, Marsala is a fortified wine made on the western side of Sicily from the indigenous Grillo grape and other assorted varietals. Marsala is best known for the flavor it adds to chicken or veal dishes that bear its name, but fine renditions of Marsala constitute some of the world's greatest dessert wines.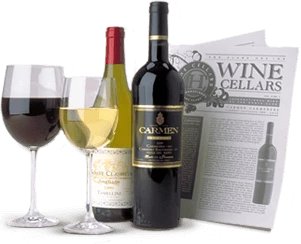 Enjoy Limited Production Estate
Bottled Wines
Discover limited production estate bottled wines such as Vergenoegd's internationally
acclaimed 2005 Cabernet Sauvignon, imported exclusively for our members.
DISCOVER OUR FOUR CLUBS