The 2010 Cave Chevalier Crozes-Hermitage Les Pends Blanc cuts a fine form in the glass, offering a golden hued robe and a rich, intoxicating bouquet that will make you smile. Scents of summer flowers, exotic fruits, and soft vanilla tones caress the nose. In the mouth the 2010 Les Pends Blanc explodes with complex flavors, adeptly framed with buttery notes from an upbringing in small Allier oak barrels. For most tasters the presence of oak in this wine will be immediately gratifying, as it adds complexity and depth – attributes that will ultimately allow Les Pends to age gracefully. For those who eschew oak, they may at first find the Chevaliers' superb Crozes-Hermitage Blanc to be a bit too New World in style. But just wait! The 2010 Chevalier Les Pends Blanc will evolve in the glass as long as you can keep from drinking it. White wines from the northern Rhône require breathing time and benefit considerably from the type of aeration typically afforded fine reds, so open up the 2010 Cave Chevalier Les Pends Blanc at least fifteen minutes before serving. We suggest moderate chilling (about 40° F), though some panel members preferred this wine cool rather than cold, but as you like it! Salut!
The finest white wines of the northern Rhône such as Cave Chevalier's 2010 Crozes-Hermitage Les Pends Blanc age well and offer splendid accompaniments to rich foods. Foie gras, terrines, cured meats, and the herbed infused fish and vegetable dishes so prominent in the cooking of southern France offer excellent choices to pair with this wine. Prosciutto wrapped honeydew melon makes a good starter. A shrimp and avocado salad and a spicy chicken salad made with, apple, coriander, and pecans provide other delightful pairings with this wine. Many Chinese, Thai, and Vietnamese specialties will provide excellent complements to the 2010 Chevalier Crozes-Hermitage Blanc as well. Hunan or Sichuan Chicken, prepared with a pungent garlic sauce, and Vietnamese Spring Rolls offer exemplary complements, too. Although white Rhône wine is not traditionally thought of as a sit around sipping kind of wine, Cave Chevalier's Les Pends Blanc provides a good exception, especially when ripe pears and a few morsels of soft creamy cheeses grace a nearby table. Enjoy!
Marlène and Nicolas Chevalier farm a mere 3.5 acres of prime vineyards in Crozes-Hermitage from which they make several outstanding white and red Rhône offerings. Although diminutive in size, Cave Chevalier is large in stature: its wines have been garnering acclaim for more than three centuries and its red and white Crozes-Hermitage offerings remain benchmarks by which the wines of Crozes-Hermitage are measured.
The Chevaliers grow only two grape varietals at their meticulously tended estate: Marsanne for white wine and Syrah for red, from which they fashion three white wines and three red wines in tiny lots. Each is a singular expression of either Marsanne or Syrah. In the case of the Chevaliers' 2010 Crozes-Hermitage Les Pends Blanc (this month's feature) less than a hand full of 400 liter barrels were made. Our club members and a couple of renowned restaurants in the United States are the only American recipients of this rare Rhône wine.
Nicolas Chevalier has traveled far and wide in his young life to hone extraordinary winemaking skills. After completing studies in agronomy and enology in France, he headed to South Australia's Clare Valley where he mastered various techniques for fermenting Shiraz (Syrah). He then set sail for California where he worked with Kendall Jackson in perfecting his white winemaking skills. And if those two stints were not enough post-graduate work, Nicolas traveled to South Africa in 2002 to work at the legendary three hundred year old Boschendal estate in Stellenbosch, located just north of Cape Town.
All of Cave Chevalier's fruit is hand harvested and only new Allier oak is ever employed in the upbringing of the estate's wines. Great pains are taken by the Chevaliers to protect the environment, which means sustainable agricultural practices prevail. The result is a bevy of rare and unique wines of splendid character, depth, and definition. While Nicolas tends the vineyards and fashions each cuvee, Marlène handles all of the sales and marketing for Cave Chevalier. Together, they provide the fortunate few a glimpse of authentic Crozes-Hermitage.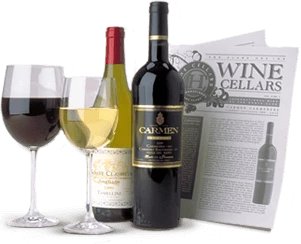 Enjoy Limited Production Estate
Bottled Wines
Discover limited production estate bottled wines such as Vergenoegd's internationally
acclaimed 2005 Cabernet Sauvignon, imported exclusively for our members.
DISCOVER OUR FOUR CLUBS