A flamboyant and full-bodied Viognier, the 2002 Castoro Cellars Paso Robles Viognier offers the consumer more than a touch of the exotica for which this premium varietal is renowned. A heavenly floral scent, infused with a mélange of tropical flowers and a deft spray of jasmine, caress the nose. Thanks to a slow cold fermentation in stainless steel tanks all the olfactory goodness in this Rhone-style Viognier has been thoughtfully retained for all to enjoy. On the palate the wine is long and fairly intense, but the flavors are well integrated due to a three and half-month hiatus in small oak barrels. More extensive oak aging of Viognier can rob this varietal of its exuberant fruit and vitality, but in the case of the Castoro Cellars, the taster can have his cake an eat it, too. Rarely is dry white wine such a decadent, hedonistic pleasure. From start to finish the 2002 Castoro Cellars Paso Robles Viognier is a staggering statement and another fine testimonial to the greatness of Viognier in the right hands and from the right terroir. Although easy to drink, this splendid wine packs a sneaky punch (15.1% alcohol), which is nearly imperceptible to the taster, so the Castoro Viognier is more than a glass of wine, no matter how you look at it or drink it. We suggest serving this wine moderately chilled around 45° F.
In California and France, Viognier is considered by many to be the quintessential aperitif. Strong, vinous, yet hauntingly delicate, good Viognier is a fine way to start a special evening and a great palate cleanser, and the 2002 Castoro Cellars Viognier is no exception. Due to its great flavor and larger than life structure, it stands admirably on its own, but this Viognier also pairs extremely well with foods that would overwhelm less endowed examples of this varietal. A Crab Rangoon or an Oriental Lump Crab Roll makes an excellent pairing, as does almost any sophisticated crab dip. We also suggest serving the CastoroViognier with any delicate white fish that has been baked, poached or sautéed, and served with a light cream sauce or fruit based chutney. Pork Tenderloin can also provide a handsome companion, providing it is roasted rather than grilled, and its marinade is subtle and its sauce not too highly charged. Delicate, fruit based salsas are some of our favorite choices with the Castoro Viognier and pork tenderloin. Mild cheeses and pâtés can provide other winning combinations with the 2002 Castoro Viognier as well. Enjoy!
The husband and wife team of Niels and Bimmer Udsen, a warm and welcoming couple, founded Castoro Cellars more than two decades ago. They have one of the oldest wineries in the Paso Robles AVA and were some of first grape growers to realize the great potential of Paso Robles for such warm weather varietals as Viognier and Zinfandel. The winery was named after the Italian translation of Niels' long-time nickname, Beaver, prompting the winery's motto Dam fine wine. During the past twenty years, Castoro has grown from making a few barrels of wine in a rented corner of someone else's winery to developing a custom crush operation and a 25,000 case winery, a portrait that parallels the meteoric rise of the Paso Robles appellation from rough and tumble cattle country, replete with cowboys and an aura of the Wild West, to an exciting but very community minded wine region, deserving of a pilgrimage by every serious connoisseur of California wines. The creation of Castoro Cellars has been an organic process for Niels and Bimmer Udsen. Both view wine as an integral part of the daily meal and hold strongly to the belief that quality wine should be available to all wine consumers. In fact, Niels often states: Originally, we just wanted to make wine for our friends so they could enjoy great wine more often without having to pay half a day's wage for the experience. But that's not all. Both partners share a deep respect for the land and desire to encourage stewardship of the environment. Consequently, Niels and Bimmer have structured Castoro Cellars to reflect their values, and they have developed an approachable and environmentally conscious brand. The Udsen's have translated this respect for the environment into sustainable practices for their winery and vineyards, including the implementation of various responsible farming practices and the cultivation of three organic vineyards. All Castoro's vineyards employ sustainable viticulture practices, such as the use of pomace (residue from grape skins and seeds that have been semi-composted) for fertilizer and weed suppression, and predatory insect releases, which eliminate or greatly reduce the need for pesticides. Not only is it beneficial for the environment, it is better for our vineyards and for our vineyard neighbors, explains Bimmer. Recycling is faithfully practiced at the winery, too, to the greatest extent possible. Castoro Cellars is still led by its original team of winemakers. For more than twenty years, Niels Udsen, veteran Winemaker and Enologist Tom Myers, and Assistant Winemaker Mikel Olsten have worked together at Castoro to create world-class wines at affordable prices. The duration of their relationship is nearly unprecedented anywhere else in California. Niels and Tom's friendship goes back even further, to their days of working together at Estrella River Winery in the 1970's. The way in which the team works together is facilitated by the winery's close, family-like atmosphere, so it was a great tribute to all three when Tom Myers received the 2002 Winemaker of the Year award for San Luis Obispo.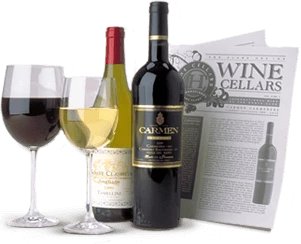 Enjoy Limited Production Estate
Bottled Wines
Discover limited production estate bottled wines such as Vergenoegd's internationally
acclaimed 2005 Cabernet Sauvignon, imported exclusively for our members.
DISCOVER OUR FOUR CLUBS