Monsanto's Chianti Classico Riserva always reminds us of the Tuscan landscape: elegant, fecund, positively captivating, timeless, and always in good taste. When one looks across the Arno River from Florence and up into the hills surrounding the city or one gazes over the ramparts of rival Siena, a sophisticated, timeless landscape strikes the eye. Happily, Fabrizio Bianchi has once again captured Tuscany's alluring countryside in his estate's picture perfect 2006 Monsanto Chianti Classico Riserva. A warm scent of cherries, violets, tobacco, and spice tantalize the nose and set the stage for this sophisticated wine's ripe, rich flavors and firm, balanced structure. A generous, round mouth feel, layers of flavor and plenty of ripe tannin make for a grateful palate and lend credence to the critic's claim that some of Tuscany's most affordable treasures are also Italy's most enjoyable wines. Breed, grace, and a primal fecundity make this Monsanto Riserva irresistible, but for optimal enjoyment one must have the patience to open this treasure at least an hour ahead. It can also be laid down to mature for another five years or more. Saluté!
The complex, superbly crafted 2006 Monsanto Chianti Classico is one of the easiest Tuscan reds to bring to table. It pairs equally well with Tuscany's country cooking as it does classic cuisine. For starters, Ribollita, a traditional Tuscan soup based upon bread, beans, and assorted local fare, or a simple trio of starters that consist of white bean paste, red pepper hummus, and black olive and sun dried tomato tapenade, all served with freshly baked brick oven bread or focaccia; highlight the majesty of Monsanto's exemplary Riserva. A thick lentil soup with ham and plenty of root vegetables works its own magic, too. However, as appealing as these marriages may be, Monsanto's 2006 Riserva absolutely shines at a dinner party. Beef tenderloin, grilled to perfection with a brush of olive oil, garlic, mint, and rosemary; pheasant, stuffed with braised vegetables, porcini mushrooms and a hint of truffle; and Lamb Osso Bucco offer even grander accompaniments to match Monsanto's elegance and panache. Roasted herb encrusted lamb chops provide a simpler but equally satisfying treat with the critically acclaimed 2006 Monsanto Chianti Classico Riserva. Buon Appetito!
Fabrizio Bianchi is one of Chianti Classico's greatest innovators and artists. A successful textile manufacturer from Milan, Bianchi purchased Monsanto in 1961 and ever since has been a pioneer in Chianti. He acquired Monsanto with "a consciousness that he was walking on a treasure, not of gold, but mere land." What Fabrizio has done with that land is turn it into liquid gold in the form of the finest Chianti Classico, and simultaneously transform one of the oldest and most respected wine regions on earth through a series of bold innovations. Monsanto is a large estate by Tuscan standards (206 hectares or a little more than 453 acres), but only a fraction of the total (72 hectares) is actually under vine. Fabrizio and his family have opted to preserve the natural forests of oak, myrtle, and wild berries that surround the estate, thereby protecting the natural pollinators and indigenous yeasts that abound at Monsanto. And from the very beginning, Fabrizio set out upon refurbishing the estate's vineyards and protecting the special terroir that exists at Monsanto. Consequently, all of Monsanto's grapes are hand harvested and only the property's natural yeast is employed in fermentation. Through the years, Fabrizio Bianchi has helped change the face of contemporary Chianti Classico with a series of innovations he instituted at Monsanto. Fabrizio was one of the first to eliminate the white grapes from the Chianti Classico cepage, or blend, in favor of the exclusive use of Chianti's traditional red varieties: Sangiovese, Canaiolo, and Colorino. He also lobbied for permission to use temperature controlled stainless steel for fermentation, another innovation that is now common place in Tuscany but was unheard of three decades ago. The move to temperature controlled fermentation led Fabrizio Bianchi to take one more pioneering step: the elimination of the governo alla Toscana, an ancient practice whereby whole dried grapes are added to the already fermented Chianti. The result has been cleaner, richer, longer lasting wines that gain both grace and complexity with age. Nearly all quality Chianti producers have followed Bianchi's lead. In addition to revitalizing Chianti Classico, Monsanto has been at the vanguard of Tuscany's renewed interest in traditional French varietals such as Chardonnay and Cabernet Sauvignon, which the Bianchis also fashion into award winning wines. Furthermore, Monsanto produces a small quantity of a single cru 100% Sangiovese that is labeled Sangioveto Grosso from their Scanni vineyard and a bit of Vin Santo from Malvasia and Trebbiano.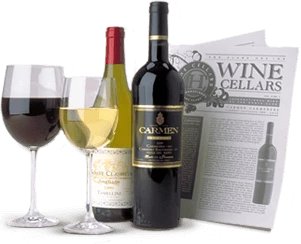 Enjoy Limited Production Estate
Bottled Wines
Discover limited production estate bottled wines such as Vergenoegd's internationally
acclaimed 2005 Cabernet Sauvignon, imported exclusively for our members.
DISCOVER OUR FOUR CLUBS