The highly aromatic 2020 Castell del Remei Gotim Bru (35% Garnacha Tinta, 35% Tempranillo, 15% Syrah, 15% Cabernet Sauvignon) is fresh, juicy, and redolent with the scents of raspberry and black cherry as well garrigue, the entrancing floral and herbal scents of the wild natural country side of Catalonia and nearby Provence. Medium to full bodied and silky smooth in the mouth, this artful Spanish blend displays fleshy berry fruit flavors along with intriguing hints of cedar, thyme, and fragrant incense. Elegant and finely tuned, yet immensely flavorful, the 2020 Castell del Remei Gotim Bru finishes long and vibrant, thanks to the wine's ripe tannins and juicy acidity. For optimal enjoyment we suggest serving the 2020 Castell del Remei Gotim Bru at cool room temperature (58°-62° F) after 10-15 minutes of aeration. Anticipated maturity: 2023-2028. Enjoy!
A joy to drink now and over the next several years, the 2020 Castell del Remei Gotim Bru requires little more than a clean glass to please, yet it is crafted for the delights of the table where it shines brightly. Catalan and Mediterranean fare provide especially fine accompaniments. Much like its French neighbors in Languedoc and Provence, olive oil, garlic, tomatoes, legumes, eggplant, and plenty of wild herbs figure significantly in Catalan cooking. Rotisserie chicken or spit roasted game birds, which are liberally basted with olive oil, rosemary, and thyme, make splendid companions to the 2020 Castell del Remei Gotim Bru. Thick, rich stews as well as bean and lentil dishes provide equally tasty pairings. Escalivada (roasted red peppers, eggplant, and onions), a traditional Catalan specialty that is dipped in olive oil and served with the region's Pa amb tomàquet (country bread rubbed with fresh tomato and, yes, more olive oil), provides a delicious side to any poultry, meat, or seafood dish, and it is equally pleasing on its own in the company of a glass of Castell del Remei Gotim Bru. Chicken Souvlaki, vegetable strombolis, and ratatouilles with plenty of eggplant provide delicious companionship, too. Que Aprofiti!
The racy and youthful 2020 Castell del Remei Gotim Bru pairs beautifully with all kinds of artisanal cheeses. Chunks of Farmhouse Cheshire, slices of Spanish Mahón, and delectable bites of a full-flavored cheese such as Swiss Appenzeller, a unique cheese replete with an infusion of twenty or more plants and spices, all make fine companions to the juicy, energetic 2020 Castell del Remei Gotim Bru Costers del Segre, as will many goat and sheep's milk cheeses. To enjoy the world's finest cheeses delivered direct to your door, join us at www.cheesemonthclub.com.
Castell del Remei dates to 1780, and it is the oldest winery in Catalonia to estate grow, bottle, and age its wines in the manner of Classified Bordeaux. It can also lay claim to being one of the most beautiful and well-preserved wineries in Catalonia. Moreover, the wines that flow from this venerable Catalan estate are all Certified Organic, and they are even more charming and seductive than the property itself, including this month's feature, the 2020 Castell del Remei Gotim Bru, the winery's most well-known offering.
Castell del Remei is a large inland estate with a Mediterranean/Continental climate. Cold winters, hot summers, low rainfall, and relatively low humidity provide ideal conditions for the cultivation of the vine at this prime property. Most of its 100 hectares (approximately 247 acres) of vineyards grow at high elevation (between 700-800 meters) on the mountain in sight of the winery. The soil composition is an enviable mixture of sandy loam, clay, and gravel that affords excellent drainage.
The estate's varietal composition includes Spain's most important autochthonous varietals, all of which are vinified by Castell del Remei's owner and winemaker Tomàs Cusiné. Garnacha (Grenache), Tempranillo, Cariñena (Carignan), and Trepat predominate for red wines, while the indigenous Malvasia and Macabeu provide the raw material for Catalonia's traditional white wines. Although not indigenous to Spain, French grape varieties, most notably Cabernet Sauvignon, Syrah, Chardonnay, and Sauvignon Blanc, were introduced into Catalonia by Castell del Remei in the 19th century. These French grape varieties figure significantly in the wines of Castel del Remei as they do in most Catalan wines, not only in the Costers del Segre D.O. but also in Priorat and throughout Catalonia.
In addition to Castell del Remei's Gotim Bru, which roughly translates to a bunch of red grapes (a very fine bunch of red grapes we may add), and Gotim Bru Blanc, a bunch of white grapes, Castell del Remei fashions an elegant, powerful, and long-lived red wine named 1780. This wine bears the name of the winery's founding, and it's an artful blend of Cabernet Sauvignon, Tempranillo, and Garnacha. Castell del Remei's Gotim Bru and 1780 have received many 90+ ratings over the years, but recent releases have not been reviewed in the United States as Castell del Remei's wines were not available here for several years. Castell del Remei also crafts another tasty red and white blend, Oda, as well as a robust 100% Garnacha. You can be sure we will once again be seeing more of this great winery's wines.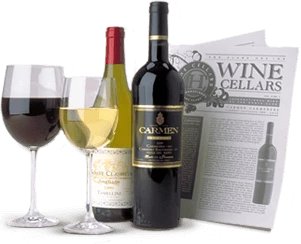 Enjoy Limited Production Estate
Bottled Wines
Discover limited production estate bottled wines such as Vergenoegd's internationally
acclaimed 2005 Cabernet Sauvignon, imported exclusively for our members.
DISCOVER OUR FOUR CLUBS