Delicious, intense, and wonderfully intriguing, the 2018 Castell del Remei 1780 (68% Cabernet Sauvignon, 25% Tempranillo, 7% Garnacha) merges the best of Spain, Bordeaux, and Napa Valley into one elegant, flavorful, power-packed wine. Black currant and dark cherry aromas meld with spicy notes and whiffs of smoke to tantalize the nose. Initially intense in the mouth, Castell del Remei's 1780 opens surreptitiously, revealing concentrated berry fruit flavors and deep spicy tones. With a bit of aeration and a few gentle swirls, the wine's depth of flavor wells up in the mouth, revealing elderberry, clove, and dark chocolate. Elegance and complexity merge with the wine's power leading to an explosive finish, ripe with textured tannins. Enjoy the special, still youthful 2018 Castell del Remei 1780 now and over the next decade. For optimum enjoyment we suggest affording the 2018 Castell del Remei 1780 at least 30 minutes of aeration before consuming at cool room temperature (58°-62° F). Anticipated maturity: 2023-2034. Enjoy!
The elegant yet powerful 2018 Castell del Remei 1780 makes quite a statement at table where it provides the ideal dinner companion to splendid fare emanating from the finest kitchens. Beef Wellington, widely considered to be the ultimate beef dish, truly makes our mouth water in the company of Castell del Remei's beautiful 1780. Braised Short Ribs served with the creamiest of mashed potatoes, pearl onions, braised carrots, and roasted fennel are a personal favorite and always a crowd pleaser with a wine of 1780's stature. For the more adventuresome, the finest Steak Tartare with a touch of mustard and cornichons garners high praise, too, and it's a favorite of renowned chefs. A perfectly grilled herb encrusted lamb shank makes another superb pairing. A traditional Catalan recipe that many consider to the be the region's signature dish, Mongetes amb Botifarra (White Beans with grilled pork sausages), may not sound as elegant as some other dishes, but it is extremely flavorful, especially with a dollop of Spanish allioli. In fact, any rich stew, lentil, or bean dish such as cassoulet also provides a tasty, satisfying accompaniment to the outstanding 2018 Castell del Remei 1780. Que Aprofiti!
Castell del Remei dates to 1780, and it is the oldest winery in Catalonia to estate grow, bottle, and age its wines in the manner of Classified Bordeaux. It can also lay claim to being one of the most beautiful and well-preserved wineries in Catalonia. Moreover, the wines that flow from this venerable Catalan estate are all Certified Organic, and they are even more charming and seductive than the property itself, especially Castell del Remei's illustrious 1780 Costers del Segre, the winery's most renowned offering and this month's feature.
Castell del Remei is a large inland estate with a Mediterranean/Continental climate. Cold winters, hot summers, low rainfall, and relatively low humidity provide ideal conditions for the cultivation of the vine at this prime property. Most of its 100 hectares (approximately 247 acres) of vineyards grow at high elevation (between 700-800 meters) on the mountain in sight of the winery. The soil composition is an enviable mixture of sandy loam, clay, and gravel that affords excellent drainage.
The estate's varietal composition includes Spain's most important autochthonous varietals, all of which are vinified by Castell del Remei's owner and winemaker Tomàs Cusiné. Garnacha (Grenache), Tempranillo, Cariñena (Carignan), and Trepat predominate for red wines, while the indigenous Malvasia and Macabeu provide the raw material for Catalonia's traditional white wines. Although not indigenous to Spain, French grape varieties, most notably Cabernet Sauvignon, Syrah, Chardonnay, and Sauvignon Blanc, were introduced into Catalonia by Castell del Remei in the 19th century. These French grape varieties figure significantly in the wines of Castel del Remei as they do in most Catalan wines, not only in the Costers del Segre D.O. but also in Priorat and throughout Catalonia.
In addition to Castell del Remei's legendary 1780, a blend of Cabernet Sauvignon, Tempranillo, and Garnacha, the estate fashions a full range of delicious red and white wines, including Gotim Bru (Garnacha, Tempranillo, Syrah, and Cabernet) and Gotim Bru Blanc (Sauvignon Blanc and Macabeu). Castell del Remei's Gotim Bru wines, which roughly translates to a bunch of red or white grapes respectively, are delicious blends that drink beautifully upon release, and like 1780 they have consistently earned numerous 90+ point scores. Unfortunately, Castell del Remei's recent releases have not yet been reviewed in the United States as their wines were not available in the US for several years. Castell del Remei also crafts another tasty red and white blend, Oda, as well as a robust 100% Garnacha.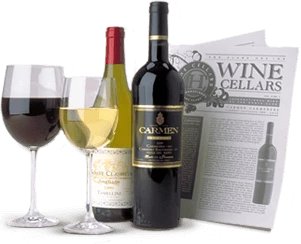 Enjoy Limited Production Estate
Bottled Wines
Discover limited production estate bottled wines such as Vergenoegd's internationally
acclaimed 2005 Cabernet Sauvignon, imported exclusively for our members.
DISCOVER OUR FOUR CLUBS