The 2022 Casas del Bosque Valle de Casablanca Rosé Pinot Noir (92 Points – Descorchados; 91 Points – Vinous; 90 Points & "Best Buy" – Wine Enthusiast) first captures the eye with its brilliant rose color. It follows with an appealing set of aromatics to delight the nose in the form of cherries and freshly picked strawberries. Crisp, energetic, and delightfully refreshing in the mouth, the bone dry 2022 Casas del Bosque Rosé Pinot Noir offers savory hints of rose, strawberry, and melon along with refreshing acidity. Exhibiting balance, nuanced flavors, and a mouthwatering finish, the 2022 Casas del Bosque Rosé Pinot Noir is a delight to drink from start to finish. For optimal enjoyment, we suggest serving the 2022 Casas del Bosque Rosé Pinot Noir moderately chilled (40°-45° F), though some may prefer it at a slightly cooler or even at a more ambient temperature… as you like it. Anticipated maturity: 2023-2025. Enjoy!
The 2022 Casas del Bosque Rosé Pinot Noir makes a splendid aperitif. However, it is quite a versatile rosé. Consequently, smoked fish, goat cheeses, salads, vegetable tempuras, sushi, and pasta dishes all provide tasty accompaniments to Casas del Bosque's Pinot Noir Rosé. Crab-filled tortellini, a favorite pairing of Casas del Bosque's winemaker, certainly earns two thumbs up. Tuna sliders with a light wasabi and caper aioli makes another fine match. Salmon, poultry, and grilled shitake mushrooms provide other wonderful pairings as does chicken salad with walnuts, grapes, and dried cranberries. Buen Provecho!!
Chile continues to be the world's most consistent source of exceptional wines for quality, value, and variety, which is due largely to a burgeoning number of boutique wineries such as Casas del Bosque, a winery that continuously pushes the envelope on quality through excellent vineyard management, site selection and meticulous attention in the cellar. As our long time members know, Casas del Bosque spares no expense in its pursuit of quality, which has earned the estate great critical acclaim and numerous awards. This month's feature (the 2022 Casas del Bosque Casablanca Rosé Pinot Noir) is another great success from this meticulously run winery.
Casas del Bosque sprang to life in 1993 as a family boutique winery dedicated exclusively to the production of high quality wines. And, by all accounts this boutique operation is certainly fulfilling its mission, as the recent spate of 90+ point ratings from world renowned critics lends credence to Casas del Bosque's acumen. Casas del Bosque is located just 40 miles from Chile's capital of Santiago and a mere 18 miles from Chile's principal port of Valparaiso. This boutique operation cultivates its own vineyards in the nearby Casablanca Valley, Chile's premium terroir for Chardonnay, Pinot Noir, and Syrah. They also have significant vineyard holdings in the premier red wine producing valleys of Maipo and Rapel south of Santiago, areas noted for fashioning exceptional Carmenère and Cabernet Sauvignon. Casas del Bosque's meticulous attention to all aspects of viticulture, sorting, and selection guarantee superior fruit for the winery's portfolio of high quality wines. Such care has in multiple years earned Casas del Bosque the distinction of Chilean Winery of the Year (2013 and 2014) at the International Wine and Spirits Competition and, subsequently, countless accolades from the world's foremost wine critics.
Casas del Bosque has nearly 600 acres of vines under cultivation, spread throughout Chile's best viticultural valleys and microclimates. Sauvignon Blanc, Chardonnay, and Riesling hail from the winery's superb Casablanca holdings and form the backbone of the estate's white wine portfolio. Exceptional Pinot Noir, Pinot Noir Rosé, and Syrah also emanate from Casas del Bosque's Casablanca vineyards, and they are some of this esteemed producers most exciting offerings. Casas del Bosque's exceptional ultra-premium Carmenère and Cabernet Sauvignon wines flow from warmer vineyards in the Rapel and Maipo valleys.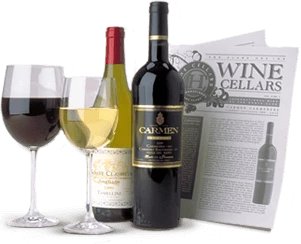 Enjoy Limited Production Estate
Bottled Wines
Discover limited production estate bottled wines such as Vergenoegd's internationally
acclaimed 2005 Cabernet Sauvignon, imported exclusively for our members.
DISCOVER OUR FOUR CLUBS