Casa del Bosque consistently fashions some of Chile's finest Carmenères, and Casa del Bosque's 2018 Gran Reserva Carmenère is no exception. Once again, the robust 2018 Casas del Bosque Gran Reserva Carmenère (91 Points – James Suckling) checks all of the boxes and then some. Sporting an inky dark color and packed with pungent aromas and flavors, the robust 2018 Casas del Bosque Gran Reserva Carmenère is downright delicious. A mélange of aromas and flavors reminiscent of blackberry, cedar, damson plum, forest floor, dark chocolate, and exotic spices delight the nose and palate. Produced in a warm vintage, which Carmenère craves, the 2018 Casas del Bosque Gran Reserva Carmenère is dense and concentrated, yet it retains freshness and vitality thanks to ripe tannins with nary an edge. Bold, beautiful, and balanced, Casas del Bosque's 2018 Gran Reserva Carmenère is hard to resist. For optimal enjoyment, we suggest affording this Gran Reserva Carmenère 15-20 minutes of aeration before serving at cool room temperature (58º-62º F). Enjoy!
Casas del Bosque's 2018 Gran Reserva Carmenère thrives at table. Although ebullient and a pleasure to drink on its own or with just a few slices of cheese or ripe fruit, the 2018 Casas del Bosque Gran Reserva Carmenère truly pays dividends when brought to table, whether with white or red meats, spicy vegetable dishes, or typically difficult to match foods such as asparagus, artichokes, and hummus. Nonetheless, it is at its best in the company of the finest cuts of meat and game. Breast of duck, loin lamb chops, tender cuts of beef, and venison offer some of the most gratifying accompaniments to Casas del Bosque's 2017 Gran Reserva Carmenère. Meatloaf, lasagna, and Eggplant Parmigiana provide excellent companionship, too. The robust, stylish 2018 Casas del Bosque Gran Reserva Carmenère also has the ability to elevate nearly any simple midweek meal to a higher realm. Flatbreads and thin-crusted pizzas with three or more cheeses, mushrooms, and vegetables provide other tasty accompaniments. And for those who prefer pure comfort food, consider slow roasted pork shoulder with lentils, or slow cooked beef or pork sliders with caramelized onions. And if one's culinary arts or ability to order in are limited, a selection of gourmet cheeses and dark chocolates make tasty, easy to access companions. Buen Provecho!
Casas del Bosque continues to amaze us, constantly pushing the envelope on quality regardless of the vagaries of the vintage. Each successive release from this boutique winery continues to raise the bar to which other wineries can only aspire. Should anyone be surprised? Casas del Bosque is on track to become the most lauded Chilean winery of the decade. Since springing to life in 1993, Casas del Bosque has practiced unparalleled vineyard management, site selection, and meticulous attention in the cellar throughout its entire portfolio.
Located just 50 miles from Santiago, Chile's capital, and 18 miles from Valparaiso, Chile's colorful principal port, Casas del Bosque is a family boutique winery, whose mission is the production of the highest quality wines. By all accounts, including an enviable string of 90+ point ratings from world renowned critics, Casas del Bosque is not only fulfilling its mission, it is setting standards of excellence among Chile's premium producers in Casablanca, Maipo, and Rapel Valleys. This boutique operation cultivates its own vineyards in the Casablanca Valley, the preferred place for premium white wine production and cool climate red varietals. They also have significant vineyard holdings in the premier red wine producing valleys of Maipo and Rapel south of Santiago, areas noted for fashioning exceptional Carmenère and Cabernet Sauvignon. Casas del Bosque's meticulous attention to vineyard management and careful site and varietal selection guarantee superior fruit for the winery's portfolio of high quality wines. Such care reveals itself in each of this property's prodigious wines, and it has earned Casas del Bosque the distinction of Chilean Winery of the Year at the International Wine and Spirits Competition in London two years in a row (2013 and 2014). The winery's Gran Reserva and Pequeñas Producciones (very limited productions) are Casas del Bosque's ultimate luxury offerings.
The Rapel Valley covers two of Chile's most important red wine producing regions: Colchagua Valley and Cachapoal Valley. The sprawling Rapel lies south of Maipo and Chile's capital Santiago, encompassing vineyard lands sandwiched between the towering Andes and Chile's coastal ranges. It is one of the oldest wine producing regions in Chile. The soils are mostly of alluvial origin, and have good porosity and drainage. Cachapoal occupies the northern part of the Rapel, where the climate is cooler and more maritime, as opposed to Colchagua, which enjoys a drier Mediterranean climate, with little rain except in winter. Both regions experience hot daytime temperatures in summer, which prove ideal for the valley's premium red grape varieties, most notably Carmenère, Cabernet Sauvignon and Syrah. And as is the case throughout much of central Chile, considerable variation exists in the Rapel Valley between day and night temperatures, a boon for preserving a wine's natural acidity and accentuating its aromatic profile. And not surprisingly, microclimates abound in the Rapel. Such climatic differences lend themselves to significant variations in style, structure and concentration among the wines produced, which makes the Rapel Valley an excellent source for a variety of wines of diverse character.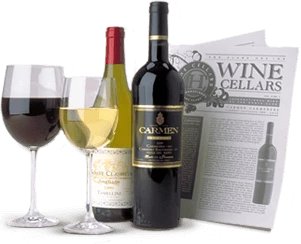 Enjoy Limited Production Estate
Bottled Wines
Discover limited production estate bottled wines such as Vergenoegd's internationally
acclaimed 2005 Cabernet Sauvignon, imported exclusively for our members.
DISCOVER OUR FOUR CLUBS