96 pts, Platinum Medal - Decanter World Wine Awards. France once dominated the production of world class Syrah, as it did many of the world's premium grape varieties, but today world class Syrah now flows from Australia, California, Chile, and South Africa as Casas del Bosque's 2014 Casablanca Pequeñas Producciones Syrah aptly attests. This wine was awarded 92 pts from South America's highly-regarded wine guide, Descorchados, and beat out over 500 other wines to win Best Wine in Show at the Annual Wines of Chile Awards. The 2014 Casas del Bosque Pequeñas Producciones Syrah offers a rich aroma of crushed strawberry, bramble, and violet. In the mouth, polished black fruits and spicy notes of cinnamon are accompanied by hints of cedar, cherry, and white pepper. Well-integrated oak tones backed by abundant, round tannins add backbone and superb length and structure to this beautiful Syrah. Although still in the bloom of youth, this purple potion offers incredible drinking pleasure from the moment it is poured. However, for optimal enjoyment, we strongly suggest affording Casas del Bosque's 2014 Pequeñas Producciones Syrah an hour or more of aeration in a decanter before serving at cool room temperature (60°-65° F). Enjoy!
In Chile, prime cuts of beef, lamb and pork are the preferred accompaniments to the finest Syrah wines, which include the 2014 Casas del Bosque Casablanca Pequeñas Producciones Syrah, as they are in neighboring Argentina. Prime rib of beef au jus with organic Red Bliss potatoes and roasted green beans, herb encrusted beef tenderloin served over twice fried pommes frites, and wild boar served over tagliatelle pasta with sautéed vegetables provide delicious accompaniments to the 2014 Casas del Bosque Pequeñas Producciones Syrah. Wood-fired rotisserie chicken with rosemary and garlic and lasagna prepared with spicy Italian sausage and homemade meatballs provide more tempting accompaniments. For a tasty meatless pairing, consider a crispy zucchini cake topped with spicy Turkish salad, tzatziki, and crumbled Feta over quinoa as companionship to Casas del Bosque's super premium 2014 Pequeñas Producciones Syrah. Enjoy!
Chile continues to be a source of exceptional wines for quality, value and variety. This is due largely to the burgeoning number of boutique wineries such as Casas del Bosque that continuously push the envelope on quality through excellent vineyard management, site selection and meticulous attention in the cellar.
Casas del Bosque sprang to life in 1993 as a family boutique winery dedicated exclusively to the production of high quality wines. And by all accounts this boutique operation is ably fulfilling its mission, as the recent spate of 90+ point ratings from world renowned critics will attest. Casas del Bosque is located just 40 miles from Chile's capital of Santiago and a mere 18 miles from Chile's principal port of Valparaiso. This boutique operation cultivates its own vineyards in the nearby Casablanca Valley, the preferred place for premium white wine production. They also have significant vineyard holdings in the premier red wine producing valleys of Maipo and Rapel south of Santiago, areas noted for fashioning exceptional Carmenère and Cabernet Sauvignon. Casas del Bosque's meticulous attention to vineyard management and careful site and varietal selection guarantee superior fruit for the winery's portfolio of high quality wines. Such care has also earned Casas del Bosque the distinction of Chilean Winery of the Year at the International Wine and Spirits Competition in London for two years in a row (2013 and 2014).
Presently, Casas del Bosque has approximately 500 acres of vines under cultivation, which are spread throughout Chile's best viticultural valleys and microclimates. Sauvignon Blanc, Chardonnay and Riesling hail from the winery's superb Casablanca holdings and form the backbone of the estate's white wine portfolio. Exceptional Pinot Noir and Syrah are also cultivated by Casas del Bosque in Casablanca. Casas del Bosque's exceptional ultra-premium Carmenère and Cabernet Sauvignon red wines emanate from the warmer Rapel and Maipo valleys. The winery's Pequeñas Producciones (very limited productions) of Sauvignon Blanc, Pinot Noir, and Syrah are Casas del Bosque's ultimate luxury offerings.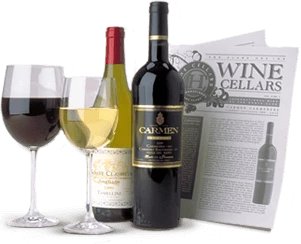 Enjoy Limited Production Estate
Bottled Wines
Discover limited production estate bottled wines such as Vergenoegd's internationally
acclaimed 2005 Cabernet Sauvignon, imported exclusively for our members.
DISCOVER OUR FOUR CLUBS