The 2003 Casa Tamaya is Sauvignon Blanc at its best. Built along the lines of the finest Sancerre style Sauvignon Blanc from France's Loire Valley, the best of which exhibit the pungent scents and flavors of grass, herbal essence, melons, and tropical fruits, the Casa Tamaya outperforms all but the very top echelon of wines from Sancerre. As one member of the testing panel so saliently remarked, This wine out Sancerres most Sancerre. Ripe, pure, and loaded with flavor, this round beautifully balanced wine contains all the exotica and hedonistic pleasure of Sancerre, but without the after burn and bite that are too often associated with France's quintessential rendition of Sauvignon Blanc. We suggest drinking the 2003Casa Tamaya Sauvignon Blanc at varying temperatures, ranging from cool to downright frosty, depending upon the outside temperature and the accompaniments or lack of. The hotter the ambient temperature or the food, the colder we suggest you serve the wine. Enjoy!
The 2003 Casa Tamaya is an ode to summer, a remembrance of halcyon days, and a souvenir of those sequestered sequels of summer's end known affectionately in North America as Indian summer, and for these reasons and many more food need not accompany a glass or two of this delightful elixir. The Casa Tamaya is a Sauvignon Blanc that needs no date or calling card as it brings its welcome with it. Nonetheless, the fruits of summer taste all the better in the company of the Casa Tamaya. Oysters, clams, lobster, shrimp, and scallops, prepared almost any way imaginable, all provide delicious marriages and are in turn enhanced by the Casa Tamaya's exuberance and sensual allure. Hors d'oeuvres, smoked salmon appetizers, and certain mildly spicy Hunan dishes, such as Hunan Chicken with vegetables, provide other winning combinations. And last but not least, almost any type of soft or crusted cheese will affectionately highlight the delicious aromatic profile of the Casa Tamaya, so check out our outstanding selection of international cheeses and invite a few friends over for a party.
Casa Tamaya is located in the Limari Valley, nearly two hundred and fifty miles north of Chile's capital of Santiago. While most traditional Chilean estates hail from the wide river valleys to the south of the capital, this exciting new property stands as the vanguard of viticultural excellence in the northern valley of Limari. Begun in 1997 as the independent ventures of two farming companies, Vinedos del Limari and Cerrillos de Tamya, Casa Tamaya was formally launched in 2001 with the consolidation of both independent enterprises and the subsequent construction of a beautiful new winery, which includes offices, a guesthouse, gardens, and an image to match the recent transformation of the Limari. Glitz and glamour aside, what lies below and beyond the façade of Casa Tamaya is what truly counts. At Casa Tamaya, three levels of fine wine and more than a few treasures abound, making this new 240 acre property ripe pickings for savvy consumers. Only first-rate European varietals are grown here, and nearly every offering we have tasted from this estate has been more than a cut above. Some of our favorite wines from Casa Tamaya are a delicious knock out Sancerre-style Sauvignon Blanc and an artful Reserve blend of Merlot, Cabernet Sauvignon and Syrah. Other top-notch offerings include a very fine Reserve Chardonnay and a tasty Viognier.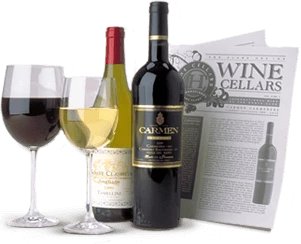 Enjoy Limited Production Estate
Bottled Wines
Discover limited production estate bottled wines such as Vergenoegd's internationally
acclaimed 2005 Cabernet Sauvignon, imported exclusively for our members.
DISCOVER OUR FOUR CLUBS