Smooth, sophisticated, and finely polished, the 2001 Casa Tamaya Merlot-Cabernet Sauvignon Syrah Reserve is disarmingly charming for a young red wine. Imbued with power and structure as well as plenty of juicy fruit, this deeply colored blend offers a myriad of scents and savors. Merlot (54%) provides this Reserve offering's copious quantity of lush fruit as well as its comely, subtle earth tone. Meanwhile, Cabernet Sauvignon (23%) and Syrah (23%) supply spice, structure, and understated elegance. And throughout the Casa Tamaya Reserve, blackcurrant, blueberry, and ripe plum aromas and flavors mingle with truffle and cigar box scents that seem ever so lightly infused with a gentle touch of vanilla. Yum! In short, there is a lot going on in this wine, and from start to finish it's all quite good. Enjoy!
The 2001 Casa Tamaya Merlot-Cabernet Sauvignon Syrah Reserve is an easy wine to pair with a wide variety of foods. Its sophisticated rather sumptuous nature and myriad of flavors that reflect the varietal triumvirate within make it a natural accompaniment to both red and white meats. In addition, we recommend it with certain traditional Tex-Mex dishes, including the more elegant renderings of burritos, chalupas and quessadillas. However, the 2001 Casa Tamaya Reserve strikes us as the perfect young red wine to pair with a platter of well-selected cheeses. Certainly, an authentic SAFR Port Salut provides a creamy, velvety foil to the Casa Tamaya. The low acidity of the Port Salut marries perfectly with the smooth, but youthful exuberance of the wine, which results in a dangerous case of wine and cheese lovers' ecstasy. Furthermore, just think of all the calcium and good antioxidants you will be consuming in the meantime. To check out some additional cheese offerings to accompany the Casa Tamaya, contact our heavenly selection of international cheeses at www.cheesemonthclub.com Enjoy!
Casa Tamaya is located in the Limari Valley, nearly two hundred and fifty miles north of Chile's capital of Santiago. While most traditional Chilean estates hail from the wide river valleys to the south of the capital, this exciting new property stands as the vanguard of viticultural excellence in the northern valley of Limari. Begun in 1997 as the independent ventures of two farming companies, Vinedos del Limari and Cerrillos de Tamya, Casa Tamaya was not launched formally until 2001 with the consolidation of both independent enterprises and the subsequent construction of a beautiful new winery, which includes offices, a guesthouse, gardens, and an image to match the recent transformation of the Limari. Below and beyond the façade of Casa Tamaya, replete with shiny new structures, lie three levels of fine wine and more than a few treasures. Only first rate European varietals are grown here, but so far the glory of this winery appears to be artful blends of reserve bottled wines from the finest of the estate's 240 acres. Casa Tamaya's Merlot-Cabernet Sauvignon Syrah Reserve leads the oenological pack; undoubtedly, this mouth-filling blend is both unique and enthralling. Other exciting offerings from Casa Tamaya include a knockout Sancerre style Sauvignon Blanc, a tasty Viognier from low yields and a tantalizing Reserve Chardonnay that marries ripe fruit to complex mineral tones, and just think … this is just the beginning for Casa Tamaya. Indeed, Casa Tamaya is one new winery to watch.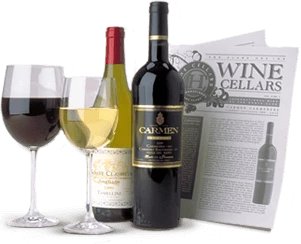 Enjoy Limited Production Estate
Bottled Wines
Discover limited production estate bottled wines such as Vergenoegd's internationally
acclaimed 2005 Cabernet Sauvignon, imported exclusively for our members.
DISCOVER OUR FOUR CLUBS