The 2007 Casa Silva Sauvignon Gris is another outstanding effort from this impeccable property. Produced from 90- and 100-year-old vines that are the oldest in Colchagua, the 2007 Casa Silva Sauvignon Gris pays tribute to the superb but relatively obscure Sauvignon Gris varietal; and it alone offers ample reason to propagate more of this rare variety. As a relative of Sauvignon Blanc, Sauvignon Gris yields a dry, medium-weight wine with lots of aromatic profile, but this Casa Silva offering pushes the envelope and takes this excellent variety to new heights. The 2007 Casa Silva Sauvignon Gris sports a bright, beautiful robe and a great nose. Melon, fig, herb, and freshly squeezed citrus aromas emanate from this wine and provide a feast for the nose. And, as always, the same long, unique flavors along with a gentle mineral tone fill the mouth and linger on the palate long after the wine has been consumed. Although some may prefer to serve this Sauvignon Gris ice cold, we suggest one consume this outstanding offering between 40°-50° F, or perhaps even less chilled in order to bring out the delicate fruit and subtle complexities that lurk within.
Seafood is the first word and, perhaps, the last in accompaniments to the 2007 Casa Silva Sauvignon Gris. Clams, mussels, oysters, scallops, and shrimp are all good bets with this pure, tasty wine with a friendly twist. Specifically, Shrimp Ceviche, Sautéed Sea Scallops, and Seafood and Cheese Empanadas provide especially mouthwatering complements to Casa Silva's flagship white wine. Moreover, they are a great way to wow a crowd. Chilean Sea Bass, marinated Yellow Fin Tuna, and, in fact, most deep sea catches that have been cooked over a charcoal or mesquite fire offer other terrific pairings with this wine. Nonetheless, we suggest you not limit this fine Sauvignon Gris to seafood. The Casa Silva Sauvignon Gris accompanies hors d'oeuvres, cream-based pastas, and a host of pork and ham dishes with aplomb, too. Furthermore, we like it as an aperitif. Enjoy!
A dynamic, well-run winery, Casa Silva continues to astound with the quality as well as the variety of the wines it produces. Casa Silva is undoubtedly one of the truly great wine estates in South America. Located some two hundred kilometers south of Santiago, in the heart of Colchagua, an area many are now calling Chile's Napa Valley, Casa Silva has garnered more recognition and awards at international wine competitions than any other Chilean winery. Catad'Or Hyatt, Chile's most prestigious wine competition, has named Casa Silva "the Best Chilean Producer" three consecutive times. Furthermore, the International Wine & Spirit Competition recently pronounced Casa Silva "The best South American Producer." The Silva family, father Mario and sons Mario Pablo, Gonzalo, and Francisco, and Mario Geise, the winery's outstanding consulting oenologist, continue to take this beautiful property to ever-loftier heights. What comes as a surprise to consumers and critics alike is that Casa Silva's present inception dates back to only 1997, the year this property began bottling premium wines under its own name. For generations the estate nurtured extraordinary vineyards but made wine in bulk or sold its wares to other concerns. However, historical accounts tell us that the Silva family's predecessors were pioneers in Colchagua more than a century ago, when they brought the first grape varieties from France to their Angostura estate at the base of the towering Andes. Today, the Silvas remain pioneers: they are Colchagua's foremost experts on Carmenère, Chile's emblematic red grape variety, and they produce the finest Sauvignon Gris we have ever tasted. Moreover, this great property is at the vanguard of South America's success with many other grape varieties, including Sauvignon Blanc, Semillon, Viognier, and, of course, Cabernet Sauvignon.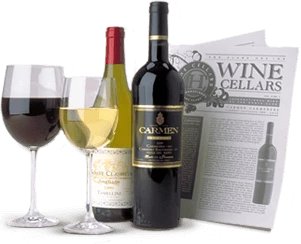 Enjoy Limited Production Estate
Bottled Wines
Discover limited production estate bottled wines such as Vergenoegd's internationally
acclaimed 2005 Cabernet Sauvignon, imported exclusively for our members.
DISCOVER OUR FOUR CLUBS