The 2001 Casa Silva Cabernet Sauvignon Los Lingues Reserve is a suave, sophisticated wine that seems to combine all the best attributes of a fine Médoc with those of a top notch Napa Valley Cabernet. Deep in color, but never thick or syrupy, the Los Lingues Cabernet offers up a beguiling array of olfactory pleasure. Scents of classic Cabernet Sauvignon, blueberry, cassis, cedar and vanilla begin to pour from the glass with just a little airing, and as the wine breathes this sensual assault intensifies. In the mouth, this Cabernet's flavor opens up to complement its stunning bouquet. It is hard to believe this wine is less than three years old and, already, it is a pleasure to drink - testament to Casa Silva's expertise and the greatness of the 2001 vintage in Colchagua. Although still a bit reticent like any fine young Cabernet, the 2001 Casa Silva Los Lingues possesses soft, ripe tannins and just the right amount of new oak. Already, the wine is balanced, beautiful, and quite centered. It makes some of us salivate to think what a few additional years of bottle age may add to this Los Lingues offering. Enjoy it now or later at cool room temperature, with at least forty-five minutes to an hour open in the glass or decanter before consuming.
The 2001 Casa Silva Los Lingues Reserve is one of the few young Cabernet Sauvignon wines that is actually a pleasure to drink on its own. Unadorned, one has the full effect of all the subtle nuances and impeccable balance of this first rate Cabernet Sauvignon. Nonetheless, wine is food, and well chosen companions only complement and enhance a meal. With this in mind, we suggest pairing the 2001 Los Lingues Cabernet Sauvignon with beef tenderloin or even Beef Wellington. Duck à lOrange; Rotisserie Pork Loin in a pomegranate-walnut sauce; Grilled Loin Lamb Chops, encrusted with a cucumber, garlic, and herb paste also provide other wonderful accompaniments to the Casa Silva Los Lingues Cabernet Sauvignon. A traditional Chilean dish, Pastel de Choclo, a corn and meat pie, offers yet another interesting pairing with either the Carmenère or Cabernet from Casa Silva. For the vegetarian set, a Three Mushroom Pizza, with Cremini, Portabella, and Shitake mushrooms is a fulfilling crowd pleaser, too. And if youre stuck, just open the Los Lingues, call a friend, and have a party. Enjoy!
The Silva family looks out on to the world from Colchagua Valley, one of the most breathtakingly beautiful wine regions on earth. Located in the heart of Colchagua, an area many critics and writers liken to a larger, more sprawling Napa Valley in the 1960's, Casa Silva is one of South America's most exciting and forward-looking wineries. Historical accounts tell us that the Silva family's predecessors were pioneers in Colchagua more than a century ago, when they brought the first grape varieties from France to this stunning valley, located just two hours south of Santiago. Today, the Silvas, father Mario and sons Mario Pablo, Gonzalo, and Francisco remain pioneers: they are Colchagua's foremost experts on Carmenère, Chile's emblematic red grape variety. Moreover, they are at the vanguard of their nation's success with Cabernet Sauvignon as well as the production of white wines, especially from traditional French varietals: Chardonnay, Sauvignon Blanc, Semillon and Viognier. A family passion, a love for the land and its wine, and a commitment to future generations has catapulted Casa Silva in just seven years from a bulk supplier and bottler of wine to one of the continent's superstars. Since its inception in 1997, Casa Silva has become the Chilean winery with the most recognition and awards at international wine competitions. For three consecutive years, 2000, 2001, and 2002, the CatadOr Hyatt, Chile's most prestigious wine competition, has heralded Casa Silva as the Best Chilean Producer. Furthermore, the International Wine & Spirit Competition named Casa Silva as The best South American Producer, and with good cause. This estate's many wines are uniformly excellent and getting better every day. The Casa Silva estate is located at the northern edge of the Colchagua Valley at the foot of the Cordilleran Andes. This is a magical place that is steeped in sheer physical beauty as well as Chilean tradition. Colchagua's natural climatic conditions and terroir make it an extraordinary place to produce wine, which in no small way accounts for the great number of award winning wineries now in Colchaugua. This pioneering Chilean valley actively promotes its appellation and was the first to establish a bona fide wine route for visitors. Today, it is Chile's most important wine region, and nearly all of its grapes are premium varietals: is there any longer a doubt as to why the wines of Colchagua are the most highly acclaimed in South America? As pioneers in viticulture, the Silvas, along with their masterful winemaker Mario Geise, have established several vineyard estates in Colchagua, each specializing in the production of one or more varietals that are especially suited to that estate's terroir. From these individual estates, single vineyard offering are produced that reflect the best that Casa Silva produces, and that is saying a lot. From Los Lingues comes a very flavorful and sophisticated Cabernet Sauvignon as well as the estate's classic Carmenère. Meanwhile, Lolol specializes in a big, chewy Syrah that will soon be released for the first time in North America with that vineyard designation.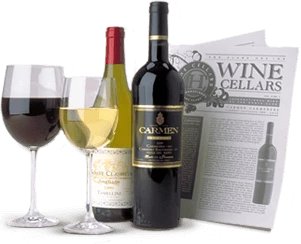 Enjoy Limited Production Estate
Bottled Wines
Discover limited production estate bottled wines such as Vergenoegd's internationally
acclaimed 2005 Cabernet Sauvignon, imported exclusively for our members.
DISCOVER OUR FOUR CLUBS